China Provinces Raise Minimum Wages to Curb Disputes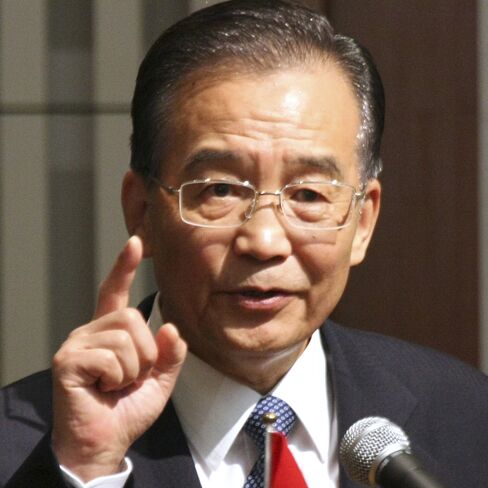 At least nine Chinese provinces and cities raised minimum wages by as much as a third today after Premier Wen Jiabao called for measures to head off growing worker unrest in the world's third-largest economy.
Beijing increased the lowest monthly salary employers must pay in the Chinese capital to 960 yuan ($142) from 800 yuan, according to the city government's website. Central China's Henan, the nation's most populous province with almost 100 million residents, raised its minimum wage by 33 percent to 600 yuan, the local government said on its website.
Wen highlighted the government's concerns that labor disputes over wages may spur social unrest when he called on companies last week to create "harmonious employment relations" by gradually raising incomes and ordered officials to handle "new issues" with skill. Strikes staged by workers demanding pay increases this year in China have halted production at Toyota Motor Corp. and Honda Motor Co. plants.
"This is a step in the right direction," Stephen Roach, Morgan Stanley's Asia chairman, said in Beijing. "China has a very low personal income share of GDP, and wages, surprisingly low wages, and limited employment growth are part of the problem."
Sustaining Growth
More than 20 provinces and municipalities plan to increase minimum wages this year, Yin Chengji, spokesman for the Ministry of Human Resources and Social Security, told a press conference in April. Shanghai, the country's financial hub, ordered a rise of 17 percent to 1,120 yuan per month in April and Guangdong, China's biggest export base, boosted five local minimum wages in the province by an average 21 percent, with the highest pay increasing to 1,030 yuan.
Rising wages may help sustain domestic demand as slower global growth damps the rebound in exports and the government reins in loans and real-estate investment to prevent asset bubbles. China's manufacturing expanded at a slower pace in June, two Purchasing Managers Index reports showed today, as new orders declined and inventories grew.
"The good news is that the labor market continues to improve despite slowing output growth," Qu Hongbin, a Hong Kong-based economist at HSBC Holdings Plc said. "This, combined with wage increases in some factories should offer solid support to private consumption in the coming quarters."
Consumption Driver
Higher wages and salaries among China's 468 million industrial and services workers should help China reduce its reliance on exports and investment as engines of growth and boost the share of consumption in the economy, economists say. China's central bank said yesterday economic restructuring needs to be accelerated.
Raising minimum wages "is part of the rebalancing," Morgan Stanley's Roach said. China has no official data specifying the number of workers who are paid the minimum wage.
The share of personal income in China's gross domestic product has fallen to 39.7 percent from 53 percent in 1999, according to economists at Beijing-based investment bank China International Capital Corp. That compares with 57 percent in the U.S. and 51 percent in Japan, Ha Jiming and Xing Ziqiang wrote in a June 14 report. Most other countries have kept the ratio stable over the past decade, they said.
The government in 2009 suspended its requirement that the lowest salaries be increased at least once every two years to help companies weather the impact of the global financial crisis, which cut China's economic growth rate to the slowest in almost a decade in the first quarter of 2009.
Economic Recovery
A rebound in expansion and accelerating inflation prompted the government to order provinces and cities to raise payments for the lowest-paid workers, Yin told the April briefing.
"The marginal propensity to spend among poorer people is very high," Shen Jianguang, Greater China chief economist at Mizuho Securities Asia Ltd., said in a telephone interview. Pay rises "might not give them enough to buy an iPod or a car, but it still gives them a marginal improvement and enough to save for a television or air conditioner."
Taipei-based Foxconn Technology Group, suffering a spate of suicides at its Longhua factory in Shenzhen, said last month it'll double wages in the southern Chinese city to 2,000 yuan a month from October. Honda and Toyota both raised salaries to end the strikes at their plants in southern China.
Those pay increases and higher minimum wages may not be enough to prevent further strikes as rising living costs erode gains, said Liu Kaiming, Shenzhen-based director of the Institute of Contemporary Observation, a non-government organization that studies labor issues.
Living Costs
"The intentions are good but they won't help to solve labor unrest," Liu said in a telephone interview. "The percentage increases in pay appear high but wages are still low and with rising inflation and higher living costs, these increases won't help workers much."
Minimum wages in the more affluent eastern areas of the country are more than double those of poorer inland provinces, government data shows. In Henan, the lowest legal salary is 600 yuan a month compared with 1,100 yuan in Shenzhen, where Foxconn employs the largest portion of its 800,000 workers in China.
The wage gap is encouraging businesses to move production to central and western regions. Foxconn is planning to build a factory that will eventually employ 300,000 workers in Henan, according to a report on a local government website. Hewlett- Packard Co., Foxconn and Taiwan-based companies Quanta Computer Inc. and Inventec Co. will build the world's largest laptop production center in western China's Chongqing, the city's Communist Party chief Bo Xilai said yesterday.
To contract Bloomberg News staff on this story: Diao Ying in Beijing at +86-6649-7565 or Ydiao3@bloomberg.net