BP Spill Costs at $2.65 Billion as Well Work Proceeds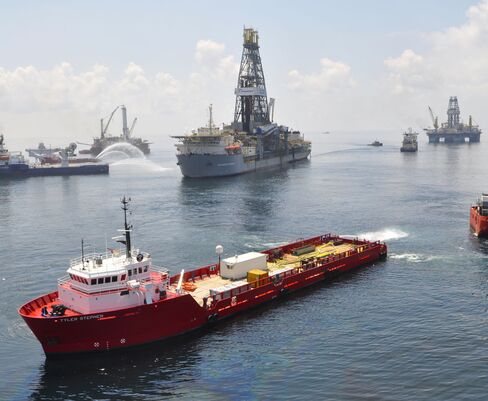 BP Plc said the cost of battling the Gulf of Mexico oil spill has reached $2.65 billion as its drill two relief wells to plug the biggest oil spill in U.S. history.
The first of two relief wells aiming to intercept and plug the leak has reached a depth of 16,546 feet (5,043 meters) and detected the metal casing of the Macondo wellbore, London-based BP said today in a statement. The company did a second probe to help locate the well more precisely.
"Drilling and ranging operations will continue over the next few weeks as the well progresses toward the target intercept depth of approximately 18,000 feet," BP said. "Once intercept has occurred, operations are expected to begin to kill the flow of oil and gas from the reservoir by pumping specialized heavy fluids down the relief well."
The company has lost about 53 percent of its market value since the April 20 explosion aboard the Deepwater Horizon drilling rig that killed 11 crew members and triggered the spill. BP has agreed to deposit $20 billion in an independent account to pay for the Gulf restoration and compensation claims. BP rose 3.65 pence, or 1.2 percent, to 308.25 pence in London.
Claims
More than 80,000 claims have been submitted, and almost 41,000 payments totaling more than $128 million have been made, BP said today.
The well is spilling as much as 60,000 barrels of crude a day into the Gulf. BP was unsuccessful in several efforts to stop the leak, including a so-called top-kill technique and placement of a 40-foot-tall steel chamber that clogged with slush-like gas hydrates.
BP is capturing some of the leaking oil through two systems near the seafloor that are diverting crude and natural gas to vessels on the surface. It's installing the first floating riser for a third oil-collection vessel, which is anticipated to be ready as soon the end of this month.
The company collected 22,750 barrels of leaking oil and burned 52.9 million cubic feet of gas on June 26, according to BP's website. In the first half of yesterday, BP collected or burned more than 12,000 barrels of oil.
At the same time, Tropical storm Alex has regained strength in the southwestern Gulf of Mexico and may become this year's first Atlantic hurricane within 48 hours, according to the U.S. National Hurricane Center advisory.
Alex has so far spared BP's cleanup efforts, which involve almost 5,000 vessels and more than 39,000 people.
BP removed non-essential workers from its Atlantis, Mad Dog and Holstein oil-production platforms in the western part of the Gulf, company spokesman David Nicholas said yesterday by telephone from Houston. He said output wasn't affected. London-based BP's response to the spill, located in northern and eastern parts of the Gulf, also is unaffected, he said.
Before it's here, it's on the Bloomberg Terminal.
LEARN MORE