Australian Art Collectors Face 'Kick in Guts' From Pension Plan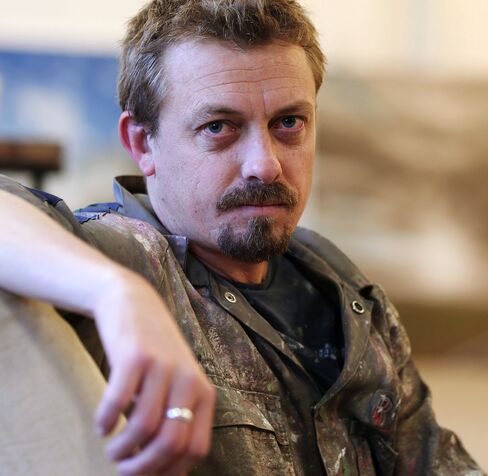 John Cruthers says he's amassed more than 100 artworks to help fund his retirement. Australia's government may order the 56-year-old to ditch the lot.
A pension shakeup aims to stop Cruthers and others who manage their own retirement savings from investing in art and order them to sell their collections within a decade. Artists, exhibitors and buyers in Australia predict the change will cause job losses, gallery closures and a slump in prices.
"It will completely upset the sale plans for nearly all my works," said Sydney-based Cruthers, whose collection, built over 14 years, includes art by Richard Larter and photographer Tracey Moffatt. "That's a kick in the guts. The market could take a decade to recover."
Galleries rely on the so-called do-it-yourself pension funds for as much as 20 percent of annual sales in a A$640 million ($557 million) market, according to Save Super Art, a group campaigning to reverse the proposals. For new Prime Minister Julia Gillard, it's another fight in an election year after her predecessor Kevin Rudd was ousted last week after an attempt to increase taxes on mining companies.
The art proposals form part of a review overseen by Jeremy Cooper, former deputy chairman of Australia's markets regulator, of the country's A$1 trillion-plus pension system. His final report and recommendations to maximize the income of retirees and make pension savings more resistant to market swings are due tomorrow. Sophie Trumble, a spokeswoman for Cooper's review, declined to comment.
'Hard Graft'
Australians must set aside a minimum of 9 percent of their salaries to fund their old age. The current retirement age for men is 65. In a preliminary report in April, Cooper said he wanted self-managed funds to focus on savings rather than paintings, stamps, wine and golf-club memberships. He recommended a ban on such "collectables."
"I don't see what's wrong about encouraging people to invest in art," said Jason Benjamin, 39, a Sydney-based artist who's exhibited for 21 years and recently sold a 1.2 square-meter work for A$30,000. "My work is expensive. It hasn't always been. It doesn't climb out the window one day and say, 'I'm valuable now.' It takes hard graft."
The forced sale of art worth as much as A$700 million -- more than the annual sales of the nation's galleries -- would flood the market and undermine a network of related professions, said Tom Lowenstein, director of Lowensteins Arts Management and a director of the Australian Artists Association, which is leading the Save Super Art campaign.
Frames and Moldings
"You've got framers, material suppliers, publishers, restorers, consultants, people who make moldings, books and catalogues," said Lowenstein, an accountant for Australian artists since 1975.
Lowensteins Arts Management estimates there are between 20,000 and 30,000 visual artists in Australia.
Some art galleries make as much as half their sales from self-managed pension funds, said Janan Greer, chief executive officer of the Australian Commercial Galleries Association, which represents 52 galleries, mostly in the states of New South Wales and Victoria.
"They don't have lots of fat in their operating budgets," said Greer. "It's inevitable that some will fold."
The proposals are also rattling art investors, said Michael Reid, who runs a 19th century gallery in Sydney's Elizabeth Bay. This month he agreed to sell two Aboriginal works for a client who was concerned he may have to divest them if the proposals become law.
'Bad Policy'
"People have said, 'I'm reviewing my super now and I'll unload it,'" Reid said. "Maybe it's not the best climate to unload. It's bad policy."
It's illegal in Australia for individuals who hold art in their self-managed funds to display the paintings at home because regulations stipulate that pension assets may not be used until retirement. Cooper wants to block art from the pension portfolios to ensure that rule isn't abused, said Sharyn Long, chairman of the Self-Managed Super Fund Professionals' Association of Australia, which represents 420,000 funds with about A$386 billion in assets.
"But he's used a sledge hammer," said Long. "In my experience, people are making these investments for the right reason and are not deriving personal benefit."
The Art Market Index, created by mathematician Roger Dedman to track the work of 100 Australian artists, jumped more than 3-fold from 1995 to 2009, while the benchmark stock index doubled. The art index excludes costs from capital gains tax and buying and selling commissions, said Dedman, whose Australian Art Market Movements Handbook is published by Menzies Art Brands.
Art investor Cruthers, who declined to state the value of his collection, had planned to offload works between 2020 and 2030 to fund his retirement. He may now have to sell a decade earlier, before they reach the prices he was expecting.
"It's really unjust," he said. "The goalposts have moved."