BP Relief Well May Begin Plugging Leak in a Few Weeks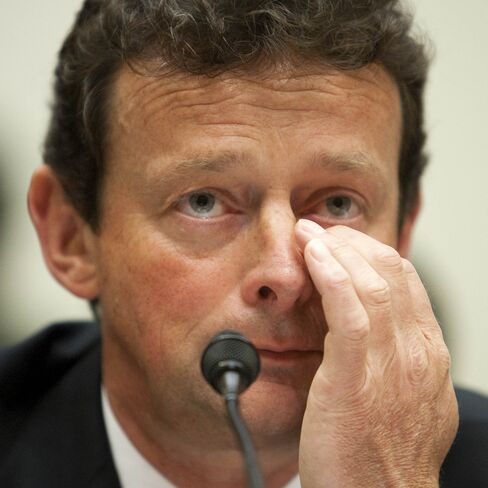 BP Plc said it drilled near its Macondo well beneath the seafloor in the Gulf of Mexico and may begin efforts in a few weeks to plug a leak that caused the biggest oil spill in U.S. history.
The first of two relief wells detected the metal casing of the leaking wellbore at a depth of 16,275 feet (5,050 meters) and aims to intercept Macondo after additional tests and more drilling, London-based BP said today in a statement. An electromagnetic sensor found the leaking well, which is gushing as much as 60,000 barrels of oil a day into the ocean.
"Subsequent ranging runs will be needed to more precisely locate the well," BP said in the statement. "Drilling and ranging operations will continue over the next few weeks towards the target intercept depth of approximately 18,000 feet, when kill operations are expected to begin."
Those operations will include stanching the flow of oil with drilling mud and plugging the well with cement. BP has lost more than half of its market value since an April 20 explosion on the Deepwater Horizon drilling rig killed 11 crew members and triggered the spill. The first intercept well started on May 2.
BP failed in several efforts to stop the leak from above the well, including a so-called top-kill technique and placement of a 40-foot-tall steel chamber that clogged with slush-like gas hydrates. The company is capturing some leaking oil, including about 23,725 barrels of crude yesterday, through two systems that are taking crude to vessels on the Gulf's surface.
Shares, Bonds Drop
BP fell 6.4 pence to 304.6 pence, the lowest since August 1996, today in London. The company's 3.875 percent notes due in 2015 dropped to a record low, trading below 81.5 cents on the dollar, as costs of spill response reached $2.35 billion. Costs to protect against default on BP debt rose to an all-time high.
The first tropical storm of the Atlantic hurricane season has an 80 percent chance of forming this weekend and may head into the Gulf, the National Weather Service said on its website. That threatens to idle drilling of the relief wells and cleanup efforts, which involve 4,500 vessels and 37,000 people.
The oil-recovery and drilling vessels will begin evacuating when the National Weather Service forecasts gale-force winds at the well site within 120 hours, U.S. Coast Guard Admiral Thad Allen said today at a press conference in Washington.
Oil to Gush
Oil will spill unconstrained so long as the recovery vessels are disconnected, probably for about two weeks, Allen said. Skimming of oil from the surface won't be possible during that period because of rough seas, he said.
The Weather Service defines a gale as sustained wind of 39 miles (63 kilometers) per hour to 54 miles per hour.
The drillship Discoverer Enterprise, responsible for about two-thirds of the oil diverted from the well, will disconnect 114 hours before a gale is forecast to hit, Allen said. The rig drilling the first relief well will disconnect 104 hours before a gale, and the Q4000, a rig that's burning oil captured from the well, will disconnect 56 hours ahead of such winds.
Government forecasters say the hurricane season that began June 1 may be the worst since 2005, when storms including Katrina devastated the U.S. Gulf Coast and damaged offshore platforms and pipelines.
BP agreed this month to set aside $20 billion in an independently managed account to cover cleanup costs and compensation claims from people affected by the spill.