Snoop Dogg Raps, Macbeth Plots, Hot Cocktails: Brussels Weekend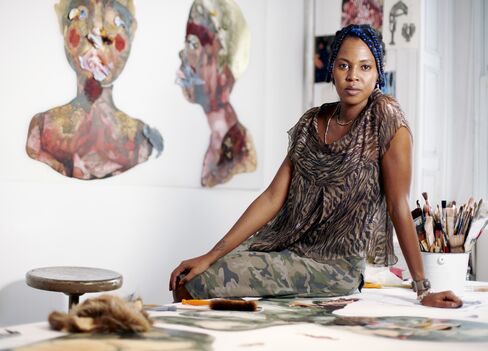 A refreshing aperitif and a bit of dancing are a pleasant way to de-stress in now steamy Brussels.
"Les Aperos Urbains" holds outdoor cocktail parties in a park or square across the city every Friday evening during the summer, with music spun by an array of DJs.
This week, they're teaming up with Bal Moderne, which holds events where dancers -- often from Anne Teresa De Keersmaeker's troupe Rosas -- teach three choreographies to whoever shows up. The budding Baryshnikovs then join in performing the works -- tutus or tights are not obligatory. It's all free and open to everyone at the Parc du Cinquantenaire/Jubelpark near the European Commission.
(Note in your agenda that the July 4 Apero will be held at local landmark the Atomium to welcome the Tour de France as it whizzes into Brussels.) Information: http://www.aperos.netevents.be and http://www.balmoderne.be/.
After all that exertion, you'll merit a feast of, say, grilled squid and lamb in lemon sauce on the sidewalk terrace at l'Atlantide, a nearby Greek taverna (73, Rue Franklin, tel. +32-2-736-2002).
Saturday
The Wiels arts center has just opened an exhibition of works (through Sept. 12) by Wangechi Mutu. The Kenya-born artist, who lives in New York, is Deutsche Bank AG's Artist of the Year for 2010 and the German bank is sponsoring this show. The core is Mutu's large installation "My Dirty Little Heaven," a mix of cocoon and shanty that aims to reflect the blurred notion of cultural identity. The show also features her collages and paintings. Information: http://www.wiels.org/.
Photojournalist Cedric Gerbehaye is showing a superb series of pictures from his trips to central Africa in "Congo in Limbo" at Le Botanique. The photos, all black and white, are a stark reflection of a society that's both violent and proudly seductive. Information: http://www.botanique.be/.
Saturday Night
Snoop Dogg may have been banned in the Netherlands but the U.S. rapper is welcome across the border and will be topping the bill at Couleur Cafe, a weekend festival of World Music. Nigeria's Femi Kuti and Staff Benda Billi, a startling Congolese rumba band made up of disabled musicians, are also performing Saturday evening, with a fireworks display around midnight. The sprawling Tour & Taxis site, a 19th-century former postal center, will host an array of acts on several stages, a dance club, an artisan market and a street devoted to exotic culinary specialties. Information: http://www.couleurcafe.be.
Sunday
You'll have to search for the witches in Krzysztof Warlikowski's matinee production of Verdi's "Macbeth" -- look up. The Polish director deconstructs Shakespeare's tale of power and guilt with ample use of video at La Monnaie/De Munt. He's well served by a cast that includes Scott Hendricks in the title role and Iano Tamar and Lisa Houben alternating as his viperous lady. Paul Daniel conducts. Information: http://www.lamonnaie.be.
Sunday Night
You can mull the consequences of entanglements with highly ambitious partners over a sumptuous platter of mezze at Kif Kif (1, Square de Biarritz, tel. +32-2-644-1810), a stylish mideastern restaurant with a terrace that overlooks a small lake in the uptown Ixelles district.
The triumphantly Art Deco Flagey cultural center across the lake is hosting the Brussels European Film Festival through June 30. The focus is on young directors, with a selection of movies from the Sundance Festival in the U.S. too.
At 9 p.m., you can catch "I Am Not Your Friend," a look at crisscrossed relationships by Hungarian director Gyorgy Palfi. The free open-air screening (10:30 p.m.) on Sunday is "Panique au Village," a zany Belgian road movie by Stephane Aubier and Vincent Patar. Information: http://www.fffb.be.
(Jim Ruane is editor-at-large for Muse, the arts and culture section of Bloomberg News. The opinions expressed are his own.)