Hollywood Backs Ban on Box-Office Futures in Financial Overhaul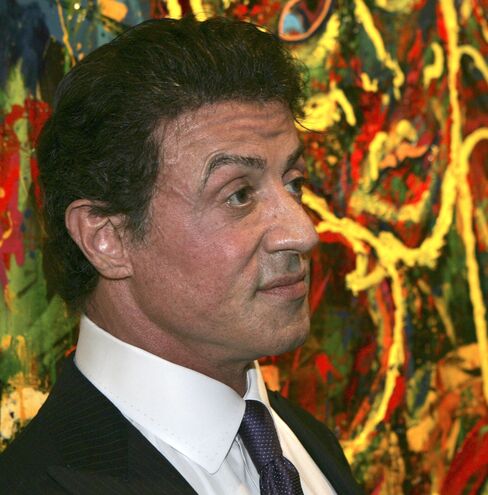 Congress may decide today whether to let Wall Street bet on Sylvester Stallone.
Lawmakers negotiating an overhaul of financial-markets regulation are weighing a ban on futures contracts pegged to box-office receipts, and the Hollywood studios are working hard to ensure the prohibition is included in the final bill.
The Motion Picture Association of America, the film industry's biggest trade association, is leading the push to ban these trades, which give investors the chance to bet on a movie's revenue. On June 14, the Commodity Futures Trading Commission approved a futures contract proposed by a division of Veriana Ventures LLC after granting preliminary approval in April to another proposed by Cantor Fitzgerald LP.
Robert Pisano, the MPAA's interim chief executive officer, told the CFTC on May 19 that these futures markets "will harm the motion picture industry." He called the contracts "freestanding bets" and said they would be "inherently subject to manipulation" by investors seeking to influence a movie's performance.
The ban on the box-office trades is included in a set of new rules governing the largely unregulated derivatives markets that House and Senate negotiators may agree to today. The provision banning film futures was included in the package by Senate Agriculture Committee Chairwoman Blanche Lincoln, an Arkansas Democrat.
Consumer Agency
In addition to increasing oversight of derivatives, the measure overhauling Wall Street regulations would create a consumer protection agency inside the Federal Reserve and give the government more authority to unwind failing financial firms.
Industries ranging from banks to corn farmers are lobbying Congress to preserve their right to trade futures as a way to hedge business risks. Operators of box-office exchanges say their futures markets would help studios and independent producers raise money.
"The people who are complaining most about this market are the people who could benefit the most from it," said Rob Swagger, CEO of Trend Exchange, a subsidiary of Scottsdale, Arizona-based Veriana that won CFTC approval this month to offer futures on a Sony Pictures production, "Takers," starring Matt Dillon.
'The Expendables'
The agency has until June 28 to grant New York-based Cantor Fitzgerald similar approval to establish a futures market for "The Expendables," an action movie from Santa Monica, California-based Lions Gate Entertainment Corp. starring Stallone, Bruce Willis and Mickey Rourke. Cantor Fitzgerald would execute trades through the Hollywood Stock Exchange, a virtual market it acquired in 2001. Cantor spokeswoman Melanie Gordon-Felsman said the firm has always intended to "turn it into a real-money exchange."
Lions Gate vice-chairman Michael Burns testified in favor of the box-office exchanges in May.
Unlike grain or oil futures, which are based on the sale of a commodity or product, there is no underlying asset for a movie future.
In a 3-2 decision, the CFTC said the Trend Exchange contract met its two major criteria for approval: The futures fit into the agency's definition of a commodity and aren't "readily susceptible to manipulation."
Derivatives are contracts whose value is derived from stocks, bonds, loans, currencies and commodities, or linked to specific events such as changes in interest rates or weather.
Significant Events
The commissioners grouped box-office futures with other approved derivatives for "events with economic or commercial significance," including wagers on unemployment claims, a company's earnings-per-share or snowfall at Chicago's O'Hare International Airport. Companies use futures to hedge risks. Utilities, for example, trade weather futures to offset changes in power demand.
"While the right or interest may be intangible, it can clearly serve as the basis for a futures or options contract," the commissioners said when they approved the Trend Exchange contract.
Pisano called the decision "unfortunate," and Greg Frazier, the MPAA's chief policy officer, said these contracts represent "pure speculation" because they don't set movie prices and because insider-trading restrictions would make it hard for studios to use them as a hedge.
"It's a fundamental misunderstanding about why the movie industry publishes box-office numbers," Frazier said.
Instead, the studios defray risk by sharing production costs with outside investors and selling rights to DVDs, pay-per-view and foreign distribution.
Hedge Investment Risks
Pisano told regulators, "The contracts provide no opportunity to hedge investment risks at the pre-production and production stages, when the real financial decisions are made and risks taken."
The MPAA represents Viacom Inc.'s Paramount Pictures, Sony's filmed entertained division, News Corp.'s Twentieth Century Fox, General Electric Co.'s NBC Universal, Walt Disney Co. and Time Warner Inc.'s Warner Bros. Pictures.
Outside investors, who account for an estimated 30 percent of film production costs, want to hedge risks through futures markets, Richard Jacobs, president of the Cantor Futures Exchange, told the CFTC in May.
Still, many advocacy groups -- including the Washington- based Managed Funds Association, the Private Equity Council and the Securities Industry and Financial Markets Association -- haven't publicly taken a position.
Swagger, who said Trend Exchange might be grandfathered under the new rules, concedes that it will be hard for his group to sway lawmakers to scrap Lincoln's ban.
"Many people are not willing to meet with us," he said. "It's really hard to get anybody to come out against their trade organization."