Gillard Becomes Australian Leader, Ousting Rudd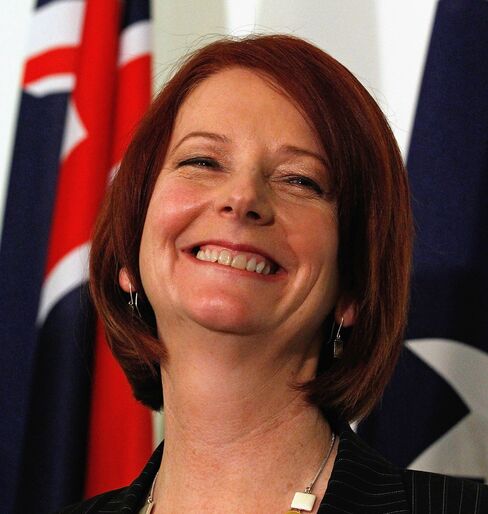 Julia Gillard became Australia's first female prime minister, ousting Kevin Rudd as Labor Party leader after his plans to boost taxes on the mining industry deepened a slump in opinion polls.
Gillard, 48, was sworn in at about 1 p.m. in Canberra, less than 24 hours after the Welsh-born education minister mounted her challenge. Rudd, 52, stepped down after losing the support of colleagues, ending his tenure just 2 1/2 years after he swept to power in a landslide election victory.
BHP Billiton Ltd. and Rio Tinto Group rose in Sydney trading as Gillard agreed to start negotiations on a proposed tax on profits that would raise A$12 billion ($10.5 billion) in its first two years. The plan had sparked a storm of protests from the world's biggest producers, which threatened to scrap projects and curtail investment. Gillard, a former labor lawyer, also said today she'll call an election this year, setting up a battle with the Liberal Party's Tony Abbott.
"Ultimately, Kevin Rudd and I disagreed about the direction of the government," Gillard told reporters in Canberra today. "I came to the view that a good government was losing its way."
Following her televised swearing in, Gillard joined Governor-General Quentin Bryce on the steps of Government House in Canberra. The two were accompanied by Treasurer Wayne Swan, who will retain the post he held in Rudd's government while also serving as Gillard's deputy.
Leadership Change
"This is the most dramatic leadership change in Australian political history," Nick Economou, a lecturer in politics at Monash University in Melbourne, said in a phone interview.
Rudd, who served the shortest term as leader since William McMahon's tenure of 20 months and 25 days beginning in 1971, said in a news conference today in Canberra that he was proud of steering the nation through the global economic crisis without falling into recession.
"I've given it my absolute all," Rudd told reporters in Canberra today, as he fought back tears. "These reforms will endure into the future and make Australia, I believe, a fairer and better place than it would otherwise have been."
Flanked by his wife Therese Rein and children Jess, Nick and Marcus, Rudd said he'll run at the next election in his district of Griffith in the state of Queensland.
Gillard will talk to Rudd about a possible role for him in government before she decides on any changes to government ministries, she told the Australian Broadcasting Corp.
Any changes will be small and she intends to maintain stability in government, Gillard said this evening on Sydney-based Channel Nine television.
Slump in Polls
The Australian dollar fell to 87.24 U.S. cents at 5:05 p.m. in Sydney from 87.39 cents in New York yesterday. Australia's benchmark stock index, the S&P/ASX 200 Index, fell 6.4 points to 4479.70. BHP rose 1.3 percent and Rio Tinto gained 1.7 percent.
Rudd's support began to slide in April after he shelved his carbon trading system, the centerpiece of his plan to tackle climate change, which he called the greatest "moral challenge" of our time. He then proposed the 40 percent tax on the "super profits" of resource projects in Australia, the world's biggest shipper of coal and iron ore, and refused to back down even after members of his own party objected.
'Doors Open'
Gillard today offered to "throw open" her doors to the mining industry, and pledged to scrap the government's A$38.5 million advertising campaign that Rudd undertook to counter what he said was industry "misinformation" about the levy. In return, she asked the mining industry to end its campaign, an appeal that was answered by BHP. Rio Tinto today said it's "cautiously encouraged" by Gillard's comments on the tax.
Dissatisfaction with Rudd, hit a record 55 percent, according to a telephone survey of 1,147 people between June 18 and June 20 published in the Australian newspaper this week. The margin of error was 3 percentage points.
Rudd was previously the nation's second most-popular leader, after Bob Hawke in the 1980s, according to a Nielsen poll published in March 2009.
Gillard had been Rudd's deputy since December 2006 and helped Labor win power from John Howard's coalition after almost 12 years in opposition.
She served as minister for education, employment and social inclusion under Rudd, where she took responsibility for dismantling Howard's labor laws that decreased the power of unions. Voter opposition to the laws was seen as the pivotal issue in the 2007 election victory.
Abbott Faceoff
Gillard attended the University of Adelaide then transferred to Melbourne University where she got her law degree in 1987 followed by an arts degree in 1990. She then joined law firm Slater & Gordon in Werribee, Victoria, practicing industrial law. The firm now has a meeting room named after her in its Melbourne office.
She'll now face Abbott, who has promised not to adopt the resource profits tax and has offered a more generous plan for new parents to take leave from the workforce.
"A prime minister elected by the people has been executed by the union and the factional warlords," Abbott told reporters in Canberra today. "Different salesman, same dud product."
Abbott, a former health minister, seminary student and Rhodes scholar, has galvanized conservative voters with his attacks on the government's climate change and asylum seeker policies.
"I don't think it's diminished the opposition's prospects one iota," John Freebairn, Professor of Economics at the University of Melbourne, said in a phone interview today.
"Labor has just got itself into an awkward position," he said. "If she reverses the Rudd decisions then she'll be called a flip-flop and if she sticks with them then it's just more of the same. You can't win."