Gillard Mulls Climate, Tax Policies That Doomed Rudd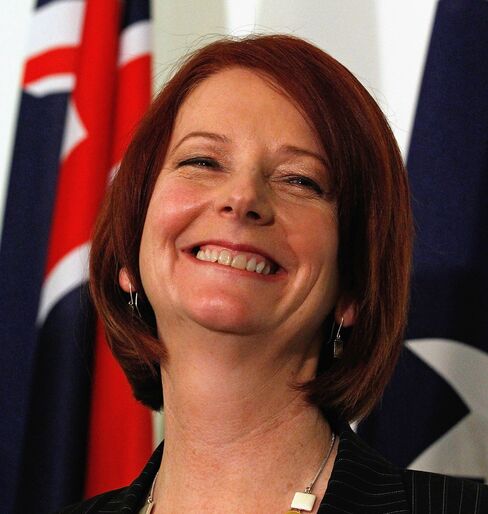 Julia Gillard began her job as Australia's first female prime minister by promising to smooth relations with mining, its biggest industry.
The 48-year-old Wales-born lawyer took office yesterday after ousting Kevin Rudd, whose slump in opinion polls threatened to make their Labor Party the nation's first one-term government in 80 years. Rudd stepped down rather than face a party vote.
Gillard moved to fix two of Rudd's most unpopular decisions by revisiting the carbon-trading system he shelved in April and agreeing to open negotiations with the mining industry on a proposed tax increase that sparked widespread protests among companies, workers and politicians, including members of Rudd's own party.
"The change of leadership will mark a major change in the management style of the government," said Paul Brennan, senior economist at Citigroup Inc. in Sydney. "The change of leadership may increase the government's chances of being re-elected."
Gillard said she met earlier today with Treasurer Wayne Swan and Resources Minister Martin Ferguson to discuss tactics to negotiate with mining companies over the tax.
"My priority is to deal with the mining tax, it has caused uncertainty and that uncertainty has caused anxiety," she told reporters in Canberra today. "I want to make sure Australians get a fair share of our mineral wealth, but I want to genuinely negotiate."
Gillard's ascension to the nation's top job was welcomed by BHP Billiton Ltd., Rio Tinto Group and Fortescue Metals Group Ltd., which had led the fight against the 40 percent tax that Morgan Stanley estimates would have taken A$85 billion ($74 billion) from the mining industry during the next decade.
Melbourne-based BHP, the world's biggest mining company, said in a statement it was "encouraged" by the appointment and will suspend its advertising against the proposed tax.
Open Doors
"Gillard has launched her leadership with a conciliatory tone toward the mining industry," said Roland Randall, vice president of research and strategy at TD Securities in Singapore. "As a new leader, she can compromise without loss of face."
Gillard yesterday said that she will call an election within the coming months, "throw open" her doors to talks with mining companies and make climate change a central plank of her election platform.
"It is as disappointing to me as it is to millions of Australians that we don't have a price on carbon," she said. "If elected as prime minister I will re-prosecute the case for a carbon price."
Parliamentary Career
Gillard's political career got off to a stuttering start. After failing in three attempts to win Labor endorsement to stand for parliament, she took a job as chief of staff to Victorian state opposition leader John Brumby.
She finally won endorsement for the Labor Party in 1998, winning the Melbourne seat of Lalor. In opposition, she served as the party's spokeswoman on health, squaring off against the Liberal Party's Tony Abbott.
Now, the two will face each other in the coming election. The 52-year-old Abbott, a former Rhodes scholar and priest trainee, was elected leader of the Liberal Party in December, after overthrowing Malcolm Turnbull.
When Rudd, 52, ran for the Labor leadership in 2006, he enlisted Gillard as his deputy. The pair led Labor to a landslide victory in November 2007, ending John Howard's almost 12 years in power.
Gillard, who was sworn in by Australia's first female Governor General Quentin Bryce, joins powerful female politicians such as New South Wales state premier Kristina Keneally, Queensland state leader Anna Bligh and deputy opposition leader Julie Bishop.
Feet on the Floor
"I'm aware I'm the first woman to sit in this role but I didn't set out to crash my head against any glass ceilings," she said yesterday. "I keep my feet on the floor."
Gillard said she grew up in a "hard-working family" that taught her people should be rewarded for their efforts. And she restated her goal that every child should be able to access a quality education, a pledge included in her maiden speech to parliament in 1998.
Her parents, John and Moira, who moved to Australia in 1966 to escape the cold Welsh winters that frequently left their four-year-old daughter with bronchial pneumonia, watched from their home in Adelaide as Gillard was sworn in as Australia's 27th prime minister.
"When I see Julia we'll probably both cuddle and probably shed a tear or two, we are very proud," her father said in a phone interview yesterday.
School Cheers
About 100 children at Adelaide's Unley High School Resource Center cheered as they watched the swearing-in. Gillard graduated in 1978 with an A for Chemistry and English and B+ for Physics, Economics and Mathematics, principal Susan Cameron said as she read from Gillard's report card.
"She studied hard and the students were gripped by the coverage of this exciting day," Cameron said in an interview.
Gillard attended the University of Adelaide then transferred to Melbourne University where she got her law degree in 1987 followed by an arts degree in 1990. She then joined law firm Slater & Gordon in Werribee, Victoria, practicing industrial law. The firm now has a meeting room named after her in its Melbourne office.
"She argued with the same charm and humor we see in her style today," said Carol Johnson, who was in student politics with Gillard at Adelaide. "We knew she'd go far but we didn't think she'd go this far this quickly."
Gillard's partner, Tim Mathieson, a hair stylist who works on her flame-red bob, congratulated Gillard yesterday with a hug and a kiss as she was sworn in at Government House.
Gillard has had to fight criticism she wasn't qualified to be a leader because she didn't have children. Liberal Senator Bill Heffernan had to apologize for saying in May 2007 that Gillard was unfit to be deputy prime minister because she was "deliberately barren."
"You're either working at this intense high level or you're having kids," Gillard responded in an interview then with the Australian Broadcasting Corp.