Flirting With Gok Wan; Giving a Chocolate-Clad iPad: Food Buzz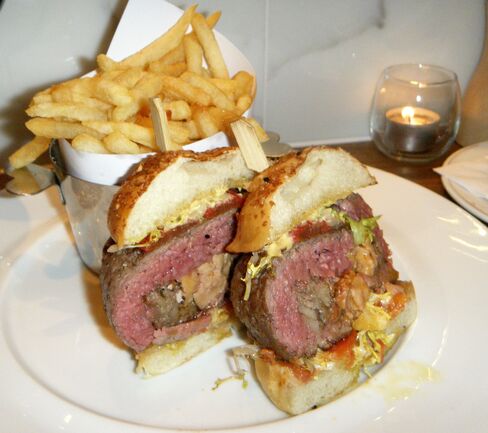 Taste of London was packed as usual, with chefs such as Heston Blumenthal drawing crowds for the cookery demonstrations during the event in Regent's Park.
Adam Byatt of Trinity won Best Dish for his pig's trotters on toasted pain Poilane, fried quail egg, sauce gribiche and crackling. My favorites included Gary Rhodes's white tomato soup and anything from Le Gavroche, where chef Michel Roux Jr. and director Silvano Giraldin were in attendance most of the time. Celebrities included the TV style guru Gok Wan, accompanied in the mean streets of the British Airways VIP hospitality site by two man-mountain heavies. He accused me of flirting with him. I think he may have been working out.
For the woman who has everything: Stefan Magdalinski wanted to give his partner Kay Chung an iPad with that extra something.
He contacted Paul A Young Fine Chocolates, in London, and got it encased in carbon-frozen chocolate. He tells the story here: http://aheadrobot.com/2010/06/12/ipad-unchocolateboxing/. The iPad was unharmed, which is more than I can say for the iPhone I dropped. The screen broke and I returned to the BlackBerry fold.
The Marine Conservation Society is holding an event at Soseki at 5:30 p.m. on June 29 to focus on sustainable fish in the City. Sushi will be served. While entry is free, a donation of 10 pounds ($14.92) is encouraged.
Silvena Rowe is to take over the restaurant at the Mayfair Hotel and plans a menu featuring U.K. produce with an Eastern Mediterranean twist, so Caesar Salad will come with shoarma spiced chicken and the crispy squid will feature a cumin crust. Some of the recipes will come from "Purple Citrus & Sweet Perfume" (Random House) the new book of Rowe, who was born in Plovdiv (to a Bulgarian mother and a Turkish father). Opening is scheduled for later this year, with designs by Martin Brudnizki.
Chef Rene Redzepi, winner of the World's Best Restaurant award for Noma, is concocting a book on the venue and the philosophy behind his cuisine. "Noma: Time & Place in Nordic Cuisine" is scheduled to be published by Phaidon Press Ltd. on Sept. 20. Redzepi will make an international tour to promote the book and plans to visit the U.K. in late November.
The opening of Koffmann's has been delayed until July 15 from late June. Work is continuing on chef Pierre Koffmann's restaurant, which replaces the Boxwood Cafe, below the Berkeley Hotel. For reservations, tel. +44-20-7235-1010.
Bocca di Lupo, the popular pan-Italian eatery in Soho, has a little sister, also in Soho. Gelupo, at 7 Archer Street, serves ice cream in flavors such as ricotta, coffee and honey; and pine nut and fennel seed. Pasta, sauces and sausages are also available. Information: http://gelupo.com/gelateria.php.
Wright Brothers, known for its oysters at Borough Market, plans to open a three-story venue on Kingly Street. Wright Brothers Soho, with a seafood restaurant and bar, is expected to start welcoming diners and drinkers in November.
If you're tired of paying high prices for wine in restaurants, the BYO Wine Club might be for you. The opening membership costs 75 pounds and that buys you free or cut-price corkage in participating restaurants. The list is limited at present so don't assume it's au revoir to inflated prices.
The wait soon may be over to hear which chef will enter 45 Park Lane, the Dorchester Collection's planned hotel on the site of the Playboy Club. Speculation centers on Los Angeles star Wolfgang Puck, who told me in January that he was in talks to open a branch of Cut, his steak house at the Beverly Wilshire. The Dorchester said that there are no immediate plans for an announcement and declined to confirm it was Puck.
"Hix Oyster & Chop House" (Quadrille, 25 pounds) is more than just a recipe book for the Smithfield restaurant. It also offers reflections on food by Mark Hix, a chef as influential as any in London today, plus the story of De Beauvoir Smoked Salmon -- Hix Cure, which he smokes in his back garden. Well, he has up until now. Selfridges has installed a smokery on its roof to serve the in-store Hix restaurant and the Food Hall. The book is beautifully photographed by Jason Lowe.
Daniel Boulud was on hand to supervise the creation of his foie gras-and-truffle burger at Bar Boulud on June 20. The burger is only sold on Sunday nights, doesn't appear on the menu and it's first-come, first-served. The price? 20 pounds.
Tuscan brothers Max and Federico Sali -- proteges of the chef Giorgio Locatelli -- plan to open their own Italian restaurant in Pimlico at the end of next month. Tinello will take over the site of L'Incontro, at 87 Pimlico Road. Locatelli and his wife Plaxy are backing the new restaurant.
Skylon is presenting Brazilian cuisine as part of Festival Brazil at the Southbank Centre. Jose Barattino is guest chef. The Kerala Carnival will be held on the nearby Riverside Walkway on July 7-8. The south Indian state's cuisine, handicrafts, music and dance will be celebrated.
Fans of the Savoy Grill will be pleased to hear that the hotel is scheduled to reopen on Oct. 10 after being closed for refurbishment since December 2007.
(Richard Vines is the chief food critic for Muse, the arts and leisure section of Bloomberg News. Opinions expressed are his own.)
Before it's here, it's on the Bloomberg Terminal.
LEARN MORE