BASF to Buy Cognis From Buyouts for 3.1 Billion Euros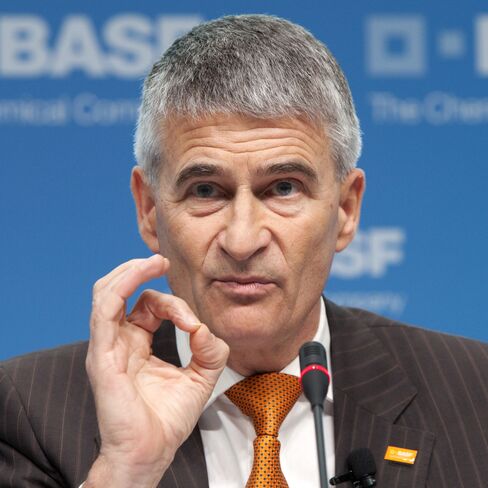 BASF SE, the world's largest chemicals company, agreed to buy German food- and cosmetics-ingredients maker Cognis Holding GmbH for 3.1 billion euros ($3.8 billion) to accelerate a move away from basic chemicals.
The all-cash deal with Cognis owners Goldman Sachs Group Inc., Permira Advisers Ltd., and SV Life Sciences is based on 700 million euros in equity, additional debt and 503 million euros in pension liabilities, Chief Executive Officer Juergen Hambrecht said on a call today.
"The price seems reasonable," said Peter Spengler, an analyst at DZ Bank AG, in a note. "It is a fine art to catch hold of the few big interesting assets in the market. BASF has a good track record in adding new segments."
Buying Cognis will add about 2.6 billion euros in sales and reduce BASF's reliance on plastics and chemicals that Middle East competitors produce more cheaply. Cognis, the former Henkel AG unit, offers ingredients for body lotions, cleaning products and shampoos, products that are more resistant to economic cycles than those directly derived from oil and gas.
Goldman Sachs and Permira chose an outright sale of Cognis over an initial public offering. They abandoned a share sale following a decline in global stock markets as the European sovereign debt crisis prompted investors to sell assets. The purchase is equal to 7.3 times earnings before interest, tax, depreciation and amortization.
BASF climbed 55 cents, or 1.2 percent, to 47.29 euros as of 1:06 p.m. in Frankfurt trading.
Last Hurrah
Cognis, which comes a year after BASF's $5 billion takeover of Ciba Holding AG., is almost an "ideal" purchase and there will be no other major acquisitions in the foreseeable future, the CEO said.
The deal, among the biggest in the chemical industry this year, underscores renewed interest in takeovers. Chemical purchases should increase this year, after a 40 percent drop in 2009, as credit markets improve and valuations become more attractive, Deloitte Consulting GmbH said in a report in March.
The transaction could be the last major purchase under Hambrecht before his retirement in a year. The CEO, to be succeeded by Chief Financial Officer Kurt Bock, spent seven years at the helm of the company, spending about $16 billion on purchases, including catalytic converter inventor Engelhard.
Palm, Coconut Oil
Cognis's strength in home and personal-care chemicals based on natural raw materials such as palm kernels and coconut oil made it an attractive target. BASF's own cosmetics-ingredients operation has seen signs that demand for luxury components is improving, adding strength to a rebound in the $3.7 billion personal-care chemicals markets, Thomas Greindl, European care chemicals marketing director, said in an April 16 interview.
BASF is already developing products for hair care, sun screen and thickeners to get more of the market, Greindl said.
The German company generates about 3.4 billion euros in sales from care-chemicals, a segment that includes cleaning agents as well as products for personal use. The rival unit at Cognis had revenue of about one-half that amount.
Dusseldorf-based Cognis, which employs about 5,600 people, has reduced its number of workers by 39 percent since the end of 2001. It was sold by Henkel for 2.5 billion euros.
Costs, Debt
Hambrecht finished absorbing Ciba in April, earmarking synergies of 450 million euros by 2012 through the elimination of as many as 3,800 jobs.
With Cognis, BASF has highlighted integration costs of 200 million euros to 250 million euros through 2012. It expects to make at least 129 million euros a year in savings by integrating Cognis's assets and is targeting a 20 percent margin at its performance products division by 2012. De-leveraging will be a priority, the CEO said.
Standard & Poor's lowered its rating to A+ with a negative outlook on Feb. 12. Moody's Investors Service put is A1 rating on BASF on review today, saying "that a one-notch downgrade based upon current assumptions is likely."
"We expect BASF's ratings cut by one notch in the wake of the bid," said Jochen Schlachter, a credit analyst at UniCredit in Munich, in a note today. "At a later stage, we would not be surprised to see BASF tapping the bond market to refinance."
Lazard Ltd. and BNP Paribas advised BASF, while Cognis was advised by Goldman Sachs Group Inc. and JPMorgan Chase & Co., as well as law firm Freshfields Bruckhaus Deringer LLP.
Before it's here, it's on the Bloomberg Terminal.
LEARN MORE