Apple May Sell 1 Million IPhones as Crowds Hit Stores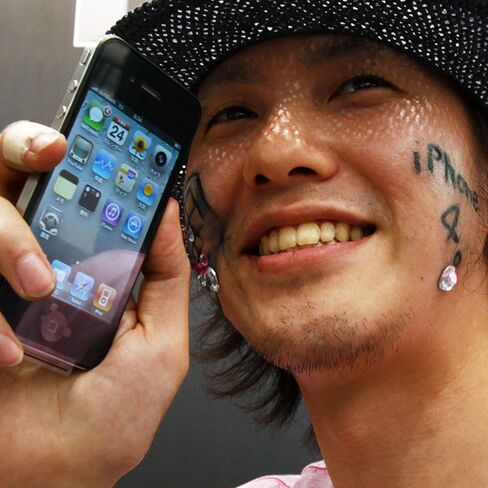 Apple Inc. will probably sell a record 1 million iPhones today after introducing a new model, attracting crowds to stores in five countries.
"It's like the olden days of waiting in line for tickets to a rock concert," said John Whalen, 50, publisher of Cider Mill Press in Kennebunkport, Maine. "There isn't anything I wait in line for other than the technology releases from Apple."
Chief Executive Officer Steve Jobs added video calling, multitasking and a high-definition video camera to the iPhone 4 and made it faster and thinner. Apple introduced the device in the U.S., U.K., France, Germany and Japan. The company may top 2 million iPhone sales by the end of the fiscal quarter on June 26, with half of that coming today, predicted Andy Hargreaves, an analyst at Pacific Crest Securities. Some stores sold out.
First-day sales haven't come without a snag. Users have posted videos on the Internet demonstrating trouble with the iPhone 4's new antenna. The phone signal drops out when users cover the bottom left-corner of the device with their palm to make a call, according to the videos.
"That is exactly what is happening to me," said Jennifer Sue, 21, a senior at the University of Southern California who waited overnight to buy the phone in Burlingame, California. "Everything else is running smoothly."
In Japan, where the new model first went on sale, about 320 lined up outside Tokyo's flagship store of wireless carrier Softbank Corp., the iPhone's exclusive provider in Japan.
2 1/2 Days in Line
In Paris, Kurt Huysmans was among more than 200 people outside Apple's store in the Louvre museum complex. The 30-year-old technical engineer from Antwerp had driven more than 300 kilometers (188 miles) "It's my first iPhone. I think I'll use the video calling a lot, and use it to take notes at work."
France Telecom SA, the second-biggest iPhone operator after AT&T Inc., opened its Orange store on Paris's Champs Elysees at midnight to accommodate eager shoppers.
In San Francisco, where Apple employees gave out water and coffee to those in line, Natalie Gale, 34, an antique showroom manager, was waiting to pick up a new phone for her boyfriend who will be visiting from Peru.
"My boyfriend is in South America and he's depressed because he's not here," Gale said. "He'll be more excited to see the phone than me."
Fifth Avenue
In New York, Brian Shapiro, 30, showed up at Apple's Fifth Avenue store at 7 a.m. and had hundreds of people ahead of him in line. He owned a first-generation iPhone and had to switch to Research In Motion Ltd.'s BlackBerry because of work requirements. The added features of the new iPhone, including video calls and the ability to run applications simultaneously, proved irresistible, the New York resident said.
Apple may sell more than 10 million units in the quarter ending in September, another record, said Colin Gillis, an analyst at BGC Partners in New York.
"Supply is more an issue than demand," said Gillis, who recommends buying Apple shares and doesn't own any.
Some stores are already out of stock, including Best Buy Co., the largest electronics chain. The company has run out of its inventory at all 1,140 locations where it was being sold, said spokesman Jeff Haydock.
Apple fell $1.97 to $269 at 4 p.m. New York time in Nasdaq Stock Market trading. The shares have gained 28 percent this year.
Android Competition
Apple, based in Cupertino, California, is facing increased competition from Android phone makers, such as HTC Corp., which rely on Google Inc.'s software. There are some 60 Android-based phones and more than 60,000 applications available for them, according to Google.
"Android will absolutely cut into their market-share opportunity, but it doesn't mean Apple can't keep selling an extraordinary number of phones and probably at the highest profit margin in the industry," Hargreaves said. The Portland, Oregon-based analyst has an "outperform" rating on Apple's stock, which he doesn't own.
For now, Apple has a wide lead in applications. There are more than 225,000 apps available for iPhone users.
"We're thrilled to be launching iPhone 4," said Natalie Harrison, a spokeswoman for Apple. "We've seen incredible customer excitement in the U.S. and around the world." She didn't respond today to requests for comment about the reported antenna glitch.
Antenna Problems
David Carey, vice president of technical intelligence at UBM TechInsights, an Austin, Texas-based company that studies the engineering of electronic devices, said the antenna problem may be something fixed with a software update from Apple. The phone's operating system may be incorrectly interpreting signal strength when people touch the phone a certain way, he said.
"There is a point where software can't dig you out of a hole," he said. Given the phone's rigorous testing process, "it would strike me as surprising that they would have a permanent problem on their hands," Carey said.
Michael Gartenberg, an analyst with Altimeter Group LLC, said the glitch was being generated by a "vocal minority."
"Any time you launch a product at the numbers that Apple is doing today, you're going to have some problems," he said. "We see something like this with almost every major Apple launch."
Whalen, the iPhone shopper in Maine, said he didn't have a problem with the antenna.
Best in Class
Apple said yesterday it's delaying the release of white iPhone 4 models until the second half of July because of unexpected manufacturing challenges. Jobs unveiled the phone on June 7.
Reviews of the new model have been positive. Walt Mossberg of the Wall Street Journal deemed it a "major leap" and the "best device in its class." In the New York Times, David Pogue rated it "the first phone to make good video calls."
The iPhone, introduced in 2007, is Apple's top-selling product and accounts for 40 percent of its revenue. The company received more than 600,000 preorders for the new model, setting a single-day record and exceeding the company's expectations.
The demand may be partially triggered by the 57 percent of iPhone owners who have an older version that won't work with the new iOS 4 software, according to Katy Huberty, a New York-based analyst at Morgan Stanley. She projects that Apple may sell more than 100 million units by the end of 2011.
Phone Pricing
In the U.S., a 16-gigabyte model of the iPhone 4 costs $199, and a 32-gigabyte model is priced at $299. The company is now selling its older 3GS model for $99. AT&T, which has been criticized for dropped calls, said this month it will end unlimited data plans, an effort to manage the surge in demand caused by devices like the iPhone.
AT&T said this week that it's delaying sales of the iPhone until June 29 because early orders depleted inventory.
Verizon Wireless, the biggest U.S. mobile-phone carrier, will probably begin selling the iPhone early next year, Barclays Plc said in a research note this week.
The iPhone 4 design more than doubles the number of pixels per inch from the 3GS version, making its sharpness "resemble that of a printed book," said Yair Reiner, an analyst with Oppenheimer & Co. in New York. It's the thinnest model to date - - 9.3 millimeters -- and has faster processing power, longer battery life and a gyroscope sensor that can track a user's movement.
"I first had an iPod, then when I went to school, I got a MacBook, then I got a 3G," said Stephanie Wu, 21, a student at San Jose State University, who upgraded to an iPhone 4. "The Apple cult -- it just sucks you in and you can't get out."
Before it's here, it's on the Bloomberg Terminal.
LEARN MORE