U.S. Stocks Slide as Home Sales Drop Spurs Recovery Concern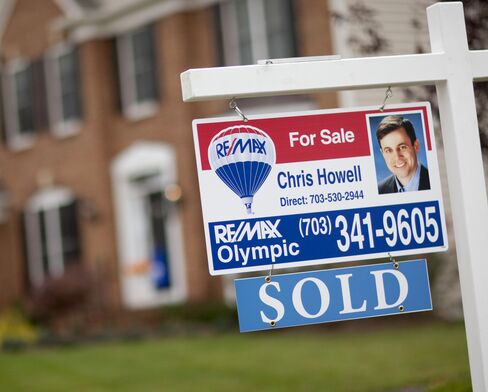 June 22 (Bloomberg) -- U.S. stocks sank, with benchmark gauges declining the most in almost three weeks, as home sales unexpectedly dropped and the Standard & Poor's 500 Index slipped for a second day below chart levels monitored by analysts.
Alcoa Inc., Caterpillar Inc. and Home Depot Inc. fell more than 2.5 percent after the National Association of Realtors said sales of previously owned homes decreased 2.2 percent in May. Halliburton Co. dropped 3.9 percent as the Obama administration said it will appeal a judge's decision to lift the White House's deep-water drilling ban. FedEx Corp. slid 3 percent as transportation stocks retreated the most of 24 S&P 500 groups.
The S&P 500 fell 1.6 percent to 1,095.31 as of 4 p.m. in New York. The benchmark gauge fell below its average price over the last 200 days, a bearish signal to technical analysts. The Dow Jones Industrial Average declined 148.89 points, or 1.4 percent, to 10,293.52.
"It's just a sloppy environment," said Stephen Wood, who helps manage about $179 billion as chief market strategist for Russell Investments in New York. "The housing recovery is very fragile. Then, there's the Gulf situation decreasing earnings visibility. You're going to get a lot of volatility."
The VIX, as the Chicago Board Options Exchange Volatility Index is known, surged 8.7 percent to 27.05, the biggest gain since June 4. The measure, which tends to rise when investors are paying more for protection from losses in the S&P 500, surpassed 40 in May for the first time in almost 13 months.
Reversing Gains
U.S. stocks fell yesterday, erasing an earlier gain, as a retreat in retail and technology shares outweighed China's decision to relax its currency's fixed rate to the dollar. The benchmark for U.S. equities has gained 4.3 percent since June 7 and completed its biggest two-week rally since November on June 18 as concern about Europe's debt crisis eased.
Equities reversed gains in the first half hour of trading today after the National Association of Realtors said purchases of existing houses, which are tabulated when a contract closes, decreased to a 5.66 million annual rate. Existing home sales were forecast to rise to a 6.12 million rate, according to the median forecast of 74 economists in a Bloomberg News survey.
"There's fear of a double dip in housing," said Jack Ablin, chief investment officer at Chicago-based Harris Private Bank, which oversees $55 billion. "We're waiting for other economic figures and the Fed's statement this week."
Federal Reserve policy makers will issue a statement about the outlook for interest rates and the economy tomorrow at around 2:15 p.m. Washington time following a two-day meeting.
A gauge of 12 homebuilders in S&P indexes dropped 2.3 percent, as Pulte Group Inc. and D.R. Horton Inc. declined at least 3 percent.
Home Depot, the largest home-improvement retailer, lost 2.6 percent to $30.61. Alcoa slid 3.7 percent to $11.29. Caterpillar slumped 3 percent to $64.11.
Technical Levels
The S&P 500 fell below its 200-day average of about 1,111, and its close below that level may signal more losses, according to analysts who study charts to make forecasts.
"It's not a good signal," said Michael O'Rourke, chief market strategist at BTIG LLC in Yardley, Pennsylvania, which serves institutional investors. "That's not all. Lack of volume is also negative. Investors won't be making big moves unless the economic data or earnings season provide a catalyst."
A rally on the S&P 500 yesterday fizzled above 1,120.84, the level marking a 50 percent recovery of its October 2007 to March 2009 plunge, and 1,130.29, the midpoint of its intraday highs and lows in 2010. About 8.3 billion shares changed hands on all U.S. exchanges today, 19 percent fewer than this year's average.
Transportation Stocks
Transportation stocks, which are sensitive to economic performance, fell 3.4 percent for the biggest decline among 24 industries in the S&P 500.
FedEx, the world's largest air-cargo carrier, tumbled 3 percent to $76.20. United Parcel Service Inc. slumped 2.9 percent to $60.40.
A 3.9 percent decline in the Dow Jones Transportation Average pared its lead since June 7 over the industrial gauge, a spread some investors view as a sign of U.S. economic strength. The measure of companies from Ryder Systems Inc. to FedEx is up 5.6 percent since falling to a four-month low, while the 30-stock industrial average is up 4.9 percent.
"Jitters about the economy are out today," said Eric Marshall, who helps oversee about $1 billion as research director of Dallas-based Hodges Capital Management Inc. "I think it's tied to the fact that the most cyclical stocks are the ones that are down the most today."
Walgreen Co. dropped 6.5 percent to $28.17. The largest U.S. drugstore chain said third-quarter profit declined on expenses related to its purchase of Duane Reade Holdings Inc. and changes in Medicare benefits. Excluding certain items, profit was 53 cents. Analysts projected 58 cents, the average of estimates compiled by Bloomberg.
Gulf Spill
Oil drillers fell as the Obama administration said it will appeal a federal judge's ruling lifting a six-month moratorium on deepwater drilling imposed after the BP Plc oil spill in the Gulf of Mexico, White House press secretary Robert Gibbs said.
Transocean Ltd., which leased to BP the Deepwater Horizon oil rig, dropped 2.6 percent to $52.49. Halliburton fell 3.9 percent to $25.99. BP slid 2.1 percent to $29.68.
Big Lots Inc. fell 8 percent to $31.56, the biggest decline in the S&P 500. The retailer was downgraded to "neutral" from "overweight" by JPMorgan Chase & Co.
Carnival Corp. fell 4.5 percent to $33.19. The cruise ship operator said third-quarter earnings will be as low as $1.43 per share. Analysts on average forecast earnings of $1.51 per share, according to a survey by Bloomberg.
Market Drivers
"We're at crossroads," said Peter Jankovskis, who helps manage about $2.2 billion as co-chief investment officer at Oakbrook Investments in Lisle, Illinois. "The question remains -- will the consumer step up and sustain a rebound? I don't see great drivers motivating the stock market."
Apple Inc. gained 1.4 percent to $273.85 after saying it sold three million iPads as of June 21, just 80 days after its introduction in the U.S. Deutsche Bank AG raised its share-price estimate to $375 from $350, saying demand for iPhones and iPods exceeds its expectations.
"There's so much good news out of Apple," said Bruce Bittles, chief investment strategist at Milwaukee-based Robert W. Baird & Co., which oversees more than $85 billion in client assets. "Technology has been one of our favorite sectors. It has some of the strongest balance sheets in the corporate world. It has a better chance to outperform the market."
Jefferies Group Inc. climbed 5.7 percent to $24.17. The New York-based securities firm that specializes in mid-sized companies reported second-quarter net income was $84.8 million, or 41 cents a share. Jefferies was expected to report a profit of 34 cents, the average of seven analysts surveyed by Bloomberg.
To contact the reporter on this story: Rita Nazareth in New York at rnazareth@bloomberg.net
To contact the editor responsible for this story: Nick Baker at nbaker7@bloomberg.net.