U.S. Afghan Supply Chain Relies on Warlord Payoffs, Report Says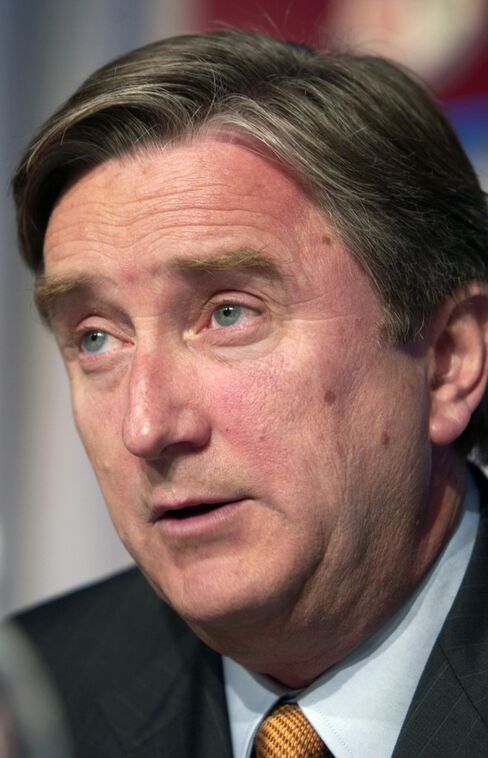 Contractors on a $2.1 billion job trucking U.S. supplies into Afghanistan are paying millions of dollars in protection money to warlords controlling their routes, according to a congressional report.
Contractors told congressional investigators they believe that, in turn, "the highway warlords make protection payments to insurgents" who are fighting the U.S., though there wasn't direct evidence backing that claim, said the staff report, prepared for Democratic Representative John Tierney of Massachusetts.
The Army's Criminal Investigation Command has an open investigation into whether payments are going to insurgents, according to briefing charts prepared for a national security subcommittee that Tierney leads.
A 79-page report entitled "Warlord Inc.: Extortion and Corruption along the U.S. Supply Chain" will be released at a House hearing today. The Joint Chiefs of Staff's top Pentagon- based Afghanistan expert is to testify.
The Pentagon "has been largely blind to the potential strategic consequences" of its supply-chain contracting, the report said.
The eight contractors who carry food, fuel, ammunition and other goods under the Afghan Host-Nation Trucking Contract are expected to provide for their own security without U.S. military escorts.
This has led to an ad-hoc system where the principal private security subcontractors are "warlords, strongmen, commanders and militia leaders who compete with the Afghan central government for power and authority," the report said.
'Protection Racket'
The contractors and their truck subcontractors "pay tens of millions" of dollars in what "amounts to a protection racket," the report said. While the warlords provide the paid-for protection, contractors have "little choice but to use them," the report said.
The system "fuels warlordism, extortion and corruption and may be a significant source of funding for insurgents," the report said.
The lack of U.S. escorts also means the Pentagon "has little visibility into what happens to the trucks carrying U.S. supplies between the times the trucks leave the gates in the Pakistan port of Karachi" to their destinations.
The trucking contracts cover 70 percent of the U.S. overland supply chain that typically starts in Pakistan, moving in convoys of as many as 300 trucks through Pashtun tribal lands to U.S.-controlled distribution hubs near Bagram Airfield and Kandahar Airfield.
Out of Compliance
The Pentagon is "grossly out of compliance" with government regulations to oversee private contractors and has "no visibility into the operations of private security companies" working under the trucking contracts, the report said.
Lieutenant Colonel Elizabeth Robbins, a Pentagon spokeswoman who follows Afghanistan issues, said the military "takes seriously and investigates all allegations and incidents."
A new task force set up to review the impact of U.S. contracting on Afghanistan corruption "is on the ground and reviewing allegations" of supply chain payoffs, she said in an e-mail.