Taiwan May Keep Interest Rate at 1.25% as It Gauges Yuan Impact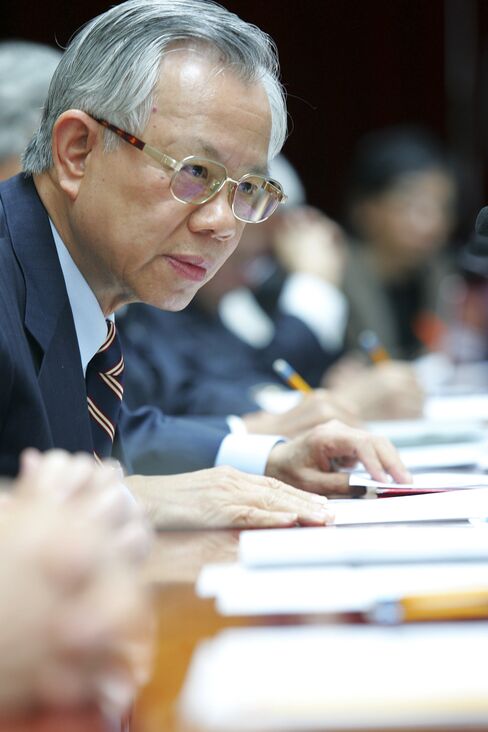 Taiwan's central bank may keep its benchmark interest rate unchanged tomorrow as it gauges the potential impact of China's exchange-rate shift and the fallout from Europe's sovereign-debt crisis.
Governor Perng Fai-nan will leave the discount rate on 10-day loans to banks at a record-low of 1.25 percent when his board meets at 3 p.m. tomorrow in Taipei, according to all 13 economists surveyed by Bloomberg News. The central bank will monitor neighboring currencies including the South Korean won and Singapore dollar after China's move, Spencer Lin, head of its foreign exchange department, said by telephone yesterday.
The decision by China, Taiwan's biggest trading partner and investment destination, to allow a more flexible yuan may boost sales to the mainland. Policy makers across Asia are monitoring the end of the yuan's 23-month fixed peg to the dollar, with officials in the Philippines and Thailand saying it will boost trade, while South Korea warned it may hurt its economy.
"The yuan's movement will become a factor for the central bank when it considers its rate decision," said William Dong, head of UBS AG's Taiwan research team. "A stronger yuan will boost other Asian currencies too, and that isn't welcomed by Taiwan's central bank. Raising interest rates will add additional pressure to the local currency to appreciate."
Dong said he doesn't expect a move on rates until December.
Taiwan's dollar rose to its strongest level in a month after China's June 19 announcement, reaching 31.72 per dollar two days ago before closing at 31.83 yesterday in Taipei.
Deepest Recession
The Central Bank of the Republic of China (Taiwan) has kept the benchmark rate at a record low since March 2009 after cutting it at seven consecutive meetings to boost investment and consumption. The economy exited its deepest recession on record last year and expanded 13.3 percent in the first quarter, the most in more than 30 years, as demand from China spurred sales at the nation's manufacturers.
Taiwan Semiconductor Manufacturing Co., the island's biggest company by market value, reported record monthly sales of NT$33.8 billion ($1.1 billion) in May. Chairman and Chief Executive Officer Morris Chang last week raised his forecast on the growth of global chip-industry sales to "nearly 30 percent" this year from an April estimate of 22 percent.
A stronger Chinese currency will boost the purchasing power of the world's fastest-growing major economy and the top export destination for countries from Japan to South Korea. At the same time, South Korean central bank Governor Kim Choong Soo said a higher yuan may pose a risk for the country by spurring gains in the won.
Unemployment Falls
Taiwan last month raised its 2010 GDP growth projection to 6.14 percent from 4.72 percent, and its annual inflation forecast to 1.4 percent from 1.27 percent. A government report yesterday showed the jobless rate fell to a 17-month low.
"Subdued inflation and gradually tightening liquidity are providing room for Taiwan's central bank to focus on sustaining economic growth," said Cheng Cheng-mount, a Taipei-based economist at Citigroup Inc. "Europe's debt problem is an uncertainty to the recovery, so policy makers will be cautious in moving rates in the near term."
The European Union last month announced a 750 billion-euro ($923 billion) rescue package to shore up the finances of the region's weakest economies amid concern governments will struggle to rein in their budget deficits.
Taiwan's export orders, an indication of shipments in the coming one to three months, advanced 34 percent from a year earlier in May, rising for an eighth consecutive month, a report showed this week.
Trade With China
President Ma Ying-jeou is aiming to sign a trade accord with China at the end of this month that will cut tariffs as he seeks to bolster export-dependent Taiwan's economy after a Chinese trade agreement with the Association of Southeast Asian Nations began this year. Ma, who took office in May 2008, is also seeking better relations with the mainland.
China and Taiwan have been ruled separately since Nationalist troops fled to the island after losing a civil war to Mao Zedong's Communist forces in 1949. China has threatened to invade Taiwan if it declares formal independence, and in 2006 carried out a weeklong series of missile tests near the island.
Before it's here, it's on the Bloomberg Terminal.
LEARN MORE