Sales of U.S. Existing Homes Fall as End of Tax Credit Looms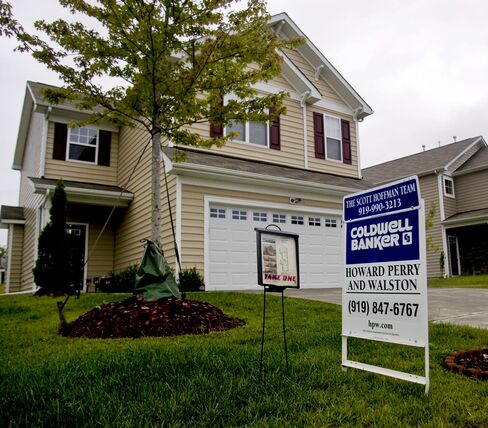 June 22 (Bloomberg) -- Sales of U.S. previously owned homes unexpectedly fell in May as demand began to slip even before a government tax credit expires.
Purchases of existing houses, which are tabulated when a contract closes, decreased 2.2 percent to a 5.66 million annual rate, figures from the National Association of Realtors showed today in Washington. To receive a government incentive worth as much as $8,000, buyers must have signed contracts by the end of April and need to complete deals by the end of this month.
Builder shares dropped on concern the end of government stimulus, mounting foreclosures and unemployment may cause renewed weakness in the industry that precipitated the worst recession since the 1930s. Delays in processing contracts from last-minute buyers rushing to qualify for the tax break may also have contributed to the decrease, the agents' group said.
Sales "will be pretty soft for the next few months," said Scott Brown, chief economist at Raymond James & Associates Inc. in St. Petersburg, Florida, whose sales forecast was the closest among economists surveyed. "Ultimately, you're going to need job growth to see a sustainable recovery in housing."
Stocks fluctuated between gains and losses after the report as a positive sales report from Apple Inc. triggered a rally in technology shares, helping to overcome the housing data. The Standard & Poor's 500 Index was little changed at 1,112.84 at 1:04 p.m. in New York. The S&P Supercomposite Homebuilder index fell 0.4 percent.
Less Than Forecast
Existing home sales were forecast to rise to a 6.12 million rate, according to the median forecast of 74 economists in a Bloomberg News survey. Estimates ranged from 5.2 million to 6.5 million. The group revised April's sales rate up to 5.79 million from the 5.77 million previously reported.
Purchases of existing homes increased 18 percent compared with a year earlier prior to adjusting for seasonal patterns.
The median price climbed 2.7 percent to $179,600 from $174,800 in May 2009.
The number of previously owned homes on the market dropped 3.4 percent to 3.89 million. At the current sales pace, it would take 8.3 months to sell those houses compared with 8.4 months at the end of the prior month.
Declines in inventories have slowed in recent months, posing a risk for the market, Lawrence Yun, the group's chief economist, said in a press conference. Yun said this "overhang" in supply is a concern and may lead to further declines in property values in coming months.
Processing Delays
There may be as many as 180,000 buyers who will not be able to close on deals by this month's deadline in order to qualify for the tax credit, Yun said, calling on the government to push the expiration date back.
A proposal to move the closing deadline to Sept. 30 from the end of this month is part of legislation extending unemployment benefits and providing $24 billion in aid to state governments that has stalled in Congress.
Last month's drop in sales was led by an 18 percent plunge in the Northeast. Purchases in the Midwest were little changed, while those in the West climbed 4.9 percent and demand in the South increased 0.5 percent.
Federal Reserve policy makers, who begin a two-day meeting today, are forecast to commit to keeping interest rates near zero to help wean the world's largest economy off government stimulus. The hazard posed by the European debt crisis, joblessness and a lack of inflation add to the reasons why central bankers will focus on sustaining the U.S. rebound.
Falling Orders
Hovnanian Enterprises Inc., the largest homebuilder in New Jersey, said orders fell 17 percent in the quarter ended April 30 from a year earlier, and contract signings slowed in May, indicating the tax credit helped pull some sales forward.
"The expiration of the federal homebuyer tax credit, the lack of job growth and a potential increase in foreclosures all pose risks to a housing industry recovery," Ara K. Hovnanian, chief executive officer, said in a June 2 statement.
The window of opportunity for the tax credit has already passed for purchases of new houses, which are tabulated at contract signings and are considered a timelier barometer of the market. A Commerce Department report tomorrow will show new home sales plunged 19 percent to a 410,000 annual pace last month, according to the median forecast of economists surveyed.
Existing homes account for about 90 percent of the market.
Builders are being hurt by competition from foreclosed properties that are depressing property values. Foreclosures jumped to a record for the second consecutive month in May as lenders stepped up property seizures, according to RealtyTrac Inc., an Irvine, California-based data seller.
Cheaper borrowing costs are helping mitigate the damage. The average rate on a fixed 30-year mortgage was 4.75 percent last week, just shy of the record-low 4.71 percent reached in early December, according to data from Freddie Mac, the mortgage-finance company being supported by the U.S. government.
To contact the reporter on this story: Shobhana Chandra in Washington at schandra1@bloomberg.net
To contact the editor responsible for this story: Christopher Wellisz at cwellisz@bloomberg.net