LinkedIn Plans Acquisitions to Expand in Mobile, Attract Users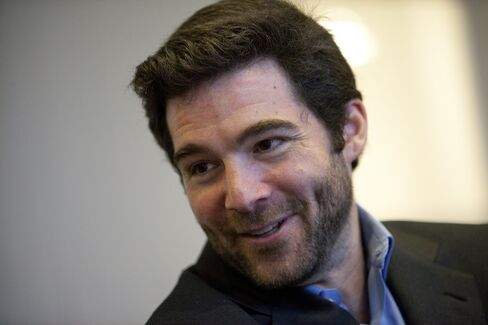 LinkedIn Corp. will use acquisitions to make its professional networking tools more accessible on mobile phones and add features that make the site more relevant to members, Chief Executive Officer Jeff Weiner said.
Weiner wants to make LinkedIn, which helps users hunt for jobs and recruit new employees, a site where white-collar workers can also carry out such tasks as researching companies and prospecting for deals. The company, which boasts more than 70 million members, has yet to make its first acquisition.
"We want you to be great at the job you're already in," Weiner said in an interview.
LinkedIn also plans to boost its staff by half to 900 by year's end, in part to help it cope with rapid growth in India, Brazil and China, Weiner said.
Weiner, 40, joined LinkedIn in December 2008 and became CEO in June 2009. The former executive vice president at Yahoo! Inc. aims to stave off competition from Facebook Inc. and Twitter Inc. as the place on the Web where professionals communicate with one another -- and where advertisers reach them.
LinkedIn is fielding inquiries from bankers interested in the company, Weiner said, without identifying any of the securities firms or saying if an initial public offering may be coming.
"Many people are interested in what we will be doing," he said. "The better we execute, the more options we have."
For the past two years, Weiner said, LinkedIn has generated positive operating cash flow, which typically means a company has high enough sales to cover operating expenses and capital spending needs. This year will be its most successful year since the company's founding in 2003, he said.
Money in Bank
In 2008, Mountain View, California-based LinkedIn raised $76 million in funding from investors, including Bain Capital Ventures. The sum remains in the bank, Weiner said. "We haven't touched it," he said. "We don't need the capital."
LinkedIn will use deals to help it make information about members' work histories and skills more accessible on mobile devices, and to let other companies more readily add their own tools to make LinkedIn more useful, Weiner said.
He plans to start with smaller acquisitions. That way the company can ensure it's able to blend the talent and technology of potential targets with LinkedIn's, Weiner said.
Twitter Connection
He's also pushing the company to be more relevant. A November 2009 deal lets Twitter users broadcast their short blog posts to LinkedIn and send LinkedIn status updates to Twitter followers, giving the messages more context, Weiner said. "When you tweet on Twitter, it's up in the ether and then it's gone," he said.
LinkedIn is improving the website's ability to recommend other professionals users may know, and to let people search for others who meet specific criteria, he said.
LinkedIn's audience makes the site attractive to advertisers, yet it's not as popular as Twitter and Facebook.
The average LinkedIn user has a yearly household income of more than $107,000, according to the company, citing Nielsen Co. data. Still, LinkedIn had 45.1 million unique visitors in May, compared with 548.1 million for Facebook and 90.2 million for Twitter, according to market researcher ComScore Inc.
"There's going to be overlap," Weiner said. "We're going to continue to focus on professionals exclusively."
LinkedIn is hiring to bolster sales, product development and overseas operations, Weiner said. The company is growing quickly in Brazil, India, China, Italy and Spain, and it's opened offices in cities such as Mumbai and Sydney. LinkedIn is planning to put an office in Toronto as well.
"We are going to see significant growth overseas," Weiner said. "We hope to see more revenue and profit coming from those markets."
Before it's here, it's on the Bloomberg Terminal.
LEARN MORE