France's Debt Costs Drop; Plans Bill-Sales Reduction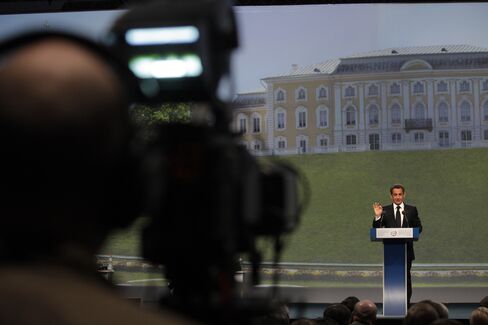 June 22 (Bloomberg) -- France's funding costs declined in the first half as investors sought the safest securities amid Europe's sovereign-debt crisis, according to the head of the country's debt agency.
The government paid an average of 2.67 percent to borrow money in the first six months of the year compared with 2.95 percent during 2009, Philippe Mills, chief executive officer of Agence France Tresor, said in an interview. The agency has raised 126 billion euros ($155.9 billion) from bond sales so far in 2010, or 67 percent of its planned funding this year, compared with 63 percent during the same period a year before. The country may also reduce the amount of outstanding Treasury bills by at least 5 billion euros this year, he said.
"We are comfortable with the pace of issuance and the funding costs that we are able to achieve," Mills said by phone yesterday. "Despite some volatility in the market, the degree of liquidity, flexibility and predictability of the French sovereign-debt market works in our favor."
Concern Europe's-most indebted nations would struggle to repay investors has helped send their yields soaring, leaving the region's AAA issuers relatively unscathed. While the yield premium investors demand to hold Greek 10-year debt rather than benchmark German bunds widened 464 basis points this year to 701 basis points, the difference for French bonds nudged 16 basis points higher to 37 basis points.
Bond Yields
The yield on the 3.5 percent French bond maturing in April 2020 fell two basis points to 3.08 percent as of 3 p.m. in London.
France sold a 10-year bond on June 3 at a yield of 3.05 percent, the lowest on record, according to the debt agency. France's average funding cost between the advent of the euro in 1999 and mid 2007 when the credit crisis started was 4.15 percent, Mills said.
France's central government deficit fell 22 percent to 56.2 billion euros in April from 71.6 billion euros a year earlier, the Paris-based Finance Ministry said on June 8.
President Nicolas Sarkozy said on May 20 that he intends to freeze spending for three years and will consider a constitutional amendment introducing binding deficit limits. He is also trying to push through an overhaul of the pension system that will include increasing France's retirement age.
Improving Finances
The improvement in the country's finances may help with the reduction in bills outstanding. That amount was 214 billion euros at the end of December, Mills said.
France may also issue 15-year inflation bonds linked to European consumer prices in the second half of the year, he said. The 15-year breakeven rate, a gauge of inflation expectations derived from the yield difference between regular and index-linked bonds, has fallen to 203 basis points from 232 basis points at the start of the year.
"It depends on market conditions," Mills said. "Although there's some uncertainty about the inflation outlook in the region, the need is still there for companies to hedge against inflation risk. We expect demand for this type for product to increase this year compared with last year."
France has issued around 13 billion euros of index-linked bonds this year and that's about 11 percent of the funding programme, which is "very close to our target of around 10 percent," Mills said.
Bond Returns
French bonds handed investors a 9 percent return in the past 12 months, the same as for German debt, according to indexes compiled by Bloomberg and the European Federation of Financial Analysts Societies. Greek bonds lost investors 17 percent.
The 10-year yield spread between German and French bonds widened to 56 basis points on June 8, the most in 14 months. Agreements among European governments have now alleviated some concern that they are struggling to contain the debt crisis, Mill said.
"The degree of cooperation within the euro area to manage the different elements of the crisis has become clearer in the past few weeks," said Mills. "The French government is also committed to fiscal consolidation. With all these elements, we should be okay if we do our job well."
To contact the reporter on this story: Anchalee Worrachate in London at aworrachate@bloomberg.net
To contact the editor responsible for this story: Daniel Tilles at dtilles@bloomberg.net