Emirates Game-Changing Growth Splurge Rattles Rivals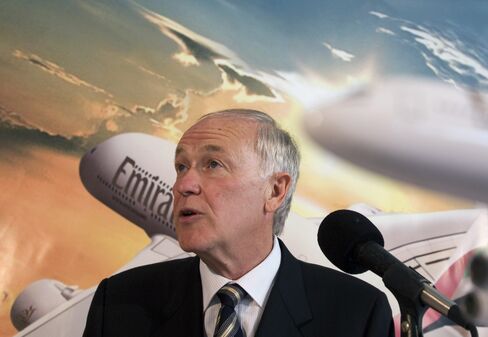 Emirates, the biggest international airline, is rattling rivals in Europe and Asia with a growth splurge that may be as game-changing for long-haul carriers as the expansion of Ryanair Holdings Plc and Southwest Airlines Co.
The 25-year-old company is building up a fleet of 90 Airbus SAS A380 aircraft with 45,000 seats and operating costs the manufacturer says are lower than rival Boeing Co.'s latest 747. That poses a threat to European carriers that specialize in the same long-distance transfer traffic, British Airways Plc Chief Executive Office Willie Walsh said in an interview.
Emirates' latest order for 32 A380s valued at $11 billion, announced this month, will give it 70 more superjumbos than any other airline, funneling price-sensitive passengers through its Dubai base in a challenge to network carriers including Deutsche Lufthansa AG, Air France-KLM Group and Singapore Airlines Ltd. Competitors say the company is benefiting from government ownership and that they can't compete with its purchasing power.
"It's a miracle that Emirates already has more inter-continental seats than Air France and British Airways combined," said Wolfgang Mayrhuber, CEO of Cologne, Germany- based Lufthansa. "It took us 40 years to get 30 747s in the air in one of the biggest global economies, so one must assume that this is an investment for the world."
Traffic Surge
Emirates ranked only 24th among international airlines as recently as 2000, putting it on a par with Sabena SA, the state-owned Belgian carrier that went bust a year later.
In the intervening period the Gulf carrier has achieved a sixfold increase in traffic -- or passengers carried multiplied by the distance flown -- overtaking Lufthansa last year to become the biggest carrier on international flights. British Airways, ranked top in 2000, has suffered a 5 percent drop and stands fourth according to the International Air Transport Association, which counts Air France and KLM as two airlines.
"We always planned to grow, we were just never able to put our finger on how quickly," Maurice Flanagan, the founding CEO at Emirates in 1985 and currently executive vice chairman, said in an interview. "Now we're short of capacity all the time."
Rivals should follow the Emirates example in buying more large planes to reduce expenses per head, the executive said.
"I can't understand why other airlines have been so slow to pick up on the A380," Flanagan said. "The economics are fantastic. It has given us a huge advantage because the seat- mile costs are much lower than on any other aircraft."
Alliance Challenge
Emirates, which reported net income of $964 million for the year through March 31, has reached top spot while remaining outside the three main airline groupings, opting instead to build Dubai into a transfer hub to compete with alliance bases in London, Frankfurt, Amsterdam, Paris, Singapore and Hong Kong.
Chris Tarry, an independent analyst who has followed the airline industry for two decades, said the model is largely the result of improved jetliner range and Dubai's location midway between Europe and Asia.
"First, there's now the technological capability to join any two places on the globe with just one stop," Tarry said from London. "Second, Dubai is very well placed to capture those inter-continental traffic flows from North America to Asia and Europe to Asia and Australia and so on."
The Emirates route network offers several waves of flights from the carrier's end destinations all converging on Dubai at similar times to maximize opportunities to change planes in the sheikdom, the analyst said.
Emirates has 14 daily services from six U.K. airports, including five from London Heathrow, Europe's busiest hub, and three from London Gatwick. From September one of two daily flights from Manchester in northern England will be operated by an A380, the plane's first service to a secondary city.
California Flights
Weight reductions and improved fuel loads should allow the superjumbo to reach the west coast of the U.S. from Dubai by 2014, Flanagan said. Airbus Chief Operating Officer John Leahy predicts more long-haul airlines will buy the plane to defend market share from Europe to Asia and across the Pacific.
"Airlines are discovering that it takes an A380 to compete with an A380," Leahy said in an interview.
While Flanagan estimates that 40 percent of traffic from the U.K. connects to other cities via Dubai, British Airways CEO Walsh says that the Gulf carrier is a bigger threat to Lufthansa and Air France-KLM because of the greater proportion of transfer passengers who travel through Frankfurt, Paris and Amsterdam.
'Challenging'
"It's definitely going to have an impact on the business," Walsh said on June 17. "It's challenging a segment of the market that is important for BA. But there are other European hubs where the reliance on transfers is bigger."
British Airways fell 0.9 percent to 212.4 pence in London. Air France slid 0.1 percent in Paris and Lufthansa gained 2.3 percent on the Frankfurt exchange.
The U.K. carrier's Oneworld alliance partner Cathay Pacific Airways Ltd. will aim to counter the expansion of Emirates with "enhanced connectivity" from its Hong Kong hub, a spokeswoman said in an e-mail. The shares closed 1.5 percent lower today.
The Emirates model, which will be supplemented by further aircraft orders next month, according to a statement today, is eroding network carriers' long-haul traffic in the same way that discount airlines have eaten into their short-haul operations.
The impact could be even greater, since much of the success of Dublin-based Ryanair, which has lifted sales eightfold to 3 billion euros ($3.7 billion) in a decade to become Europe's biggest low-cost airline, came from linking cities with no air service, whereas Emirates is confronting established carriers more directly on some of their most profitable routes.
Refueling
Key to the strategy is the use of so-called sixth-freedom treaties that permit flights between two nations by an airline from a third via its home country. The model works best on long-haul routes requiring refueling, on which Emirates doesn't lose out to competitors by stopping in Dubai, and for passengers who care more about ticket prices than the duration of a journey.
As the Emirates fleet has grown, so has opposition from European carriers which say the company benefits either directly from government funding or indirectly through less-costly access to state-owned airport and air-traffic control services.
Aviation ranks as one of Dubai's fastest-growing industries after other sectors were hurt by the debt crisis that roiled global markets in 2009, wiping more than 50 percent off property values and leading to a 2.5 percent contraction in the economy.
Dubai airport's passenger total rose 9.2 percent to 41 million in 2009, according to industry group ACI. The terminal ranked fourth on international flights in March, behind London Heathrow, Paris Charles de Gaulle and Hong Kong, and traffic jumped 14 percent in May, according to figures published today.
No Advantage
Flanagan said Emirates has gained no unfair advantage and that cash received since the company's foundation is dwarfed by payments to formerly state-owned British Airways and Air France.
Lufthansa says Emirates will be further aided by Chancellor Angela Merkel's plans to introduce a tax on passengers departing from German airports in an effort to raise 1 billion euros a year for the federal government.
"The ascendancy of Emirates shows we need to come up with a new plan," Lufthansa spokesman Peter Schneckenleitner said in a phone interview. "Unfortunately, our government's proposal does nothing to support us. If anything, it suppresses us."
CEO Mayrhuber said separately that "the words 'ticket tax' haven't been translated into the Arabic language yet."
Emissions Factor
The introduction of carbon-emissions trading in Europe from 2011 will extend the inequality, Schneckenleitner said, with a trip from India to New York via Frankfurt incurring charges on both legs while being tax-free when operating via Dubai.
"Other airlines will say Emirates has gone beyond its fair share of traffic, but the consumer will always go where they perceive the best value to be," said Tarry.
Still, the chances of European countries blocking route applications from Gulf carriers are slim because of the impact that would have on Airbus, said Richard Aboulafia, vice president at Fairfax, Virginia-based consultant Teal Group.
The planemaker, which has plants in France, Germany, Spain and the U.K., has 280 orders for its A380 and A350 models from Emirates, Qatar Airways Ltd. and Etihad Airways of Abu Dhabi,
"The Middle East is grabbing market share from legacy airlines and European governments seem willing to make that sacrifice," Aboulafia said.
Before it's here, it's on the Bloomberg Terminal.
LEARN MORE