U.S. Stocks Fall, Slowing Global Advance; Commodities Trim Gain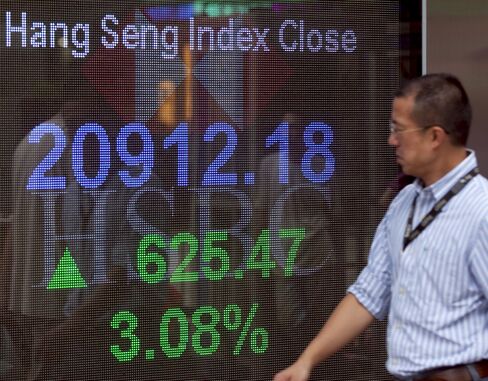 U.S. stocks fell, slowing a global rally, as the Standard & Poor's 500 Index failed to remain above levels watched by traders and optimism about China's plan to relax the yuan's fixed rate to the dollar faded in the last hour. Commodities pared gains and Treasuries trimmed losses.
The S&P 500 slipped 0.4 percent to 1,113.2 at 4 p.m. in New York after jumping as much as 1.2 percent in the first hour. The Reuters/Jefferies Index of commodities trimmed a 1.6 percent rally to less than 0.3 percent. Ten-year Treasury yields rose 3 basis points to 3.25 percent after surging 8 basis points. The losses in U.S. stocks weren't enough to erase gains in the MSCI World Index, with the developed-markets gauge rising 0.5 percent for a 10th straight advance, the longest streak in 11 months.
Retailers had the steepest decline among 24 groups in the S&P 500, losing 1.7 percent collectively, amid concern a stronger Chinese currency will boost the cost of importing goods from the country. U.S. equities extended losses as the S&P 500 failed to stay above a level marking a recovery of 50 percent of its bear-market plunge from a 2007 record and remained below its average levels over the past 50 and 100 days.
"The announcement out of China elicited an emotional response from the market," said Alan Gayle, senior investment strategist at RidgeWorth Investments in Richmond, Virginia, which oversees $63 billion. "A closer look at the announcement suggests China's approach is very gradual and it is continuing at its own pace. It's a less dramatic move when looked at more closely."
Retailers Slump
All 30 stocks in the S&P 500 Retailing Index retreated, with Macy's Inc. and J.C. Penney Co. leading with declines of more than 3 percent. Amazon.com Inc. was the biggest drag on the group after cutting the price of its Kindle electronic reader by 27 percent. Microsoft Corp. and Apple Inc. lost more than 1.4 percent as technology companies had the second-biggest retreat among 10 groups.
Early gains in the U.S. stock market were led by commodity producers and industrial companies amid speculation China's plans signaled the global economy is gaining steam and a stronger yuan would boost demand for raw-materials and machinery. Industrial companies and materials producers were the only two S&P 500 groups to end the day higher among 10 industries.
The People's Bank of China pledged on June 19 to make the yuan more flexible, while ruling out a one-time revaluation of the currency that's been held at about 6.83 yuan per dollar since mid-2008. The global economy is "gradually recovering and the upturn in the Chinese economy has become more solid," it said in a statement announcing the action.
'Wealth in China'
"This decision is great for industrial, energy and materials stocks," said Don Wordell, a fund manager for Atlanta-based RidgeWorth Capital Management, which oversees about $62 billion. "You will have rising demand from China because oil is getting cheaper to the Chinese consumers, industrial companies will have to build out the energy infrastructure and materials producers will benefit from higher wages and wealth in China."
The S&P 500's early rally took it above 1,121, which would have marked a recovery of 50 percent of its losses from a record high in October 2007 to its bear-market bottom in March 2009. That's a key level in Fibonacci analysis, which assumes markets retrace earlier patterns in specific stages. If a price is above one of the levels, it may signal a move toward the next resistance or support point, while remaining below it may mean momentum is slowing.
'Fill in the Void'
The S&P 500 has rallied 6 percent since sinking to a seven-month low on June 7 amid concern Europe's debt crisis and BP Plc's oil spill in the Gulf of Mexico will stifle growth.
"Given the lack of economic or earnings news, people try to fill in the void with whatever they can and are probably more likely to look at the charts," said Bruce McCain, chief investment strategist at Cleveland-based Key Private Bank, which manages $25 billion.
The S&P 500 remained above its 200-day average for a fifth day after topping it June 15 for the first time in more than a month.
Gains in Asia were led by the Shanghai Stock Exchange Composite Index, which surged 2.9 percent. Toyota Motor Co., the world's biggest automaker, rose 1.7 in Tokyo while Mitsubishi Corp. jumped 6.6 percent. Posco, South Korea's biggest steelmaker, rallied 5.9 percent in Seoul.
European Shares
In Europe, 16 of 19 industry groups in the Stoxx 600 advanced. Basic-resources shares led the rally, as BHP Billiton Ltd., the world's biggest mining company, gained 4.7 percent and Rio Tinto Group surged 5 percent in London. Daimler AG led automakers higher, climbing 3.2 percent in Frankfurt. Akzo Nobel NV rallied 2.1 percent in Amsterdam after agreeing to sell its National Starch business to Corn Products International Inc.
BP Plc tumbled 2.2 percent in London after saying the cost of its response to the Gulf of Mexico oil spill has accelerated to reach $2 billion. BP would face an extra $500 million a year in interest costs to raise $10 billion in the bond market as it seeks to ensure it has enough cash to cope with the response to the spill.
The MSCI Emerging Markets Index rose 2.4 percent, extending its 10-day rally to 9.8 percent, the longest winning streak since September 2005. Hungary's BUX index and the Micex in Russia jumped at least 2.6 percent.
Gold fell the most in a month, dropping from an all-time high as a strengthening dollar reduced demand for the precious metal as an alternative investment. Gold futures for delivery in August fell $17.60, or 1.4 percent, to $1,240.70 an ounce on the Comex in New York, the biggest decline for a most-active contract since May 19.
The Dollar Index, a gauge of the U.S. currency against six major trading partners, climbed 0.3 percent to 85.954. The euro slipped 0.5 percent to $1.2322.
Copper rose the most in a week on speculation that demand may grow in China, the biggest metals user. Copper futures for September delivery rose 5.8 cents, or 2 percent, to $2.9595 a pound on the Comex in New York, the biggest gain since June 14.