Osaka's Biggest Building Boom in 20 Years to Worsen Office Glut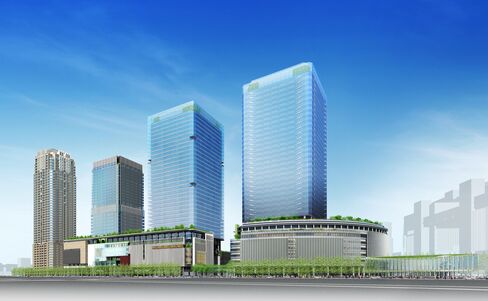 Osaka, Japan's biggest financial center outside Tokyo, is building a business and shopping complex that will add 6 million square feet (557,000 square meters) of space in a city where more than half of new offices remain empty.
The first stage of the Osaka Station North District project, also known as Kita Yard, will include four towers ranging from 33 stories to 48 stories in the Umeda district, double the size of London's Canary Wharf district, according to Yusuke Iwamoto, a Tokyo-based spokesman for Mitsubishi Estate Co., one of the project's developers. Construction started in March and is due to be completed in 2013, he said.
Osaka's biggest building boom in 20 years comes as vacancies are soaring across the country and as the city loses its allure as an alternative to Tokyo's business district, the heart of the world's biggest megacity. Resona Holdings Inc. may be the next Osaka-based company to move its headquarters to Tokyo, following the banking units of Mitsubishi UFJ Financial Group Inc. and Sumitomo Mitsui Financial Group Inc.
"Osaka is losing its draw as a business city," said Takashi Ishizawa, head real estate analyst in Tokyo at Mizuho Securities Co. "Even if Kita Yard flourishes, it would likely be at the expense of other commercial areas."
Umeda is adding 4 million square feet of office and retail space this year, the most since at least 1990, according to privately held office brokerage company Miki Shoji Co.
Hankyu Corp. opened a flagship department store in Umeda in September and added a 41-story office tower in May, while a hotel in a 23-story complex also opened this year, ballooning capacity in a 1-kilometer radius around Osaka station, Japan's busiest outside Tokyo.
Rising Vacancies
Vacancies among new offices in Osaka, which account for about 20 percent of all business properties, stood at 53 percent in May, near a record-high 59 percent set the previous month, according to Tokyo-based Miki Shoji.
"The planning for these new projects goes back 10 or 15 years when the economy was going strong," said Yasuhiro Matsumoto, an analyst in Tokyo at Shinsei Securities Co., who grew up and went to university in the Osaka area. "They are building it now simply because they started the project at a good time. If they make a tall building then many companies will be attracted, but total demand is not going to increase -- tenants will simply move from nearby."
Tokyo's office vacancy rate rose to a record 8.94 percent last month, while Nagoya's, the country's third-largest metropolitan area, stands at 13.26 percent, according to Miki Shoji, which started compiling monthly data in January 2001.
Japanese businesses reduced spending for a 12th quarter and capital spending fell 12.9 percent in the three months ended March 31, the Ministry of Finance said on June 3 in Tokyo.
Falling Rents
The surplus of properties in Osaka is pushing down rental and land prices in the city that is home to the nation's second-biggest stock exchange. Office rents dropped in each of the first five months of 2010, adding to a two-year slide, while commercial land prices fell 7.4 percent last year, leading a nationwide slump to the lowest in at least 36 years.
Mitsubishi Estate, Japan's biggest developer by market value, and the property unit of Orix Corp., a financial services firm, are among 12 companies backing the 560,000-square-meter project. Mitsubishi Estate's Iwamoto declined to comment on the cost of the project.
"Unless rents are very high it will be difficult to make a profit" for the developers, said Daita Obata, an Osaka-based assistant manager at Miki Shoji. Companies bought the land when property prices were peaking, he said.
Tokyo-Bound
Panasonic Corp., Sharp Corp. and Takeda Pharmaceutical Co. are among 28 companies in the benchmark Nikkei 225 Stock Average that have headquarters in the Osaka area. By comparison, there are 178 in Tokyo.
The wider Osaka metropolitan area, with a population of 11 million, is Japan's largest after Tokyo with 35 million, according to data compiled by the United Nations. Megacities are metropolitan areas with 10 million or more inhabitants.
Resona, Japan's fourth-largest bank by market value, is considering moving its headquarters to Tokyo, where more than 90 percent of the company's staff already work, according to spokesman Masatoyo Miura. He declined to give a timeframe.
"There are more opportunities in Tokyo, which draws companies," said Shinsei's Matsumoto. "It's natural to move. Companies sometimes keep a head office in Osaka just out of respect for its beginnings."
New Tenants
The developers of the first phase of Kita Yard, which will include a hotel, residential area and convention center, as well as offices and shops, are optimistic they will find tenants.
"We've had lots of inquiries," said Shuichi Yamaguchi, an Osaka-based spokesman for Mitsubishi Estate. "Location is everything, and even if the economy changes, good locations keep their value." He declined to name possible tenants.
Osaka city, which is leading planning and helped arrange the land acquisition for Kita Yard, is limiting its investment to about 7.7 billion yen ($84 million) for infrastructure, said Yoshihiro Fujikawa, a local government official in charge of redevelopment.
The city's sagging fortunes have seen previous building projects suffer from a lack of demand. Osaka city and private investors spent 120 billion yen in the 1990s on the city's tallest building, only to sell it for less than a 10th of that after its owner went bankrupt. Osaka Prefecture bought the 55-story World Trade Center for 8.5 billion yen this year.
Kansai International Airport, built on a man-made island 40 kilometers (25 miles) south of the city, last year had the least passengers for a full year of operations since it opened in 1994.
Kita Yard also will have to compete with a 28-story office being built by Fukoku Mutual Life Insurance Co. that is due to open this year in Umeda. West Japan Railway Co., the biggest railway operator based in the area, will add space within Osaka station building next year.
"It's a big development for Osaka," said Mizuho's Ishizawa. "It's going to make for very tough competition."
Before it's here, it's on the Bloomberg Terminal.
LEARN MORE