Barsac Drops Partner Foie Gras to Mix With Daniel Boulud's Duck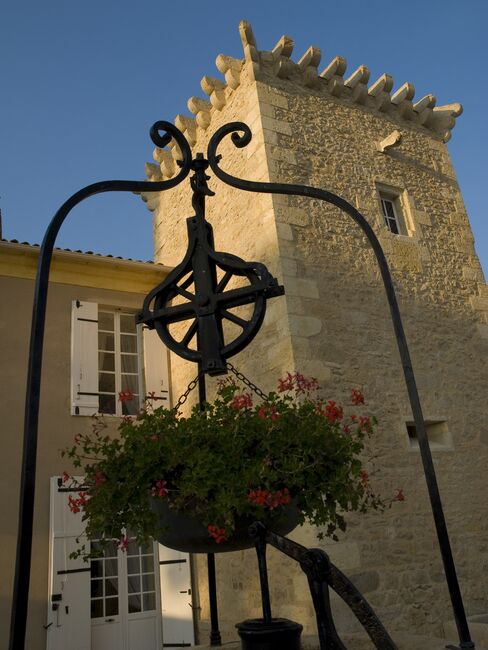 Aline Baly winces when people order the classic pairing of foie gras and a glass of Barsac, one of the great sweet Bordeaux wines along with Sauternes.
"There's nothing wrong with it, it's a glorious match, but it just limits the possibilities for enjoying Barsac with so much else," says the 29-year-old at Chateau Coutet, where she is co-proprietor with her father, Dominique, and her Uncle Philippe. The estate, which dates back to 1643, made Thomas Jefferson's favorite Barsac and has enjoyed First Growth status since 1885.
Baly was in New York promoting her wines at Chef Daniel Boulud's flagship restaurant Daniel on East 65th Street. Though she is allergic to seafood, she recommended I try a range of Chateau Coutet Barsacs with everything from scallops to softshell crabs, and, finally, pressed duck.
"It's difficult to convince people that a sweet wine can go with savory dishes," she said. "But they are a revelation once people try them."
After several courses paired to her wines, I had to agree, for the same reason that foie gras and Barsac or Sauternes has for so long been a decidedly decadent marriage of fatted duck or goose liver with a sumptuously sweet wine.
We sampled three vintages -- 2004 ($54), 2005 ($65) and 1997 ($65) -- with the delicate flavors of Maine peekytoe crab salad with a tangy, acidic Granny Smith apple sauce; crisp softshell crab tempura with fingerling potatoes and sauce grenobloise with tart capers; and hazelnut-crusted sea scallops, with a woodsy morels fricassee and a green peppercorn sauce.
Tender Crabs
Usually, gourmets might choose a big white Burgundy or California chardonnay to enhance such dishes, but the Coutet handily complemented the sweetness of the hazelnuts, the zest of the apples and capers, the hot oil of the tender crabs, and the assertiveness of the peppercorns.
The showpiece pressed duck (which needs to be ordered a day or two in advance at Daniel) is an elaborate dish that dates to the early 19th century, prepared by a captain and a waiter tableside. The legs and meat are carved from the carcass and its bones are squeezed through a silver press along with the liver and cognac to form an extremely rich elixir that serves as the sauce.
Traditionally, a red Burgundy or Bordeaux is enjoyed with this sumptuous dish, but by pairing it with the magnificent Coutet 1997, whose age intensified the fruit and acids within the sweetness, the dish resembles a French version of Peking duck, which is itself brushed with a sweet soy sauce, and then carved and served with the sweet condiment called hoisin sauce.
Blue Cheese
With desserts like warm chocolate coulant with liquid caramel and sea salt, of course, the Barsac went impeccably well. But we might just as easily have had a blue-veined cheese like Roquefort, another classic match-up, or just sipped the Coutet as a dessert all on its own.
Like most Barsacs, Coutet's is made from a blend of semillon, sauvignon blanc and a touch of muscadelle. The Lur-Saluces family, which also owned the famous Chateau d'Yquem, produced Coutet until 1923. The Balys took over in 1977 and renovated the estate and cellars, bringing in the newest technology and replanting many of the 38.5 hectares (95 acres) of vines. The average vine is 35 years old.
In 1994, Philippe and Dominique Baly signed an agreement with the Baroness Philippine de Rothschild, giving exclusive worldwide distribution rights to her company, Baron Philippe de Rothschild SA.
Barsac, like Sauternes and the beerenauslese and trockenbeerenauslese wines of Germany, is made from ugly yellow grapes shriveled and blackened by the Botrytis cinerea fungus, the so-called Noble Rot that allows the evaporation of water and concentrates the sugars.
Handpicked
The grapes are handpicked as they ripen. At Coutet about 80 pickers need at least 5 days to complete just one pass through the vineyards, repeated several times as more grapes ripen over a 6-week period.
Coutet's ideal balance is considered to be approximately 14% alcohol and about 130-150 grams per liter of residual sugar. Aging is 18 months, at which time the final blend is made.
No matter how many times I sample Barsacs and Sauternes, I am always amazed at how they can be so densely sweet and complex but not cloying. In Coutet's wines I taste aromatic, floral flavors, along with very ripe tropical fruits, and that distinctive, requisite hint of oak that provides the wine's backbone and provides notes of vanilla.
The fact that Barsacs, even more than Sauternes, are so reasonably priced for such illustrious wines makes them all the more attractive to try with a wide range of dishes.
It was a splendid, enlightening evening at Daniel, even if I was dying for a glass of red wine halfway through the duck.
Drinking Barsac throughout a meal is not something most people will ever do, but eschew the foie gras or save the Roquefort and try a Chateau Coutet with other savory dishes. It's a revelation.
(John Mariani writes on wine for Bloomberg News. The opinions expressed are his own.)
Before it's here, it's on the Bloomberg Terminal.
LEARN MORE