Uribe's Shadow May Hang Over Santos Victory in Colombia Vote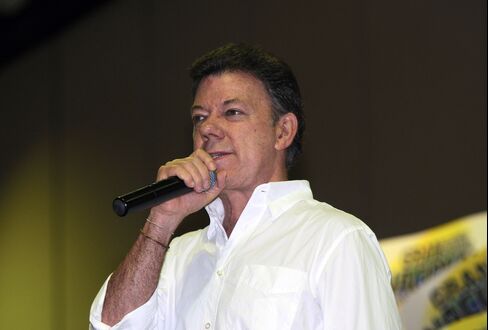 Colombian presidential candidate Juan Manuel Santos may coast to victory in this weekend's runoff election. A bigger challenge in office will be escaping the shadow of the kingmaker who helped get him there: President Alvaro Uribe.
Santos, who as Uribe's defense minister delivered some of the biggest blows in Colombia's five-decade fight against Marxist rebels, won 47 percent of first-round votes May 30 against 21 percent for the Green Party's Antanas Mockus. Santos was supported by 66.5 percent of those interviewed in a Gallup Colombia poll taken June 5 to June 7, compared with 27.4 percent for Mockus, a two-time Bogota mayor.
"One of Santos' great challenges will be building autonomy from Uribe without losing the benefits of being associated with him," said Elisabeth Ungar, director of Transparency for Colombia, a Bogota-based anti-corruption group.
Uribe has an approval rating above 60 percent after eight years in office, credited with cutting kidnapping by 93 percent and boosting foreign investment five-fold to a record $10.6 billion in 2008.
With his legacy as one of Colombia's most popular presidents assured, the 57-year-old lawyer may not be content to sit on the sidelines after handing power to his chosen heir, said Adam Isacson, senior associate at the Washington Office on Latin America.
Santos' Main Opponent
"If Uribe gives weekly media interviews and remains in the public eye, it will be a dual-run government," said Isacson, who has led several U.S. congressional delegations to Colombia. "Santos' main opposition may not come from the left, but from Uribe, if he doesn't like what Santos does."
Santos, as Uribe's defense minister from 2006 to 2009, oversaw the rescue in 2008 of 15 hostages held by the Revolutionary Armed Forces of Colombia, including French-Colombian politician Ingrid Betancourt and three U.S. defense contractors. He also ordered the raid into Ecuador that killed the group's second in command, Raul Reyes.
While vowing to continue Uribe's security policies, Santos has emphasized his plan for creating jobs and spurring growth. Colombia's unemployment rate, at 12.4 percent in April, is the highest in South America. The International Monetary Fund predicts the $242 billion economy will grow 2.25 percent this year, the region's second-worst performance after recession- battered Venezuela.
Santos may not be willing to match Uribe's intense schedule, which includes town hall meetings every weekend in remote, often rebel-besieged towns, Isacson said. The cousin of the current vice president, Santos is the scion of the family that founded Colombia's biggest newspaper, Bogota's El Tiempo.
Short Honeymoon
"Santos' honeymoon will be shorter because of the comparisons he faces with Uribe," Isacson said. "If he takes a long weekend or doesn't do the community broadcasts, he will be compared unfavorably."
Santos may also be dogged by the outgoing government's human-rights record, which Democratic leaders in the U.S. Congress have cited as a reason for holding up approval of a free-trade agreement reached in 2006.
As defense minister, Santos oversaw the army amid allegations by prosecutors that soldiers murdered hundreds of civilians and passed them off as rebels killed in combat. Santos says he took unpopular decisions to punish those responsible and bring their crimes to light, including firing 27 officers.
His Own Man
"From day one, this will be a Santos government," the 58-year-old candidate said in an interview June 12 aboard his campaign airplane. "I won't stop praising all that Uribe has done, but I will have my own legacy to rid Colombia of the stigma of violence we have faced for more than 40 years, to bring down poverty and unemployment, and create the conditions for a very competitive economy."
Unlike the 58-year-old Mockus, who has pledged to raise taxes on the rich to pay for improvements in education, Santos says he'll close loopholes to eliminate by 2014 a budget deficit equal to 3.6 percent of gross domestic product. A former finance minister who studied economics at Harvard University in Cambridge, Massachusetts, Santos says he'll boost economic growth to 6 percent within two years.
Santos said his vice presidential choice of Angelino Garzon, a former trade union leader and human rights advocate, may soften criticisms that he and Uribe cut corners while pursuing the FARC.
Uribe is banned by law from campaigning on Santos' behalf. Still, in interviews and speeches the past month, he's urged voters to stay with the "hen" that safeguards Colombia's "three little eggs" of prosperity, investor confidence and social development.
Congressional Leverage
Santos may have more of an advantage in dealing with Congress than his former boss. His La U party, with 28 seats, is the biggest in the 102-seat Senate. After the first round, he won the endorsement of three other pro-Uribe parties with a combined 40 seats. The Liberal Party, which had been the biggest opposition bloc to Uribe's government, is split on whether to support Santos. Mockus's Green Party has five seats.
"If Santos names a team of new faces to his government, not Uribe people, then Colombia will move on to Santos quickly," said Monica Pachon, a political analyst at Bogota's Universidad de los Andes. "He has such strong political capital in congress that he will be able to pass reforms quickly and easily. That will help make him his own man."