U.S. Denied World Cup Win After Referee's Decision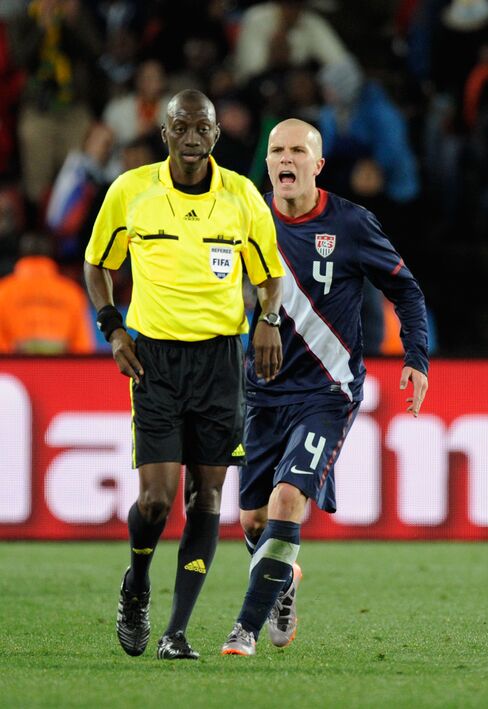 June 18 (Bloomberg) -- The U.S. team members aren't sure what denied them a go-ahead goal in their 2-2 World Cup tie with Slovenia, and were left frustrated by referee Koman Coulibaly's silence.
Having gotten two goals back after going in 2-0 down at halftime, substitute Maurice Edu's 86th minute strike appeared to have given the U.S. the lead, only for the Mali referee to disallow it. The Americans surrounded Coulibaly, asking for an explanation, and said he didn't give one.
"I'm assuming it was a foul somewhere because obviously it couldn't have been offside," U.S. striker and man of the match Landon Donovan told reporters after the game at Johannesburg's Ellis Park. "I don't know what to think of the call because I didn't see a foul anywhere."
The U.S., ranked 14th by soccer's ruling body, gave up goals to Slovenia's Valter Birsa and Zlatan Ljubijankic. A win for 25th-ranked Slovenia, with a population of just 2 million, would have made them the first country to progress to the tournament's knock-out stages, and would have meant the U.S. was all but eliminated from the event.
The tie in Group C means both Slovenia and the U.S. go into their last game with a chance of progressing at the expense of England and Algeria, their group rivals. With three points from a win over Algeria, the U.S. could progress.
"At one moment in the second half, it seemed like it was one point gained, and then later it seemed like two points dropped," U.S. coach Bob Bradley said. "Our aim was to win, but we were also in a situation where we couldn't lose. This tie keeps us alive and that's the important thing."
'Great Fight-Back'
U.S. captain Carlos Bocanegra said the players were disappointed with themselves for being 2-0 down at halftime and that helped his side improve in the second 45 minutes.
"It was a great fight-back," he said. "We were angry at halftime about how the first half went, but each individual looked at themselves and collectively we raised it in the second half."
Donovan scored three minutes after the interval with a shot from an angle into the roof of the net, before Michael Bradley, the coach's son, rushed onto Jozy Altidore's headed pass and beat goalkeeper Samir Handanovic to set up the finish.
"We need to win one game to advance out of the group," Bocanegra said. "If we beat Algeria, we feel five points will see us through."
Coulibaly, 39, has been an international referee since 1999. The finance inspector's first language is Bambara, and he also speaks English and French, according to FIFA's website. He's overseen matches in the Africa Cup of Nations, the continent's tournament for national teams.
Slovenian coach Matjaz Kek declined to comment on the referee's decision. "I wouldn't say the referee has had an impact on the final result," he said. "We gained a point today and are in a very good position."
Final Matches
Slovenia now plays England in Port Elizabeth on June 23 in their final group game, while the U.S. takes on Algeria in Pretoria at the same time.
Bradley said he hadn't gotten an explanation of what happened on the play. Television replays showed the U.S. players weren't offside, and there were no obvious fouls by Americans.
"In all games there are moments when you're frustrated because you feel situations haven't been handled correctly, or even fairly, but that's the way football works," coach Bradley said.
To contact the reporter on this story: Alastair Reed in Johannesburg on at areed12@bloomberg.net
To contact the editor responsible for this story: Christopher Elser at celser@bloomberg.net