Treasury to Gain Expanded Powers in U.S. Financial Overhaul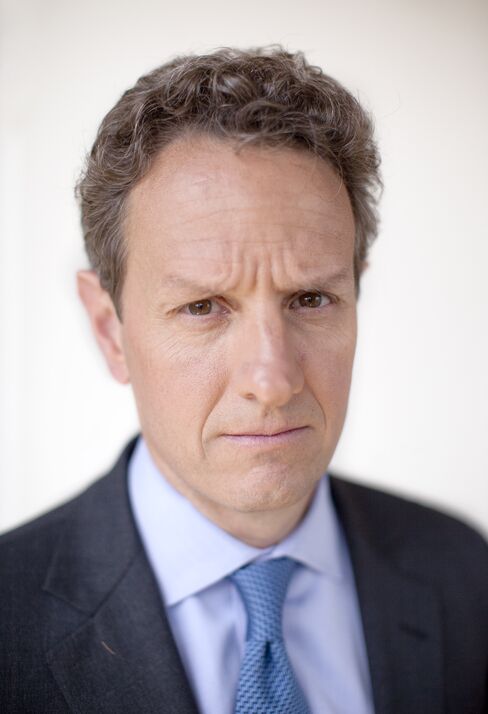 The U.S. Treasury Department under Secretary Timothy F. Geithner is coming out of the worst economic crisis since the Great Depression with expanded powers to guard against future threats to financial stability.
Geithner, who has managed taxpayer bailouts of companies from Citigroup Inc. to General Motors Co., would lead a council to monitor large financial firms under legislation House and Senate negotiators aim to complete by July 4. Lawmakers confirmed the council's basic functions yesterday and may approve final language next week. Geithner would also get a research unit that could demand data from banks and regulators and a new national insurance office.
The Treasury-led council's role includes identifying companies that might be shut down because they pose a risk to the financial system. That authority, even if well-intentioned, could be used for political ends, said Phillip Swagel, a former Treasury economist who's now a professor at Georgetown University in Washington.
"It's such an open-ended grant of power," said Swagel, who worked for Republican Treasury Secretary Henry Paulson. "Do we really want to give that to every future administration?"
Tom Quaadman, vice president of the U.S. Chamber of Commerce's Center for Capital Markets Competitiveness, said the legislation will give Treasury "enormous new powers."
The Treasury would also be required to approve any emergency lending by the Federal Reserve. The Fed used its emergency powers during the crisis to rescue American International Group Inc. and Bear Stearns Cos.
The Treasury's new powers are one element of legislation that Geithner has called "the most sweeping financial reform that we've considered in generations."
Council Members
The council, which also includes the chairmen of the Fed, Securities and Exchange Commission and the FDIC, would have the authority to recommend that the central bank and other agencies toughen rules to reduce risk at financial institutions.
Some of its decisions, such as ruling that a non-bank financial company should be subject to Fed supervision, couldn't be made without the Treasury secretary's approval.
"While it mostly has powers of recommendation, it clearly has the ability to affect regulation and set the agenda," said Chuck Muckenfuss, a partner at Gibson, Dunn & Crutcher LLP in Washington who specializes in financial regulation and policy.
The council would include, as a non-voting member, the director of a new Treasury financial research office. While the office isn't intended to "snoop on people," it would have broad power to ask companies for information, Swagel said.
Large Banks
The office would obtain data and conduct research on systemic risk and require banks with assets of $50 billion or more to give information not otherwise available about its financial condition and internal systems.
The success of the research office depends on how its work is used, said Mark Calabria, director of financial regulation studies at the Cato Institute in Washington and a former aide to Republican Senator Richard Shelby of Alabama.
"It's an open question whether the financial research done at Treasury will end up serving the policy goals of the Treasury secretary, or will they actually build a strong, independent function," Calabria said.
Geithner, 48, will be gaining authority after being the target of a public and political backlash over the $700 billion Troubled Asset Relief Program. Lawmakers including Senator Maria Cantwell, a Democrat from Washington state, and Representative Jeb Hensarling, a Texas Republican, said the Treasury favored Wall Street banks over Main Street.
Fed Scrutiny
As companies including Citigroup and Bank of America Corp. repaid bailout funds last year, the Treasury escaped the ire of lawmakers debating whether to curb central bank's independence and increase scrutiny of its actions. Lawmakers yesterday agreed to require greater disclosure by the central bank while rejecting a provision to make the New York Fed chief a political appointee.
Geithner met with more than a dozen senators in the weeks before the Senate's May 20 vote and urged them to support the regulatory changes. The Obama administration's proposal, released in June 2009, included a financial services oversight council to be led by Treasury.
"What's important is to have true accountability for the responsibilities granted to each government agency," Treasury spokesman Andrew Williams said.
The President's Working Group on Financial Markets, formed in response to the October 1987 stock market crash, is likely to be supplanted by the council, said Eugene A. Ludwig, chief executive officer of Promontory Financial Group and a former comptroller of the currency. The working group, led by the Treasury secretary, includes the chairmen of the Fed, SEC and Commodity Futures Trading Commission.
Insurance Office
The Treasury's authority would also be extended to the insurance industry. A proposed National Office of Insurance, whose director would be appointed by the Treasury secretary, will identify regulatory weaknesses that could contribute to an industry crisis and recommend to the council of regulators that an insurer be supervised by the Fed.
The legislation falls short of proposing a so-called optional federal charter for insurance companies that allow firms to choose between the current system of state regulation or a federal overseer. Large insurers such as Allstate Corp. have supported an optional federal supervision while smaller firms and states oppose it.
"This is the first toe in the water for federal government into insurance," said Robert Litan, a senior fellow at the Brookings Institution and a former Office of Management and Budget official. "It could prepare the ground for an optional federal charter."
Inspectors
Under the legislation, the Treasury's inspector general, or internal investigator, would lead a council of IGs from government agencies to share information that could improve financial oversight.
"The Treasury Department has been one of the primary battalions in our economic army," Ludwig said. "In times of war the army grows in strength and authority. The question is, how will this army change in times of peace, or what it will evolve into."
Before it's here, it's on the Bloomberg Terminal.
LEARN MORE