Jose Saramago, Winner of Nobel Prize in Literature, Dies at 87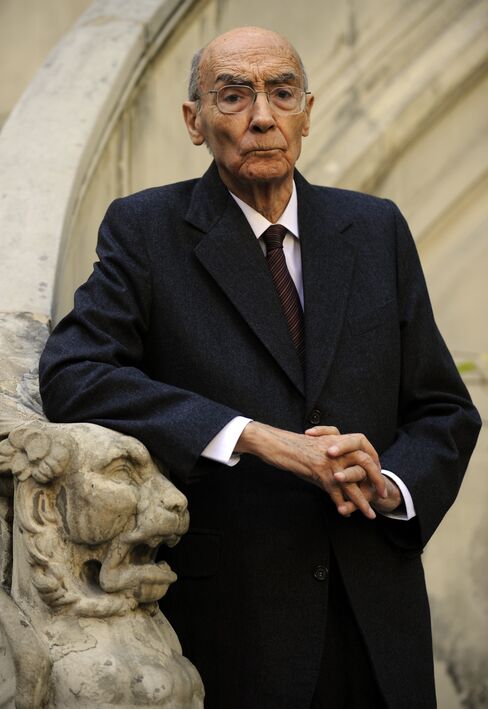 Jose Saramago, winner of the 1998 Nobel Prize in literature for early novels that explored historical themes from unconventional angles and later works in which inexplicable events threaten society's underpinnings, has died. He was 87.
The writer died earlier today at his home in Lanzarote, Spain, after a lengthy illness, according to the website of the Jose Saramago Foundation.
Saramago, the only Portuguese winner of the literary prize, was 60 before he wrote most of the novels for which he was honored, having worked as a car mechanic, civil servant, production manager in a publishing company and newspaper editor before becoming a full-time writer.
He joined the Portuguese Communist Party in 1969, during a dictatorship that had outlawed the party, and was a contentious figure in the nation's public life.
After a military-led government with Communist participation took power in 1974, Saramago the next year became deputy director of a leading newspaper, Diario de Noticias, where opponents on the staff said he helped impose pro-government news coverage. He was fired after a November 1975 confrontation that reduced the Communists' role in the government.
In 1991, the government blocked the nomination of his novel, "The Gospel According to Jesus Christ," for a European literary prize, calling it offensive to Catholics. In the book, Saramago portrays a Jesus who has sex with Mary Magdalene and is a pawn in a power struggle between God and the Devil. The government's decision prompted him and his wife, Spanish journalist Pilar del Rio, to leave Portugal for Spain's Canary Islands, where he lived for the rest of his life.
'Ideologically Oriented'
In 2002, when he and other writers visited the Israeli-occupied West Bank, he said Israel was guilty of "a crime we put on the same plane as what happened as Auschwitz." He later said he chose the reference to Auschwitz to provoke a response from Israelis.
When Saramago won the Nobel, the Vatican newspaper L'Osservatore Romano said the award was "ideologically oriented." The Nobel committee, in awarding the prize, praised the "rich, multifaceted" prose, the "wealth of imagination" and the "skillfully evoked atmosphere of unreality" in Saramago's works.
His writing was marked by long sentences and paragraphs, minimal punctuation and frequent digressions on human nature. "Probably I'm an essay writer who, as he doesn't know how to write essays, writes novels instead," he said in an interview cited in the Guardian newspaper in 2002.
U.S. literary critic Harold Bloom called Saramago "the most impressive living novelist, who overshadows all other living Europeans and all Americans too."
'Universal Themes'
Several of his novels in the 1980s examined periods of Portuguese history, including "Baltasar and Blimunda," a love story set in the early 18th century, and "The History of the Siege of Lisbon," about a proofreader at a publisher who rewrites the history of the 12th-century conquest of Lisbon.
His later books focused on other themes. "Blindness" described an unnamed city hit by an epidemic of unexplained sudden blindness, depicting the ensuing social and political breakdown. In "The Stone Raft" Iberia literally breaks off from the rest of Europe, and in "The Double," Saramago describes a man's reaction when he learns he has an exact physical double.
"He speaks about universal themes and really tackles social problems, love, passion, science," said Graca Almeida Rodrigues, a retired professor of Portuguese Studies at Lisbon's New University. "He goes beyond the problems of Portugal and takes on universal world problems."
Unenthusiastic Reviews
"Blindness" attracted the interest of Whoopi Goldberg, Gael Garcia Bernal and others who wanted to turn it into a movie, according to a New York Times profile of Saramago. He turned down all proposals for years before giving permission to Canadian screenwriter Don McKellar. The film opened the 2008 Cannes Film Festival, receiving mostly unenthusiastic reviews, with Le Monde and the Times calling Brazilian director Fernando Meirelles's rendition of the allegorical tale heavy-handed.
Jose de Sousa Saramago was born on Nov. 16, 1922, in Azinhaga, a village 100 kilometers (62 miles) northeast of Lisbon, "in a family of landless peasants," according to an autobiographical note on the Nobel website. His father took the family to Lisbon in 1924, though Jose spent long periods in Azinhaga with his grandparents until he was about 13 years old.
Auto Mechanic
His parents sent him to a technical school, where he studied for five years to be a mechanic, while studying literature mostly on his own. After working for two years in a car repair shop, he took a job in the government's Social Welfare Service.
He published a novel in the 1940s and wrote another that wasn't published, then gave up writing for 19 years, as "I had nothing worthwhile to say," he wrote on the Nobel site.
In the 1950s, Saramago, who had studied French in school, started doing translation work and took a job as a publishing company production manager, which gave him access to literary circles. From 1966 to 1973, he published two books of poems and two collections of newspaper articles.
In the early 1970s he was an editor at the Lisbon newspaper Diario de Lisboa, before his tumultuous stint at the Diario de Noticias in 1975. After his ouster there he focused full-time on writing. In 1995 he won the Camoes Prize, Portugal's top literary award.
Feted in Portugal
After winning the Nobel, Saramago, though still living in Spain, was feted in his home country. A publisher named a literary award for young writers after him, and the city of Beja in southern Portugal put his name on its municipal library.
Still, he didn't win universal affection from the Portuguese, many of whom hadn't read his work, partly because of its difficult style, Almeida Rodrigues said.
"The Portuguese find him somewhat arrogant," she said. "Portuguese who are outstanding tend to be recognized more outside the country than at home."
Saramago's first marriage, to Ilda Reis, ended in divorce in 1970. He remarried in 1988. He had a daughter, Violante, born in 1947.
Before it's here, it's on the Bloomberg Terminal.
LEARN MORE