Nude Bathers, Homebodies Dominate 'Late Renoir' in Philadelphia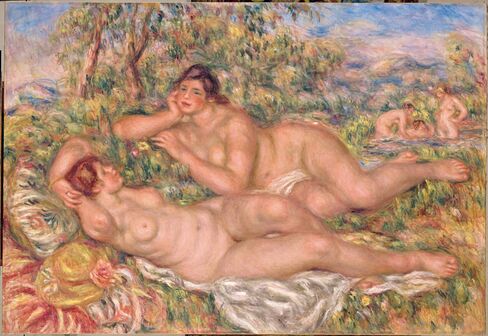 As young 19th-century French ladies grew older, they left behind indoor domestic pastimes like books and piano practice and went outside to remove their clothes and bathe.
I deduce this from the huge show devoted to the late work of Pierre-Auguste Renoir (1841-1919), opening today at the Philadelphia Museum of Art.
From "Two Girls Reading" (1890-91) it's a short trip to "Bather With Long Hair" (c. 1895), a lone woman modestly clutching a cloth that covers almost nothing, and then to the riotous "Bathers Playing With a Crab" (c. 1897), in which it's hard to find the crustacean for all the fleshy pulchritude.
The show "Late Renoir" draws on painting and sculpture that the artist did in the three decades before his death. It's a period that begins with his marriage in 1890 and a more settled lifestyle after his Paris years as a leading Impressionist, much travel in the 1870s and '80s, and eventually recognition followed by comfort. The exhibition displays 79 works chronologically as well as 13 by Henri Matisse, Pablo Picasso and others he inspired.
Among the early paintings on view is "Girl in a Red Ruff" (c. 1896), which embodies the palette of creamy whites and warm pastels that, along with flesh tones, dominate in the figurative paintings. The ruff is an exquisite confection that suggests a complex species of marine coral.
Renoir during this period moved for the sake of his rheumatoid arthritis to the warmer climate of Cagnes-sur-Mer on France's Cote d'Azur about midway between Cannes and Nice. Among several landscapes painted in the area, the shimmering "Terrace at Cagnes" (1905) seems to capture the "special light of the Midi" noted by a gallery plaque.
'Culmination'
And it's the Midi's coastal and inland waters that wash his many bathers, pictured in playful mode or odalisque sprawl. Renoir called his 1918-19 "The Bathers" a "culmination of his life's work."
In it, the ever-larger nudes of his late paintings have grown monumental, with two figures filling more than half a canvas measuring about 5 feet by 3 1/2 feet. They imply a peace and plenitude that had been rare in Europe during the war's slaughter.
Turning from these zaftig amazons, it is startling to view one of the rare self-portraits, circa 1897. Between hat of gray and jacket of dark blue, the gaunt, craggy features not covered by heavy mustache and beard belie the liveliness in his bright button eyes.
Active, Content
He appears again in a collection of photographs at the end of the exhibition and two remarkable film excerpts from 1915. In one he is constantly smoking a cigarette as he sits by an easel and occasionally fits into his crippled hand a long brush that he dabs at a canvas tantalizingly angled away from the camera. He's about 74 and looks enviably active and content.
It has been fashionable to shortchange Renoir's late work, making pejoratives of adjectives like rosy, familial and Arcadian. Yet much of the work pleases the eye and touches the heart and conveys the energy of an elderly man with more time for beauty and none at all for cynicism.
Philadelphia is the last venue for the exhibition, which opened in Paris at the Grand Palais, and then traveled to the Los Angeles County Museum of Art. "Late Renoir" runs from June 17 to Sept. 6. The Philadelphia Museum of Art is at 26th Street and the Benjamin Franklin Parkway. For information: +1-215-235-7469.
(Jeffrey Burke is an editor with Muse, the arts and leisure section of Bloomberg News. The opinions expressed are his own.)
Before it's here, it's on the Bloomberg Terminal.
LEARN MORE