BP's Spill Fund a $20 Billion Shakedown, Barton Says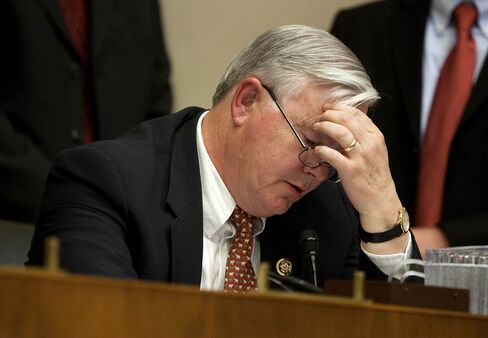 Representative Joe Barton, a Texas Republican, said a fund BP Plc agreed to establish after meeting with President Barack Obama yesterday amounted to "a $20 billion shakedown."
"I'm ashamed of what happened in the White House," Barton said today as a House Energy Committee panel began a hearing on BP's Gulf of Mexico oil spill. The Obama administration called Barton's comments "shameful," fellow Republicans rejected the remarks and almost six hours later, Barton apologized.
The London-based oil company agreed yesterday to Obama's request to establish a fund to pay damages from the spill, and to temporarily suspend dividends as Gulf residents and businesses begin filing claims. BP said it will commit $20 billion to the fund.
Barton spoke in opening statements before testimony to the committee by BP Chief Executive Officer Tony Hayward, in his first appearance before Congress since its oil well exploded.
"It is a tragedy of the first proportion that a private corporation can be subjected to what I would characterize as a shakedown, in this case, a $20 billion shakedown," said Barton, who called the money set aside "a slush fund."
White House press secretary Robert Gibbs called in a statement for lawmakers from both parties to "repudiate his comments."
'Big Corporations'
"What is shameful is that Joe Barton seems to have more concern for big corporations that caused this disaster than the fishermen, small business owners and communities whose lives have been devastated by the destruction," Gibbs said.
Vice President Joe Biden called Barton's remarks "incredibly insensitive, incredibly out of touch."
Barton's criticism was also rejected by House Republican Leader John Boehner of Ohio.
"BP agreed to fund the cost of this cleanup from the beginning, and I'm glad they are being held accountable," Boehner told reporters.
In the statement apologizing for the "shakedown" description, Barton said, "I regret the impact that my statement this morning implied that BP should not pay for the consequences of their decisions and actions in the incident."
Asked about Barton's initial comments, Hayward called the fund "a signal of our commitment to do right."
"I certainly didn't think this was a slush fund," Hayward said.
Barton had also faulted Attorney General Eric Holder for taking part in the meetings with BP at the White House yesterday while the Justice Department is investigating whether criminal or civil laws were violated in the spill
'Entirely Appropriate'
"We have dealt with this issue I think in a tough way to ensure that Americans who did no wrong will be compensated, that we do all we can to protect our environment and that not a penny comes from American taxpayer to do both of those things," Holder said at a news conference in Washington today. "So I think that what we've done has been entirely appropriate."
Hayward drew criticism from the House panel for allegedly ignoring dangers at the Macondo well that exploded, creating the biggest U.S. oil spill.
"We could find no evidence that you paid any attention to the tremendous risk BP was taking," Representative Henry Waxman, a California Democrat, said. "There is not a single e-mail or document that shows you paid the slightest attention to the dangers at this well."
Hayward was slammed by Waxman for trying to "stonewall" the committee by declining to answer specific questions that the panel had sent him in advance about decisions before the well exploded.
'I'm Not Stonewalling'
"I'm not stonewalling," Hayward said. "I simply wasn't involved with the decision-making."
BP was struggling to seal cracks at the well as far back as February, more than two months before the explosion, according to drilling documents obtained by Bloomberg News.
Hayward, 53, who told the lawmakers he is "personally devastated" by the spill and the death of 11 workers in the explosion, was warned through the list of advance questions to expect a rough reception from lawmakers. Before today's hearing, lawmakers described five "questionable decisions" by BP that they said the CEO should be prepared to discuss.
BP's American depositary receipts, each equal to six ordinary shares, fell 14 cents to $31.71 at 4:15 p.m. New York time.