Barton BP Apology Spurs Rebuke From Other Republicans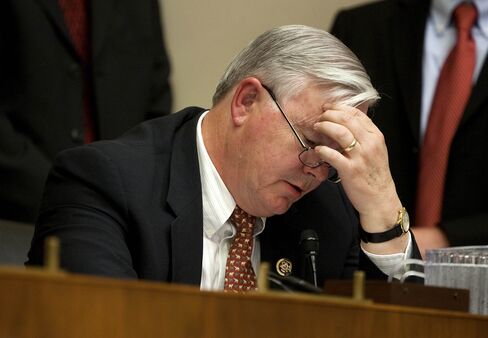 U.S. Representative Joe Barton's description of the BP Plc oil spill compensation fund as a "shakedown" and his apology to Chief Executive Officer Tony Hayward sparked an uproar and denunciations from the Texas lawmaker's fellow Republicans.
Barton retracted the comments he made today hours later following a private meeting with House Minority Leader John Boehner, an Ohio Republican, and Republican Whip Eric Cantor. The top House Republicans told Barton that he must recant his statements immediately or lose his position as ranking Republican on the Energy and Commerce Committee, said a Republican leadership aide who spoke on condition of anonymity.
The outcry over Barton's comments illustrates Republicans' difficulty in gaining political ground even during a low period for President Barack Obama, as the party struggles to conquer internal divisions, said Julian Zelizer, a political science professor at Princeton University in New Jersey.
"The Republican Party is not totally united on what its message should be," Zelizer said. "It's the Tea Party versus leadership tension that we've seen on other issues."
The flap began at the start of a hearing by the House Energy and Commerce Committee today on the Gulf of Mexico oil spill. Barton described the claim fund BP agreed to establish after its top officials met with Obama yesterday as "a $20 billion shakedown."
"I'm ashamed of what happened in the White House," Barton, 60, told Hayward at the hearing, and later said, "I apologize" for it.
'Wrong'
Less than six hours later, Boehner's office released a statement by Barton in which he retracted his apology to BP and apologized "for using the term 'shakedown.'" Boehner's office also issued a separate statement from the Republican leader, Cantor and Representative Mike Pence, an Indiana Republican, calling Barton's statements at the hearing "wrong."
Barton's statement said he regretted "the impact that my statement this morning implied that BP should not pay for the consequences of their decisions and actions in this incident."
The comments by Barton, who was first elected to his Dallas-area House seat in 1984, inflamed Gulf Coast Republicans, who are outraged at BP for failing to plug the leaking well.
"I don't think we need to be apologizing to British Petroleum," said Florida Republican Senator George LeMieux.
'Call Into Question'
Representative Jeff Miller, a Florida Republican, said in a statement that Barton's comments "call into question his judgment and ability to serve" in a leadership position on the Energy and Commerce Committee.
Other fiscally conservative Republicans have criticized the BP agreement with the Obama administration.
Georgia Republican Representative Tom Price, in a statement yesterday, said Obama's insistence on creating an escrow fund was an example of his administration "exerting its brand of Chicago-style shakedown politics."
Representative Michele Bachman, a Minnesota Republican, criticized the idea of an escrow fund as a "redistribution-of-wealth" fund at a Heritage Foundation forum this week.
Former Representative Dick Armey of Texas, a Republican and a leading funder of the Tea Party movement, said at a Christian Science Monitor breakfast this week in Washington that Obama lacked the constitutional authority to set up such a fund.
"They're trying to make an anti-Obama, anti-Democratic point out of this recent announcement, but I think it's risky to Republicans," said Zelizer.
Campaign Contributions
Employees of the oil and gas industry have been Barton's largest source of campaign cash since 1989, giving him $1.4 million, according to the Center for Responsive Politics, a Washington-based research group. That's more than any other House member has gotten from the industry. He has raised $100,470 from oil and gas industry employees for his 2010 re-election campaign.
Democrats immediately seized on Barton's statements, seeing an opportunity to score political points months before the November elections.
"When people in the Gulf are suffering from of actions taken by BP, Republicans in Congress are apologizing to BP," House Speaker Nancy Pelosi told reporters, referring to the statements by Barton and Price.
White House press secretary Robert Gibbs tied Barton's remarks to Republican opposition to the financial regulatory overhaul bill pending in Congress and other administration initiatives. "It's hard to tell what planet these people live on," he said.
Vice President Joe Biden called Barton's remarks "incredibly insensitive, incredibly out of touch."
"There's no shakedown," the vice president said at a White House briefing. "It's insisting on responsible conduct and a responsible response to something they caused."
Before it's here, it's on the Bloomberg Terminal.
LEARN MORE