World Cup May Be 'Yellow Card' for Tech Earnings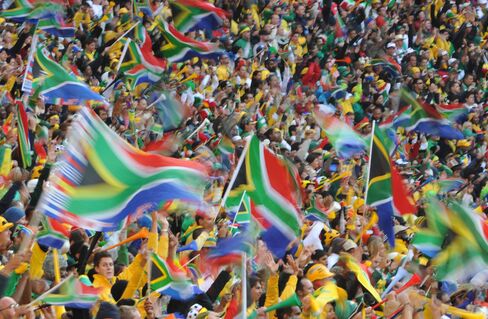 Too many customers watching the World Cup and too few buying software and computers means the soccer tournament may wind up a "yellow card" for earnings at U.S. technology companies, Goldman Sachs Group Inc. said.
In the quarter coinciding with three of the past five World Cups, technology companies on the Standard & Poor's 500 Index had their biggest earnings-per-share misses of the year, Sarah Friar, a San Francisco-based Goldman Sachs analyst, wrote in a report this week. By contrast, the April-to-June period was the worst quarter in only three of the past 15 non-tournament years since 1990, she wrote.
"World Cup-year second quarters appear more susceptible to missing consensus estimates," she wrote. "With macro and currency concerns already weighing on technology stocks, some view the World Cup as another possible near-term negative."
The planet's most popular sporting event kicked off last week and is expected to draw half a billion TV viewers globally by the time it ends July 11, according to FIFA, soccer's governing body. Even in the U.S., where the sport's popularity lags behind American football and basketball, some 14.5 million people tuned in a match this week between the home team and England, according to estimates from ratings-company Nielsen Co.
Other fans are using vacation days to attend the matches in South Africa. Average attendance per game has been 53,019, up from 52,167 at the same stage of the 2006 World Cup in Germany, FIFA spokesman Nicolas Maingot said at a news conference in Johannesburg this week.
'Not Overwhelming'
"Some impact is a possibility, though the likelihood is not overwhelming," Friar said in the report. She recommends buying Microsoft Corp. and Oracle Corp. shares and rates SAP AG "neutral."
The worst performance for S&P 500 technology companies during a World Cup quarter in the past 20 years occurred in 1990 when the tournament was held in Italy. More than 50 percent of the companies fell short of analysts' average estimates, according to Friar's report. The U.S.-hosted 1994 World Cup and the 2002 games in Japan and Korea also coincided with quarters that were worse than the rest of the year.
For investors concerned about the impact, Friar notes that the round of 16 will fall at the end of the second quarter, while the later rounds take place at the beginning of the third quarter. The final is scheduled July 11.
The information technology sub-index of the S&P 500 has risen 3.7 percent since June 11, when the tournament started, while the broader index gained 2.6 percent.