Norway, Sovereigns Lose $5 Billion on BP After Spill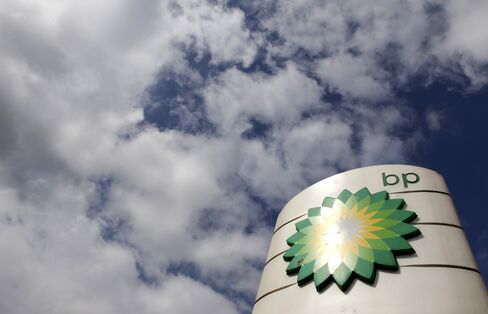 June 16 (Bloomberg) -- The governments of Norway, Kuwait, China and Singapore have lost 3.4 billion pounds ($5 billion) on BP Plc's share slide since the Gulf of Mexico oil spill started in April, data compiled by Bloomberg show.
The sovereign wealth funds were four of the 12 largest holders of BP's London-traded shares at the start of May, the data show. Norway's state fund held 336 million shares, or 1.79 percent of the company, a stake that's dropped 1.1 billion pounds in value since the April 20 explosion aboard a rig in the Gulf of Mexico killed 11 workers. The Kuwait Investment Authority held 328 million shares. The People's Bank of China had 1.1 percent of BP, the Government of Singapore 1.07 percent.
BP attracted investors last year after producing more oil and gas than Exxon Mobil Corp. for the first time. The shares gained 14 percent in 2009, more than Exxon or Royal Dutch Shell Plc, its closest European rival. BP won plaudits for its ability to discover new reserves. In September, it made the biggest U.S. oil find in three years under the Gulf of Mexico.
"BP was the Goldman Sachs of the oil industry," said Christine Tiscareno, an analyst at Standard & Poor's in London. "They were attractive because they had high dividends, were winning environmental awards and had done so well with exploration and production. If I were an investor, I would feel this is an unfair situation."
BP shares fell 3 to 342 pence yesterday in London, the Lowest close since 1997. The stock has fallen 48 percent since April 20, wiping about 60 billion pounds off the value of the London-based company. The company dropped 2.3 pence, or 0.7 percent, to 339.7 pence at 10:06 a.m. local time.
Fund Managers
Among private fund managers, BlackRock Inc. is BP's largest shareholder with 1.1 billion shares, according to the latest filing of Dec. 31. Legal & General Group Plc is the second-largest, with a total of 751 million shares. The 12 top investors in BP held 4.72 billion shares as of May 4, or the equivalent of 25 percent of BP, the data show.
BP may need to spend $40 billion to clean up the cost and settle claims, London-based bank Standard Chartered Plc said last week. The Obama Administration is pressing BP to set up an escrow account for claims. Lawmakers are demanding BP defer dividends until coastal businesses are compensated.
Kuwait Investment Authority isn't considering selling its stake in BP Plc, newspaper Al-Rai reported, without saying where it got the information. No one was available to comment yesterday. Norges Bank, which manages government investments, doesn't comment on individual holdings.
People's Bank
The Government of Singapore Investment Corp. declined to comment in an e-mailed response to questions. Calls to the People's Bank of China weren't answered today, which is a public holiday in China.
Steve Leach, a spokesman of Legal & General Group, declined to comment. Alexandra Ring, a London-based spokeswoman of BlackRock Inc. said the company doesn't discuss individual holdings. Marc Hazelton, a London-based spokesman for Barclays, couldn't immediately comment when contacted over the phone.
Standard Life Investments, Capital Research & Management and M&G Investment Management declined to comment. Insight Investment Management didn't immediately return phone calls for comment.
Below is a table of the largest BP shareholdings:
SHAREHOLDER                              SHARES     FILING DATE
1. Blackrock Inc.                        1.1 billion(12/31/2009)
2. Legal & General Group Plc             751 million (5/4/2010)
3. Barclays Global Investors Ltd.        393 million (5/1/2010)
4. Norges Bank Investment Management     337 million (5/1/2010)
5. Kuwait Investment Authority           328 million (5/1/2010)
6. Barclays Global Investors U.S.        326 million (5/1/2010)
7. M&G Investment Management Ltd.        314 million (5/1/2010)
8. Standard Life Investments             281 million (5/1/2010)
9. Capital Research and Management       242 million (5/1/2010)
10.Insight Investment Management         213 million (5/1/2010)
11.People's Bank of China                206 million (5/1/2010)
12.Government of Singapore               200 million (5/1/2010)

To contact the reporter on this story: Fred Pals in Amsterdam at fpals@bloomberg.net; Brian Swint in London at bswint@bloomberg.net.
To contact the editor responsible for this story: Will Kennedy at wkennedy3@bloomberg.net