Durbin Seeks to Exempt Benefits Cards in Debit Curbs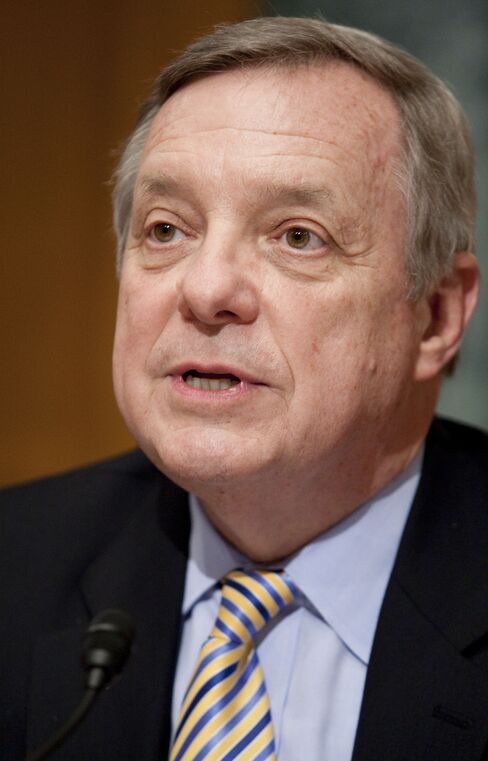 U.S. Senator Richard Durbin, the Illinois Democrat pushing for caps on debit-card "swipe" fees, said legislators may exempt prepaid cards that governments use to distribute benefits.
"It's a special-case situation," Durbin said today during a Washington hearing on fees the federal government pays to accept debit and credit cards. "We are working on an amendment that will carve out these government types of cards."
Opponents of Durbin's proposal, including Visa Inc. and MasterCard Inc., say reducing swipe or interchange fees would diminish or eliminate the incentive for banks to issue prepaid cards. Most state governments use those products to distribute benefits to senior citizens and needy families. Lawmakers are considering caps on the fees as part of the financial overhaul bill.
At least 10 state treasurers, including Shane Osborn of Nebraska and Nancy K. Kopp of Maryland, have said that Durbin's amendment threatens to undermine their prepaid card programs.
"These cards eliminate the need to print and mail checks to government assistance beneficiaries, saving our state -- and taxpayers -- millions of dollars each year," the treasurers wrote in a June 4 letter. "This is an especially important benefit for recipients who are 'unbanked,' sparing them from high check-cashing and money-order fees they are otherwise forced to pay in order to access funds and pay bills."
Federal Reserve Role
Durbin's plan would allow the Federal Reserve to limit debit-card interchange rates set by Visa and MasterCard, the world's biggest payment networks, which pass that money along to card-issuing banks including JPMorgan Chase & Co. and Citigroup Inc.
U.S. merchants paid fees of $19.7 billion last year tied to Visa and MasterCard debit transactions, according to the Nilson Report, an industry newsletter. The fees averaged 1.63 percent of each sale.
The Senate voted 64-33 on May 13 to approve Durbin's measure, which also would allow retailers to offer discounts for cash, checks or debit cards, or for a particular card brand, and let merchants set minimums and maximums for credit-card purchases.
The vote margin in the Senate makes it likely that some version of the amendment will be included in the final legislation, according to Representative Barney Frank, the Massachusetts Democrat in charge of the committee that will merge the House and Senate bills.
Representative Debbie Wasserman Schultz, a Florida Democrat, persuaded 131 House members to sign a letter urging the conferees to oppose Durbin's amendment, according to an e-mailed statement today from her office. Wasserman Schultz, a member of the House majority's leadership team, said consumers will face higher fees if Congress limits interchange fees.
Before it's here, it's on the Bloomberg Terminal.
LEARN MORE