BP Bonds Escape Distressed List, Trade as Junk: Credit Markets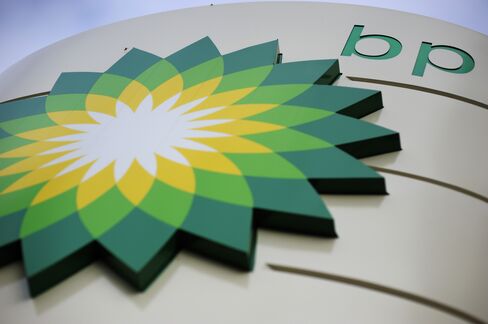 BP Plc's agreement to cut three quarters of dividend payments and set up a $20 billion fund for oil-spill victims removed the energy producer from a four-hour stint among companies the bond market labels distressed.
BP's $750 million of 1.55 percent notes due 2011 were trading at 94.75 cents on the dollar today after tumbling as low as 87.9 cents yesterday, according to Trace, the bond-price reporting system of the Financial Industry Regulatory Authority. The cost of protecting BP's debt against default for one year has declined to 631.4 basis points after climbing to as high as 1,075 yesterday, CMA DataVision prices show.
Spreads on bonds and default swaps tightened after BP slashed the $10 billion-a-year dividend and agreed to create an escrow fund to pay damages for the biggest oil spill in American history following a meeting with President Barack Obama. Its bonds still traded at levels similar to junk-rated debt in the U.S. yesterday, at least seven steps below the AA- rating from Standard & Poor's.
"There has been a run-up in credit-default swap spreads that had created some uncertainties in the minds of debt holders," BP Chief Financial Officer Byron Grote said yesterday in a conference call with investors and analysts to discuss the reduced dividend and victims' escrow account. "This will create a calming effect."
Pimco's Gross Buys
BP bonds were the most active in U.S. trading yesterday, Trace data show. The manager of the world's largest bond fund, Bill Gross, recently bought $100 million of shorter-maturity BP debt, Pacific Investment Management Co. spokesman Mark Porterfield wrote yesterday in an e-mail.
Gross, co-chief investment officer at Pimco in Newport Beach, California, also bought notes of The Woodlands, Texas- based Anadarko Petroleum Corp., owner of a 25 percent stake in the well that has been spewing oil into the Gulf of Mexico since April 20.
Elsewhere in credit markets, the extra yield investors demand to own corporate bonds instead of government debt was unchanged at 198 basis points, or 1.98 percentage point, Bank of America Merrill Lynch's Global Broad Market Corporate Index shows. Yields averaged 4.114 percent.
JPMorgan Chase & Co. may sell $1 billion of five-year notes as soon as today, according to a person familiar with the transaction. The debt may price to yield 145 basis points, or 1.45 percentage point, more than similar-maturity Treasuries, said the person, who declined to be identified because terms aren't set.
Caterpillar Sale
Caterpillar Financial Services Corp., the finance unit of the world's biggest maker of bulldozers and excavators, sold $300 million of 2.75 percent, five-year notes, according to data compiled by Bloomberg. The notes pay a spread of 77 basis points, Bloomberg data show.
An indicator of corporate credit risk in the U.S. and Canada fell today to the lowest this month. The Markit CDX North America Investment Grade Index Series 14, which investors use to hedge against losses on corporate debt or to speculate on creditworthiness, declined 2.8 basis points to a mid-price of 114.8 basis points as of 1:09 p.m. in New York, the lowest since May 31, according to Markit Group Ltd. The index typically falls as investor confidence improves and rises as it deteriorates.
Credit swaps pay the buyer face value if a borrower fails to meet its obligations, less the value of the defaulted debt. A basis point equals $1,000 annually on a contract protecting $10 million of debt.
'Deeply Sorry'
BP Chief Executive Officer Tony Hayward said he's "deeply sorry" for the Gulf rig explosion before testifying before Congress today. Later, he told lawmakers he didn't take part in decisions on drilling the well.
"I wasn't involved in any of that decision making," Hayward said at a hearing of a House Energy Committee panel. "It's clear that there were some discussions among the engineering team and that an engineering judgment was taken."
BP will increase asset sales to $10 billion from between $2 billion and $3 billion, according to bond analyst Philip Adams at Gimme Credit LLC in Chicago. The "cash conservation moves" over the next year are about $16 billion to $18 billion, compared with an escrow obligation of about $7.5 billion, he wrote in a note to investors.
Still, BP debt investors are concerned the company, one of the world's largest energy traders, will face a cash squeeze from liabilities for and potential collateral calls on its oil and currency trades. BP had $6.84 billion in cash and near-cash as of the end of the first quarter, according to a regulatory filing.
Risk Management
BP uses derivatives to hedge its exposure to energy price swings and to take proprietary positions, according to its 2009 annual report. "The contracts may be entered into for risk management purposes, to satisfy supply requirements or for entrepreneurial trading," the company document says.
The extra yield investors demand to own BP's notes due August 2011 instead of similar-maturity Treasuries reached as high as 1,257 basis points in New York yesterday, before falling to 572 basis points as of 12:50 p.m. today in New York, Trace data show. They traded at 804 basis points June 15. Spreads of more than 1,000 basis points are considered distressed.
The average spread for companies rated in the highest tier of speculative-grade is 527 basis points, according to Bank of America Merrill Lynch index data.
"The danger is BP might run out of cash," said Gary Jenkins, head of credit strategy at Evolution Securities Ltd. in London. "Much will depend upon its relationship and contractual agreements with its bankers but if it gets through the next 18 months, it probably will survive."
BP's largest category of derivatives is related to natural gas prices, followed by contracts based on oil prices. The company also has exposure to currency and interest-rate derivatives.
"I'm not aware we've had to scale back trading," said Toby Odone, a BP spokesman.
Spreads on BP bonds narrowed 52 basis points yesterday to 601 basis points, according to Bank of America Merrill Lynch index data. The bonds have lost 13.4 percent this month.