Murdoch's BSkyB Offer Fits Strategy to Charge for News, Movies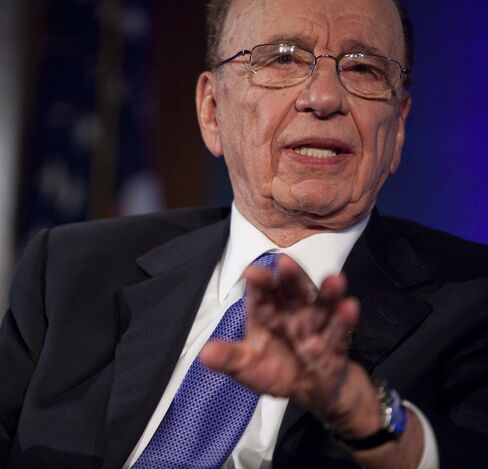 June 15 (Bloomberg) -- Rupert Murdoch-controlled News Corp.'s 7.8 billion-pound ($11.5 billion) offer to take over British Sky Broadcasting Plc fits his business model: boosting operations where clients pay for content.
Subscription-based businesses such as U.K. pay-TV provider BSkyB, of which News Corp. already owns a 39 percent stake, make it easier to generate secure and rising sales compared with content reliant on a volatile advertising market, analysts said.
"There's definitely a theme here to get people to pay for content," said Alex DeGroote, a media analyst at Panmure Gordon & Co. in London. "News Corp. has a conviction that getting people to pay will work and Murdoch's not backing down from that."
The bid for the remainder of BSkyB reflects Murdoch's ambitions to generate more money from subscriptions at a time when many newspapers, magazines and TV shows are free online and films and music can easily be downloaded illegally. News Corp., which already charges for online access to The Wall Street Journal, will also begin charging for the websites of The Times of London and The Sunday Times this month.
BSkyB today spurned the News Corp. offer, asking for the bid to be raised by at least 14 percent. The company's independent directors said today they may accept an offer of more than 800 pence a share, higher than the 700 pence a share News Corp. offered for the 61 percent stake it doesn't already own in BSkyB.
Value of Customers
"The value of customers to BSkyB is how much they pay for services," said Paul Richards, an analyst with Numis Securities Ltd. in London. "All evidence shows the more services they have, the less likely they are to leave."
Formed in 1990 with the merger of Murdoch's Sky Television and British Satellite Broadcasting, BSkyB has about 9.77 million subscribers. Buying exclusive live broadcasting rights in 1992 to popular events such as the Premier League, England's top soccer league, helped it win clients. It added offerings such as the History Channel and Disney Channel in 1995.
Murdoch said last year he would start online subscriptions for all company news sites and even considered blocking Google Inc.'s Internet search engine from displaying News Corp. news articles. Online news aggregators should pay to distribute his company's stories, Murdoch said.
The Times and The Sunday Times are the first of four U.K. news titles owned by News Corp.'s international unit that will move to an online pay model.
Newspaper Access
The Financial Times, which also charges readers to access the newspaper online, has no plans to pull its content from Google, even though users are seven times less likely to subscribe to the FT.com when they arrive via Google News pages, Rob Grimshaw, FT.com managing director, said in April.
Continuing its quest to charge for content, News Corp. said yesterday it bought e-reading platform Skiff LLC and invested an undisclosed amount into Journalism Online LLC, a venture that helps publishers collect revenue from Internet readers.
Journalism Online, co-founded by Steven Brill and Gordon Crovitz, runs Press+, a service that provides online readers a universal account to access news. It also helps publishers adjust pricing and offerings for paid access to their content, including managing the so-called meter model, which grants free access until a reader surpasses a certain threshold.
News Corp., which also owns the Twentieth Century Fox film studio, said on May 4 that the company is evaluating how to use its $8.18 billion in cash. News Corp. recorded $176 million in earnings from its BSkyB stake in the quarter ended March 31, compared with a $7 million loss a year earlier. The satellite service's operating profit increased with the addition of high-definition TV subscribers.
To contact the reporter on this story: Kristen Schweizer in London at kschweizer1@bloomberg.net.
To contact the editor responsible for this story: Vidya Root at vroot@bloomberg.net.