BSkyB Rejects Offer From News Corp.; Seeks More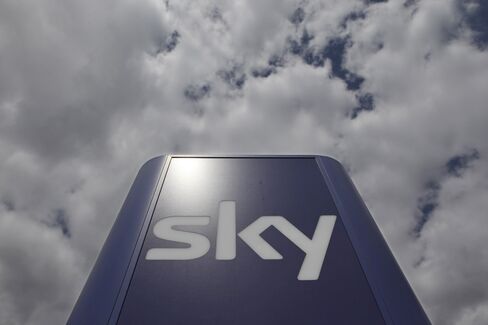 British Sky Broadcasting Plc, the U.K.'s largest pay-TV provider, spurned a 7.8 billion-pound ($11.6 billion) offer from Rupert Murdoch's News Corp., asking for the bid to be raised by at least 14 percent.
BSkyB shares rose 17 percent, the biggest jump in more than 10 years. The U.K. company's independent directors said today they may accept an offer of more than 800 pence a share, higher than the 700 pence a share News Corp. offered for the 61 percent stake it doesn't already own in BSkyB.
"I wouldn't think News Corp. would enter into this if they didn't think they were going to get BSkyB," said Steve Malcolm, an analyst at Evolution Securities in London. "In an uncertain world they are looking at BSkyB's pretty resilient pay-TV business and thinking this is not a bad place to be."
The offer for BSkyB would be 79-year-old Chairman and Chief Executive Officer Murdoch's biggest-ever acquisition, according to Bloomberg data. News Corp., the owner of the Wall Street Journal and the Fox television channel, said on May 4 that the company was evaluating how to use its $8.18 billion in cash.
Taking over the U.K. pay-TV unit would be in line with Murdoch's drive to boost News Corp.'s presence in subscription-driven businesses. BSkyB Non-Executive Chairman James Murdoch, 37, who is Rupert Murdoch's son, won't participate in the talks.
Formed in 1990 with the merger of Murdoch's Sky Television and British Satellite Broadcasting, BSkyB has about 9.77 million subscribers. Buying exclusive live broadcasting rights in 1992 to popular events such as the Premier League, England's top soccer league, helped it win clients. It added offerings such as the History Channel and Disney Channel in 1995.
Right Time
BSkyB rose 99.5 pence to 700 pence today in London. The shares have gained 25 percent this year.
"It is the unanimous view of the independent directors that there is a significant gap between the proposal from News Corp. and the value of the company," Nicholas Ferguson, BSkyB's senior independent non-executive director, said today.
Four out of 14 BSkyB board members represent News Corp.
The New York-based company said it will work with BSkyB to seek approval from "relevant" regulators for the bid. The process may take six months or more, News Corp. Chief Operating Officer Chase Carey said on a conference call. The proposed purchase won't require a competition review into the company's newspapers and other media holdings in the U.K., he said.
"We have a deal that really does represent for us a full and fair price," Carey said. "We're going to be disciplined about approaching this process. If we can't reach a satisfactory agreement for us, we have other options."
Stock Discount
News Corp.'s 700 pence offer represents a multiple of about 11.8 times BSkyB's earnings before interest, tax, depreciation and amortization of 1.14 billion pounds for the pro-forma 12 months ended March, the company said. European broadcasters have an average price-to-earnings ratio of 15.20, according to Bloomberg data.
News Corp. said it plans to raise about $4 billion in debt to help fund the purchase, and also use some of its available cash. Share buybacks are unlikely until the deal closes and the leverage ratio is reduced again, Chief Financial Officer David DeVoe said on today's conference call.
News Corp. added $1.25, or 9.5 percent, to $14.37 at 4 p.m. New York time in Nasdaq Stock Market trading, the biggest gain in 15 months. The Class A shares have risen 5 percent this year.
Taking full control of BSkyB would boost per-share earnings and free cash flow, News Corp. said on today's conference call.
Breakup Fee
News Corp. recorded $176 million in earnings from its BSkyB stake in the quarter ended March 31, compared with a $7 million loss a year earlier. The satellite service's operating profit increased with the addition of high-definition TV subscribers.
The company's shares may benefit from full ownership of BSkyB by eliminating a discount in the stock that reflects the partial ownership, Hale Holden, a Barclays Capital debt analyst, wrote in a May 25 report. The decline in the value of the British pound relative to the U.S. dollar may also have increased the likelihood of such a deal, he said.
In December, News Corp. raised its stake in Sky Deutschland AG, Germany's biggest pay-TV service, to more than 45 percent.
News Corp., which already charges for online access to The Wall Street Journal, will do the same for the websites of The Times of London and The Sunday Times this month.
BSkyB said in April high-definition subscriber additions increased 76 percent in the last quarter after it cut installation prices.
News Corp. will pay a fee of 38.5 million pounds, or 0.5 percent of the offer, if the transaction breaks down. It will pay BSkyB 20 million pounds if it doesn't get clearances.
Deutsche Bank AG and JPMorgan Cazenove are acting as financial advisers for News Corp. BSkyB is being advised by Morgan Stanley and UBS Investment Bank. Merrill Lynch is also providing advice to BSkyB.