London Financial Vacancies Rise by 82% on Last Year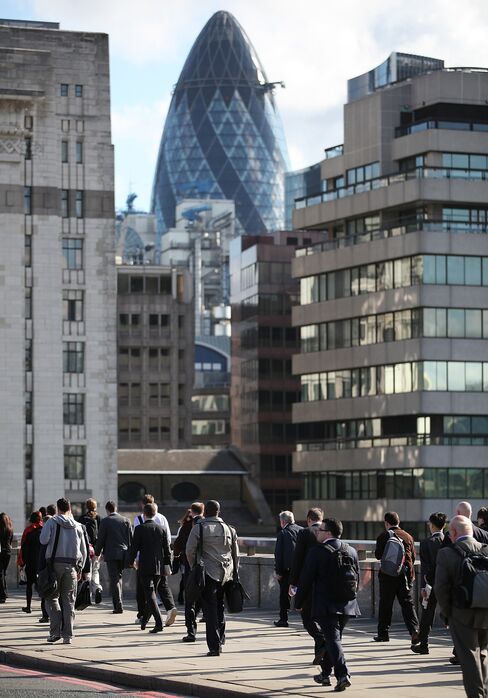 Job vacancies at London's financial-services companies rose 82 percent in the year through May as firms rebuilt businesses hurt during the credit crisis.
The number of job vacancies in the City, as London's main financial district is known, and elsewhere in the British capital rose to 5,733 in May from 3,150 a year earlier, recruitment consultant Morgan McKinley said in a statement today. Employment openings was 3 percent higher compared with April, the survey showed.
"Hiring activity shows a gradual upward trajectory despite the distractions of a change in government and the continuing euro-zone issues," according to Andrew Evans, managing director of Morgan McKinley's financial services division. Economic uncertainty in Europe and next week's emergency Budget in Britain meant it was difficult to predict further job growth, Evans said.
Chancellor of the Exchequer George Osborne will say in his Mansion House speech later today that the emergency Budget on June 22 will announce plans for a levy on banks, the Financial Times reported today, without attribution.
Securities firms continue to hire as the Office for National Statistics said today that unemployment in the three months to April slipped to 2.47 million people from 2.51 million.
'Significant Upside'
Nomura Holdings Inc. has been adding to its fixed income team in London following its acquisition of Lehman Brothers Holdings Inc.'s European units in 2008, while accounting firm KPMG aims to recruit 300 consultants starting this year, The Times newspaper in London reported on Feb. 1.
Barclays Plc, the U.K.'s third-largest bank by assets, hired 750 bankers in Europe and Asia last year. The bank reported a 29 percent rise in first-quarter profit for 2010.
Credit Suisse Group AG, Switzerland's biggest bank by market value, plans to hire more than 130 sales people at its investment bank this year, David Mathers, chief operating officer of the investment bank, told a conference in March.
"There is still significant upside potential in many of our businesses," he said.
Average City salaries rose 9 percent in May from the previous month to 55,353 pounds ($81,502), the survey showed.
The rise in vacancies follows a 12 percent drop in financial services job vacancies in April, Morgan McKinley said.