Emergency Bans on Naked CDS Trades Considered by EU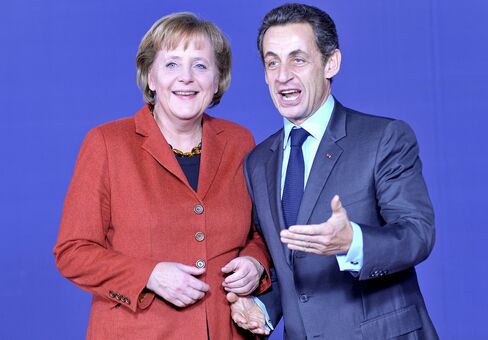 National regulators may be given "emergency powers" to "prohibit or restrict" naked credit-default swaps trades, under proposals being considered by the European Union in the wake of the region's debt crisis.
The measures would be "temporary in nature and subject to coordination" by the European Securities and Markets Authority, the European Commission said in a statement. The European Parliament is also scheduled to vote tomorrow on separate proposals to restrict trading in credit-default swaps.
French President Nicolas Sarkozy and German Chancellor Angela Merkel called on the commission last week to speed up curbs on financial speculation, saying some bets against stocks and government bonds should be banned as markets suffer a resurgence of "strong volatility." Germany banned some naked short-selling last month.
"I would hope that the political pressure on sovereign CDS doesn't obscure the problems in naked CDS on the financial sector," Richard Portes, professor of economics at London Business School, said in a telephone interview. "Financial firms and some sovereigns are dependent on market funding in the short term. That's where naked CDS can do the most damage."
Sovereign Debt Crisis
European banks are at risk of writedowns from the sovereign debt crisis, as rating downgrades for Spain, Portugal and Greece triggered concern some European nations would struggle to fund their deficits. Investors are shunning bank securities on concern those countries' bonds held by the lenders will plunge in value.
Bans may be considered in case of "adverse developments which constitute a serious threat to financial stability or to market confidence," the commission, the EU's executive body, said today.
The debt crisis sent the euro to a four-year low against the dollar on June 7 and has wiped out more than $4 trillion from global stock markets this year. European leaders unveiled a 750 billion-euro ($918 billion) rescue mechanism last month to stem contagion from Greece, initially reversing a surge in the risk premium on Spanish and Portuguese bonds.
Commission president Jose Barroso and Financial Services Commissioner Michel Barnier last week promised to accelerate their plans to regulate credit-default swaps, without saying if they would favor bans on some transactions. They've said the German measures would have been more effective had they been coordinated across the 27-nation bloc.
OTC Derivatives
The commission is seeking views on its swaps plan as part of public consultations on possible rules that also include over-the-counter derivatives. Respondents have until July 10 to submit views on the policy options.
In a separate report, members of the European Parliament's economic and monetary affairs committee called for a ban on "CDS transactions with no underlying credit which are purely speculative transactions involving bets on credit defaults."
"There are some political groups that want to ban naked sovereign CDS," said Werner Langen, the sponsor of the report at the EU assembly, whose role is to amend proposed laws drawn up by the commission.
Langen, a German Christian Democrat member of the Parliament, said he personally doesn't support calls for a ban, inserted by socialist and Green lawmakers on the committee. He said he favors giving "regulatory authorities the possibility to check on a case by case basis."
Defaults
Credit-default swaps are derivatives that pay the buyer face value if a borrower -- a country or a company -- defaults. In exchange, the swap seller gets the underlying securities or the cash equivalent. Traders in naked credit-default swaps buy insurance on bonds they don't own.
Plans for tighter regulation of the $605 trillion over-the-counter derivatives market, also released for comment today, would see a greater number of the products traded through central clearinghouses.
Corporate users of derivatives will only be forced to trade through a central counterparty if the amount they trade exceeds a threshold to be defined at a later date.
This approach would create a "sensible system that reflects the economic and financial hedging needs of corporate end-users," the commission said in its proposals.
The move follows pressure from business organizations, including the Confederation of British Industry, for corporate exemptions from enforced clearing of over-the-counter derivatives.
Clearinghouses operate as central counterparties for every buy and sell order executed by their members, reducing the risk that a trader defaults on a deal.
The commission will make formal proposals for rules on over-the-counter derivatives and credit-default swaps in September, spokeswoman Chantal Hughes said today.
Legislation must be approved by governments and lawmakers in the EU Parliament before it can enter into force, a process that can take more than a year.