Euro's One-Week High May Be 'False Friend': Technical Analysis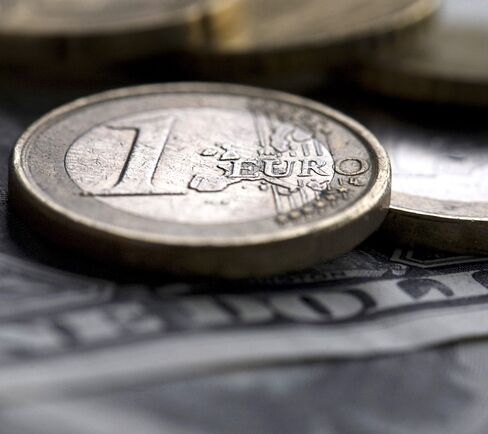 The euro's gain to a one-week high versus the dollar may be a "false friend" setting the currency up for a drop to $1.1875 if it doesn't rally further, according to UniCredit SpA.
Its increase from a four-year low of $1.1877 reached June 7 may be a "fragile pullback" if it doesn't break above $1.2290, a level that provides a test of the rebound's momentum, UniCredit analysts led by Roberto Mialich in Milan wrote today in a research note.
The euro gained 1 percent to $1.2229 at 12:13 p.m. in London, after earlier rising to $1.2259, the highest level since June 3. Europe's currency gained 1.2 percent to 112.28 yen after touching 112.67, the highest since June 4. The Stoxx Europe 600 Index rose for a fourth day, advancing 0.9 percent.
"We're skeptical about this rebound," Mialich said in an interview. "The bounce in equity markets created a positive sentiment, which is reducing the selling pressure on the euro. But the underlying weaknesses remain."
The euro's advance today pared this year's drop to 15 percent versus the dollar and 16 percent against the yen. The European currency's move in the past week, according to UniCredit, is similar to an increase last month, when the euro rallied from about $1.22 on May 18 to $1.2672 on May 21, only to decline to the four-year low earlier this month.
"The euro pullback may be a false friend," the analysts wrote. "This is more likely to offer some near-term consolidation rather than a thorough change in sentiment."
In technical analysis, investors and analysts study charts of trading patterns and prices to forecast price changes in a security, commodity, currency or index.