Apple Under Growing Government Pressure to Ease Software Limits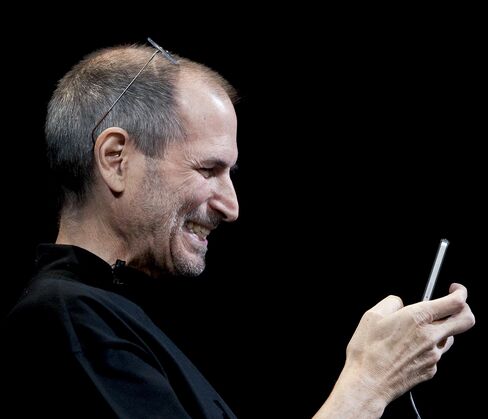 Apple Inc., under growing scrutiny from antitrust regulators, may have to loosen restrictions on software developers and music labels to avoid legal wrangling with the government and prevent damage to how its brand is perceived by the public, lawyers and analysts said.
Federal Trade Commission officials are preparing to review allegations that Apple is trying to trammel rivalry in mobile advertising, people familiar with the matter said last week. Regulators were already weighing a probe of Apple's treatment of Adobe Systems Inc., and the U.S. Justice Department has made preliminary inquiries into Apple's behavior in the music market.
The heightened scrutiny may prompt the company to give programmers more leeway in how they build applications for Apple products, said Andrew Gavil, who teaches antitrust law at Howard University in Washington. The inquiries indicate government concern that Chief Executive Officer Steve Jobs may be trying to exert too much control over industries as varied as digital music, software development and mobile advertising.
"Apple needs to be prepared that all of their actions will be put under a microscope," said Michael Gartenberg, a partner at the Altimeter Group in San Mateo, California. "They need to make sure they don't cross the line."
Apple spokesman Steve Dowling didn't respond to a request for comment. FTC spokesman Peter Kaplan declined to comment.
Apple, based in Cupertino, California, gained $3 to $253.51 on the Nasdaq Stock Market on June 11, capping a year-to-date gain of 20 percent.
Apple's Advance
As Apple enters new markets, it's trying to maintain control not only over its products but also the applications made by third-party developers that run on those machines. For instance, it issues guidelines that limit the use of outside software in creating tools and games for its iPad tablet computer, or ads that appear in apps on the iPhone.
While the company competes aggressively, it's probably not violating antitrust laws, Gartenberg said.
Still, problems arise if Apple gives the impression it's trying to hamper competition, said Gavil at Howard University.
The latest flap involves a set of instructions for developers building applications for use on Apple's iPhone. Google Inc. unit AdMob said this week that the rules, if enforced, bar the use of Google and AdMob advertising software. The rules were proposed June 7.
'Hamper Competition'
"It does really look like these agreements are designed to hamper competition," Gavil said. "The question really becomes, do they have any legitimate business justifications for that? It's not hard to see how that can disadvantage a rival."
Omar Hamoui, founder of Google's newly acquired AdMob mobile-ad service, wrote in a June 9 blog posting that the prohibitions jeopardize the revenue AdMob gets from the iPhone and hurts software developers.
Already, some programmers are shunning Google tools as they tailor apps for Apple products. Bill Predmore, president of POP, which builds mobile applications and ads for companies including Target Corp. and Microsoft Corp., said his company will avoid using AdMob until Google and Apple work out a solution.
Antitrust enforcers in early May were said to be weighing an investigation of Apple after Adobe Systems Inc. complained that Apple is stifling competition by barring developers from using Adobe's software to create applications for iPhones and iPads, people familiar with the matter said then.
Three weeks later, the Justice Department was said to be looking at how Apple runs its iTunes digital music service.
'Peek Under Hood'
The inquiries may not yield the kinds of lawsuits that plagued Microsoft Corp. in the 1990s because Apple's share of markets is smaller, Gavil said.
Yet, the deeper the government probes, the more leverage it gains in shaping Apple's behavior, said analysts at Baltimore- based Stifel, Nicolaus & Co. in a June 11 research note.
"Every time a company comes before DOJ or the FTC, staff get to peek under the hood and acquire information that they can later connect with additional information to develop a theory of harm," wrote Rebecca Arbogast and George Askew.
FTC officials can issue a so-called consent decree that details the behavior a company needs to avoid, Gavil said.
In some instances, a company will change tack before the government forces its hand, said Jonathan Potter, an attorney and former executive director of the Digital Media Association. Apple is a board member of the trade group.
'Lawyer Up'
Any investigation "will be of concern and will obligate one to lawyer up, as they say on the TV cop shows, in a very significant way, and will cause at least consideration of one's business practices," said Potter, who's based in Washington.
In mobile advertising, Gavil said Apple may have to soften the rules that developers say prevent applications for Apple devices from using Mountain View, California-based Google or its AdMob unit to track and display advertising. Apple is preparing to start showing ads from its rival iAd network in July.
"I can't live on iAd alone," said Greg Woock, CEO of Pinger Inc., a San Jose, California-based maker of a free texting app. "I need Google too." He said his products generate 800 million ad views a month and only Google has enough ads available to fill that.
Changes may also be in order in the way Apple operates in music, said Gregory Weston, founder of the Weston Firm, a San Diego-based law firm that represents small businesses.
As the top music retailer, Apple can press music companies to agree to terms. Apple has told some labels if they promote an album through Amazon.com Inc.'s "Deal of the Day" it won't market the music as prominently on iTunes, a music industry executive who declined to be identified said last month.
Meanwhile, as regulatory actions concerning Apple mushroom, the company's days as a scrappy upstart that can compete as it sees fit may be ending, Gartenberg said.
"This is the end of the age of Apple's innocence, it will be harder and harder for them to maintain that image of the underdog," he said. "They have achieved a certain degree of success, and with that success comes scrutiny."
Before it's here, it's on the Bloomberg Terminal.
LEARN MORE