Belgium Faces Months of Talks After Poll 'Earthquake'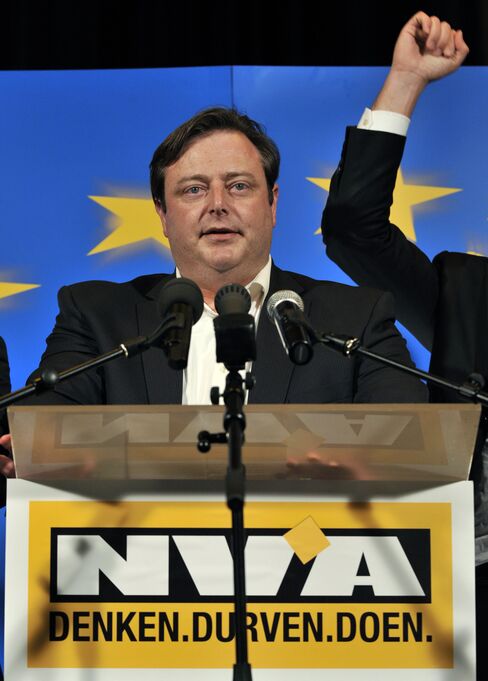 June 14 (Bloomberg) -- Flemish nationalists took the lead in Belgium's general elections, setting up coalition talks with French-speaking Socialists who face demands from Dutch-speaking voters to give more powers to the nation's regions.
Bart De Wever's New-Flemish Alliance, or N-VA, won 27 of the 150 parliamentary seats in yesterday's elections. Elio Di Rupo's Socialist Party got 26 seats, advancing from 20 three years ago. The Christian Democrats of outgoing Prime Minister Yves Leterme lost six seats to 17, coming in fourth after the French-speaking Liberals, who drop to 18 seats from 23.
"It's truly an earthquake," Mark Eyskens, a Christian Democrat who served in Belgian governments from 1976 to 1992 and was prime minister in 1981-82, said on RTL-TVi television. "The question is whether De Wever will be able to make a compromise acceptable for the rest of his party."
Pulling together a coalition may take months as the N-VA, made up of conservatives who say Belgium will eventually "evaporate," seeks an accord to give more powers to the regions and hold them fiscally accountable as part of a broader coalition agreement. The country, bearing the third-highest debt relative to gross domestic product in the euro region, needs to cut spending or raise taxes by 8.7 billion euros ($10.5 billion) in the next two years to lower its budget deficit to less than 3 percent of GDP.
Talk of Breakup
The national elections were held a year earlier than scheduled after Leterme's government collapsed in April because of an impasse over a voting district encompassing Brussels, the bilingual capital that's home to the European Union's main institutions and the North Atlantic Treaty Organization. The deadlock resulted from tensions between Dutch speakers in the north and French speakers in the south that lead to occasional talk of a breakup.
De Wever, 39, reached out to Di Rupo, 58, last night, reiterating on RTL-TVi that he's prepared to "sacrifice" the post of prime minister to help advance an agreement that will give Belgium's regions the upper hand over the central government.
"To achieve something in this country, we must talk" to the Socialists, public broadcaster RTBF quoted De Wever as saying. A Belgian breakup would be "incredibly stupid," because Flanders would "lose Brussels and become an international pariah," he said.
Federal State
A six-party coalition of N-VA, CD&V, sp.a and PS, cdH, Ecolo, reflecting the ruling regional governments on both sides of the linguistic divide, would have a two-third majority needed to make changes to Belgium's constitution. Such an accord would mark the sixth major overhaul of Belgium's governing structure since 1970. The nation has been a federal state since 1993.
Wallonia, where 3.46 million people live, receives 6.06 billion euros in transfers annually, with more than 96 percent of those subsidies coming from Flanders, according to a National Bank study, based on 2005 figures. That has led to resentment among the 6.16 million Flemish that their taxes are used to prop up the south's economy, where GDP per capita averages 71 percent of economic output in Flanders, according to National Bank data.
"Our responsibility will be equal to our election result," Di Rupo told his supporters in Brussels. "We have to interpret the results in the north of the country as a strong signal. To stabilize the country, this message should be heard."
Italian Immigrants' Son
Should Di Rupo, a son of Italian immigrants, become the next prime minister, he would be the first French speaker from Wallonia in the job since Edmond Leburton in 1974.
After talks with party leaders, King Albert II will appoint a special envoy known as an informateur to investigate possible coalitions. The informateur will report back to the monarch and he will then name a formateur, usually the prospective prime minister, to form a government.
Leterme, 49, whose five-party coalition took a record nine months to form and holds office in a caretaker role, may host most of Belgium's six-month EU presidency, taking over from Spain on July 1.
Public Debt
With public debt projected to surpass gross domestic product in 2011 after spending more than 20 billion euros on bank bailouts, Belgium risks becoming "Greece on the North Sea," Umicore SA Chairman Thomas Leysen, head of the national employers' association, said in January.
The yield premium investors demand to hold Belgian 10-year bonds rather than German debt of similar maturity rose 4 basis points to 83.5 as of 10:55 a.m. in Brussels. It reached 107.6 basis points on June 8, the highest level since March 2009.
Even as the Belgian treasury paid a premium of almost a full percentage point to sell 10-year debt on June 7, the 3.52 percent yield on the securities was the lowest in more than 4 1/2 years for a 10-year Belgian bond issue.
Belgian bonds declined today, sending the yield on the 10-year securities up 10 basis points to 3.46 percent. They returned 4.3 percent so far this year, less than a 7 percent return on German debt and a 5.7 percent gain for French government bonds, according to Bloomberg/EFFAS data. Greek sovereign debt has lost 11 percent since the start of the year.
The budget deficit will narrow to 4.8 percent of GDP this year from 5.9 percent in 2009, the Leterme-led government forecast. Balancing the budget will require 22 billion euros of spending cuts or tax increases in the five years through 2015, according to May 19 projections from the Federal Planning Bureau.
To contact the reporter on this story: John Martens in Brussels at jmartens1@bloomberg.net
To contact the editor responsible for this story: Angela Cullen at acullen8@bloomberg.net