Warren Buffett Lunch Sells for Record $2.63 Million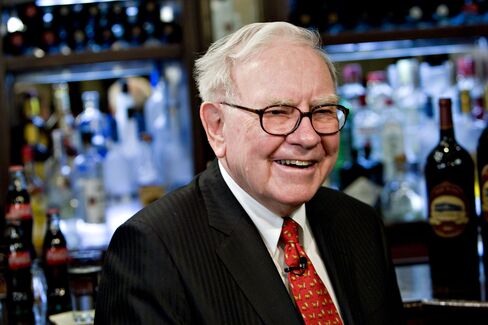 Warren Buffett's lunch auction rose to a record of $2.63 million in the 11th annual charity fundraiser.
That's about 24 percent higher than the previous record, set in 2008 when hedge-fund manager Zhao Danyang of Hong Kong paid $2.11 million. The chance to have lunch with the celebrated billionaire investor drew nine bidders and 77 bids, according to EBay Inc. The online auction started June 6 and ended at 10:30 p.m. New York time today.
The winning bidder wishes to remain anonymous, according to Denise Lamott, spokeswoman for the auction beneficiary, the Glide Foundation in San Francisco.
Buffett, the 79-year-old investor who is chairman and chief executive officer of Berkshire Hathaway Inc., has raised about $8.56 million with the auctions to help the Glide Foundation, which serves meals to the needy. A group led by Courtenay Wolfe of Salida Capital was last year's winner with a bid of $1.68 million.
"It's actually a remarkable calibration of his value," said Jeff Matthews, author of "Pilgrimage to Warren Buffett's Omaha" and founder of hedge fund Ram Partners LP. "Like all stock prices it measures what people think his worth to them is."
Buffett's insights on markets attract the attention of those looking for clues on his investment strategy. Past auction winners have said topics of discussion also included corporate governance and philanthropy. The top bidder gets to bring seven guests for lunch at Smith & Wollensky, the New York steakhouse.
Buffett's stock picks and takeovers turned Omaha, Nebraska- based Berkshire from a failing textile mill to a $180 billion seller of bricks, electric power and hurricane insurance. Tens of thousands of people gather in Omaha each year at Berkshire's annual meeting to hear Buffett expound on the economy and public policy.
Buffett's Donations
Buffett's fortune was estimated at $47 billion by Forbes magazine in March, placing him behind telecommunications investor Carlos Slim and Microsoft Corp. co-founder Bill Gates in the worldwide rankings.
In 2006, Buffett pledged 85 percent of his Berkshire holdings, a commitment valued at about $37 billion at the time, to the Bill & Melinda Gates Foundation and charities of four of his family members. The Gates donation is being made in annual installments, and will continue after Buffett's death. The charity, established by Gates and his wife, combats disease and global poverty, and funds U.S. education initiatives.
Glide, which says it serves almost 1 million meals annually, was a favorite charity of Buffett's first wife, Susan Buffett, who died in 2004.
Glide Lunch With Warren Buffett Results:
Year Winner Winning Bid 2000 Anonymous $25,000 2001 Anonymous $18,000 2002 Anonymous $25,000 2003 David Einhorn, Greenlight Capital $250,100 2004 Jason Choo, Singapore $202,100 2005 Anonymous $351,100 2006 Yongping Duan, California $620,100 2007 Mohnish Pabrai, Guy Spier, Harina Kapoor $650,100 2008 Zhao Danyang, China $2,110,100 2009 Salida Capital, Canada $1,680,300
Source: Glide
Before it's here, it's on the Bloomberg Terminal.
LEARN MORE