South Africa, Mexico Tie 1-1 in World Cup Opener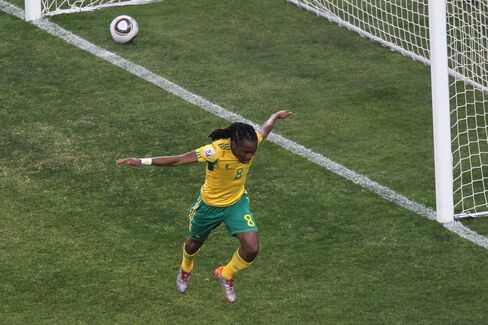 June 11 (Bloomberg) -- South Africa and Mexico tied 1-1 in the opening World Cup game in Johannesburg.
Rafael Marquez evened the match for Mexico with 11 minutes left in front of 84,490 fans at Soccer City stadium after Siphiwe Tshabalala had put the host ahead in the 55th minute.
South Africa striker Katlego Mphela hit the goalpost with a shot in the 89th minute.
South Africa, the lowest ranked of the 32 World Cup teams apart from North Korea, mustered fewer chances before improving as halftime neared. Tshabalala's cross across the goalmouth was just out of reach for striker Mphela.
When Tshabalala smashed a 15-yard shot into the top corner of the net ten minutes after the break, local fans increased their passionate horn blowing to celebrate.
Marquez collected a cross and hit past South Africa goalkeeper Itumeleng Khune from six yards out to deny the host victory.
"If you look at this squad they are good players," South African coach Carlos Alberto Parreira said during a press conference. "We started putting the ball on the ground. We want to have ball possession. We could have won the game with the breaks. All in all, the result was fair."
In the first half, Khune had came off the goal-line to make a one-handed save from Guillermo Franco and Mexico's Carlos Vela had a goal disallowed for offside.
South Africa is ranked 83rd in the world by FIFA, soccer's governing body. Mexico is 17th.
African First
It's the first time the 80-year-old World Cup was held in Africa. South Africa spent some $5.5 billion to prepare for the event the last six years.
In the other match scheduled for today, 1998 champion France plays Uruguay in Cape Town.
"We have to score more goals, we have to be more efficient," Mexico coach Javier Aguirre told journalists. "We're quite confident that we can win our next two matches. We must beat France. We've got to go out there and beat France."
The first part of the month-long competition is a round-robin group phase. Record five-time champion Brazil and European champion Spain are the top-ranked teams.
To contact the reporter on this story: Alex Duff in Madrid at aduff4@bloomberg.net;
To contact the editor responsible for this story: Christopher Elser at at celser@bloomberg.net