Kissel Fails to Win All Legal Costs From Hong Kong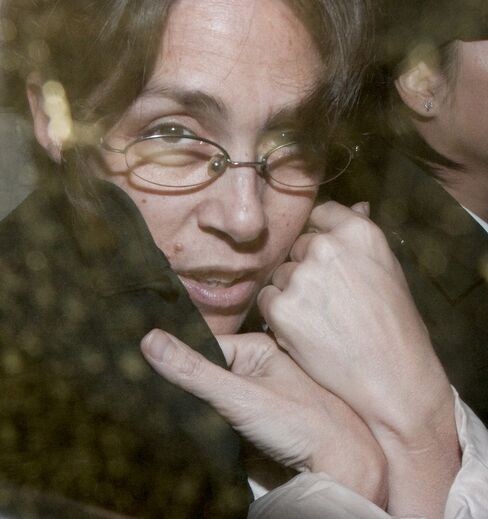 Nancy Kissel, who will be retried for the murder of her Merrill Lynch & Co. banker husband, recovered partial legal costs for her original trial and appeals even though successful appellants are usually paid in full.
Kissel recovered half the cost of her trial and some of the costs of her two appeals from the Hong Kong government, according to a ruling delivered by Justice Kemal Bokhary today.
"This is not a situation where there's an outright acquittal or wrongful conviction," said Simon Young, Director for the Centre for Comparative and Public Law at the University of Hong Kong.
Michigan-born Kissel, 46, admitted killing her husband Robert Kissel, then the head of Merrill's distressed assets business in Asia, on Nov. 2, 2003. Prosecutors alleged she first drugged him with a sedative-laced milkshake before bludgeoning him in their bedroom with an eight-pound statuette.
In the judgment, Justice Bokhary and Justice Patrick Chan noted that an accused who wins an appeal is normally awarded costs.
"There is, however, a judicial discretion to deprive such a person of some or all of his or her costs," the judges said, without giving a reason for withholding some of Kissel's expenses.
The two-page judgment didn't specify the amount due to Kissel. Simon Clarke, who led her defense team between 2003 and 2010, earlier estimated the costs to be about HK$45 million ($5.8 million). He declined to comment on today's order. Defense lawyer Colin Cohen, hired for the retrial, also declined to comment.
Self-Defense
The mother-of-three testified that she had acted in self-defense and appealed against her 2005 conviction, arguing that mistakes made by the judge and prosecutors tainted the verdict. Hong Kong's Court of Final Appeal sided with her lawyers, quashed her conviction in February and ordered a retrial, which is slated to begin in November.
On March 2, Kissel was again indicted for murder by Hong Kong's Department of Justice. Her lawyer had said an indictment for the lesser charge of manslaughter would be "sensible and just."
Deputy Director of Public Prosecutions Kevin Zervos declined to comment on the costs order in light of the pending retrial.
The case is Nancy Ann Kissel and HKSAR, FACC2/2009, Hong Kong Court of Final Appeal.