Jimi Replaces Kamei as Japan's Financial Services Minister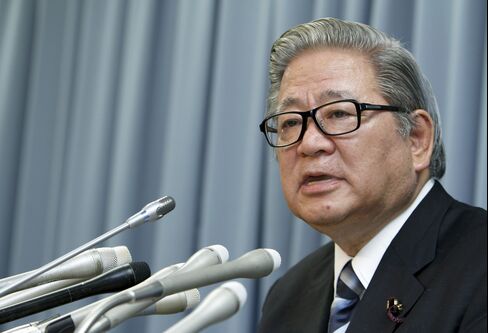 Shozaburo Jimi was named as Japanese Financial Services Minister, replacing Shizuka Kamei who quit after new Prime Minister Naoto Kan declined to extend the parliamentary session to pass changes to banking and postal laws.
The People's New Party, led by Kamei, said it will remain in the coalition with Kan's Democratic Party of Japan. Jimi, 64, is a member of Japan's upper house of parliament and secretary- general of the People's New Party.
The delay gives banks opposed to the changes a second chance to soften Kamei-sponsored laws allowing state-owned Japan Post Bank Co., the world's biggest deposit holder, to double its share of Japanese savings. It also increases instability in Kan's government ahead of upper house elections next month.
"Every delay in the execution is pleasing to the banks," said David Threadgold, a Tokyo-based analyst for Keefe Bruyette & Woods Inc. "The banks have legitimate complaints that a government-owned and backed entity is moving into more direct competition in more areas with the private sector."
Masayuki Oku, chairman of the Japanese Bankers Association, has said allowing the postal bank to double the amount of deposits it takes per person to 20 million yen ($220,000) may spark an outflow of funds from private banks, especially small regional lenders. The legislation also ensures the government retains a one-third stake in parent company Japan Post Holdings Co., which Oku said gives it an unfair advantage.
Mitsubishi UFJ Financial Group Inc., Japan's largest bank by market value, rose 3.1 percent, the most since Jan. 15, to 429 yen in Tokyo. The Topix Bank Index of 83 lenders gained 1.5 percent.
'A Positive Sign'
Jimi served as postal minister in 1997 and deputy head of the Liberal Democratic Party a year earlier. He is a medical doctor by profession and received a doctorate from Kyushu University in 1977 and studied at Harvard University in 1980.
"The resignation of Kamei must be viewed as a positive sign for the new administration's ability to enact its agenda with less fear of interference from its minority partners," said Ed Rogers, chief executive officer of Tokyo-based hedge-fund adviser Rogers Investment Advisors Y.K. "This should create a much more effective government."
The Democratic Party, which swept to power after winning almost two-thirds of seats in the lower house of parliament in August last year, needs the support of Kamei's party in the upper house to push through legislation. Elections to be held next month will determine if the Democratic Party can seize a majority in the upper house without Kamei's support.
'Get a Clue'
Kan became prime minister this week after the resignation of Yukio Hatoyama amid plunging popularity, campaign-finance scandals and broken campaign promises.
"These guys really have to get a clue -- internal Japan fighting is not needed," said Winston Barnes, head of sales and trading for Asian markets at WJB Capital Group Inc. in San Francisco. "They need to unite and continue be a leader in Asia. Surrounding economies are developing quickly."
More than 60 percent of Japan's voters support Kan's new administration, three times the number who endorsed Hatoyama before his resignation, according to a poll conducted by News Kyodo between June 8 and June 9.
Kan's government may change its stance on Japan Post after the elections, said Hironari Nozaki, a Tokyo-based analyst at Citigroup Inc.
The legislation, which passed the lower house last month, will probably have to be resubmitted as a new bill in the next session, according to Citigroup's Nozaki, allowing lawmakers to reconsider the contents.
Postal Reform
Kan said June 4 when elected to lead the Democratic Party that he'd try to pass the postal bill in the current session of parliament. The Nikkei newspaper reported today that Kan would allow the current parliamentary session to end as scheduled on June 16 and aim to pass the bill following elections for the upper house.
Oku and the leaders of seven other banking organizations held a press conference on May 20 to ask the government to reconsider legislation on Japan Post.
Norihiko Otsubo, a spokesman for the Japanese Bankers Association, said today the lobby will continue make its opinions on the bill known, and hope that politicians will consider carefully if the postal bill is in the national interest.