Iran's Ahmadinejad Pins Blame for UN Dispute on U.S., Not China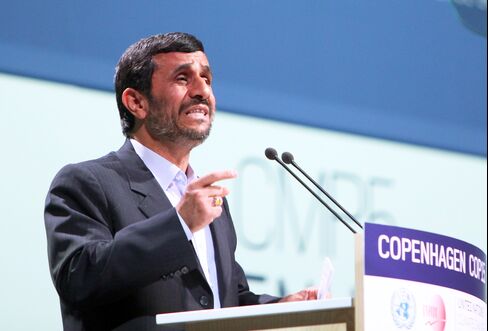 Iran's President Mahmoud Ahmadinejad pinned blame for this week's round of United Nations sanctions on President Barack Obama, avoiding criticism of his Chinese hosts during a visit to the World Expo in Shanghai, even though they also backed the move.
"I think President Obama has made a big mistake," Ahmadinejad told reporters in Shanghai today. "The point is we are confronting the United States. We have no problem with others. The U.S. is abusing its power in the Security Council in order to impose their hegemony."
China on June 9 voted with the U.S. and other members of the UN Security Council to impose new sanctions on Iran in an effort block the country from developing nuclear weapons and compel it to join international talks on the issue. Iran says its nuclear program is for energy production.
Ahmadinejad branded the Security Council a "tool" of the U.S. and said the latest sanctions were its "final shot" and would only serve to boost Iran's development.
The U.S. thinks it is "lord and owner" or the world, he said.
Qin Gang, a spokesman for China's Foreign Ministry, said yesterday that Ahmadinejad was in China only to attend the World Expo, where Iran has a Mosque-like exhibition next door to North Korea's pavilion.
Iran had earlier expressed disappointment with China's vote. "It's showing a behavior that will certainly influence the Islamic world and the minds of the Muslims," Ali Akbar Salehi, vice president and head of the Atomic Energy Organization of Iran, said after the vote according to the state-run Iranian Students News Agency. "It will slowly lose its respectable position in the Muslim world and will wake up when it's too late," he said.
Diplomacy Continues
China said yesterday the sanctions don't close off continued diplomacy. A solution to the nuclear standoff should be resolved through dialogue and diplomatic means, Qin told reporters, adding that China "highly values its relations with Iran."
Iran denounced the sanctions, which Ahmadinejad said should be "thrown into the trash bin like a used tissue."
Russia and China, which had resisted further UN sanctions to avoid damaging their commercial ties with Iran, agreed to the measures after amendments to the text. Russia is building Iran's first nuclear power plant and will supply the fuel for it. China imports oil from Iran