Fed's Kohn Delays June Departure Until Governor Named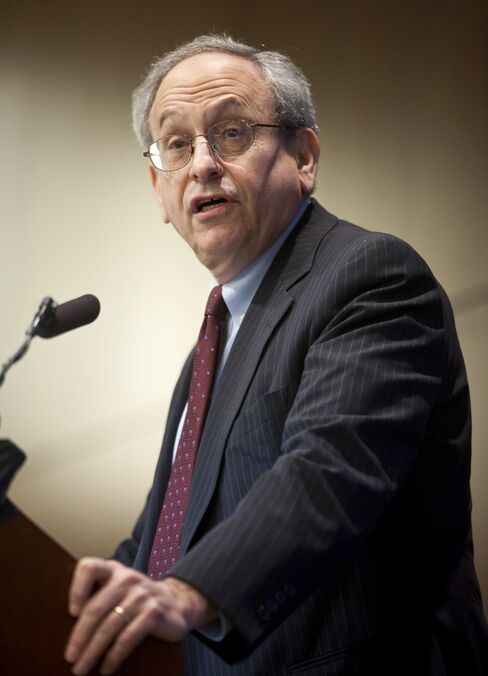 Federal Reserve Vice Chairman Donald Kohn said he will remain at the central bank for about two months longer than his scheduled June 23 departure, helping a short-handed Board of Governors.
Kohn, 67, will stay on as a governor, at the request of Fed Chairman Ben S. Bernanke, until no later than Sept. 1, the central bank said today in a statement in Washington. Kohn's term as vice chairman ends June 23, while his term as governor runs through 2016. The Senate has yet to act on President Barack Obama's April nominations of three Fed governors, including San Francisco Fed President Janet Yellen as Kohn's successor.
The delay means Kohn, a 40-year Fed veteran, may participate in the next two meetings of central bank policy makers on June 22-23 and Aug. 10. Bernanke will be able to tap Kohn's expertise as officials debate the Fed's exit from record monetary stimulus and the impact of Europe's debt crisis on the U.S. economy. With Kohn gone, there would be three vacancies on the seven-member Board of Governors instead of two.
The move gives Bernanke "access to the person who probably has the most institutional knowledge of how the Fed works at a period of maximum uncertainty," said Drew Matus, senior U.S. economist at UBS Securities LLC in Stamford, Connecticut, who used to work at the New York Fed.
Overhauling Regulation
Senate Banking Committee Chairman Christopher Dodd, whose panel is responsible for holding a nomination hearing and making a recommendation to the Senate, has been preoccupied in recent months with completing legislation overhauling financial regulation. The Connecticut Democrat yesterday began a conference with House lawmakers to reconcile two versions of the bill.
Dodd's panel may hold a confirmation hearing for the nominees soon after the Senate's July 5-9 recess for the U.S. Independence Day holiday, a committee aide said on condition of anonymity.
Kohn, who previously served as former Fed Chairman Alan Greenspan's top monetary-policy adviser, was appointed as a Fed governor in 2002 and as vice chairman in 2006 by then-President George W. Bush. He announced his retirement from the Fed in March.
In addition to Yellen, Obama's other Fed nominees include Peter Diamond, an economics professor at the Massachusetts Institute of Technology, and Sarah Bloom Raskin, Maryland's top bank regulator.
Stay On
Kohn's decision to stay on may also avoid creating investor concern over whether the Fed can function with fewer than five governors in office, Matus said.
During the financial crisis in 2008, the Fed used emergency powers obtained in the 1930s to set up lending programs for non-banks and bail out Bear Stearns Cos. and American International Group Inc., invoking a section of law that requires the affirmative vote of at least five Fed governors.
In one of the crisis decisions, one member out of five governors was absent, forcing the Fed to invoke another clause passed in 2002, after the Sept. 11, 2001, terrorist attacks, that allows emergency lending decisions to be made on the unanimous vote of available governors.
While the Fed is capable of functioning with fewer than five board members, "if you only had four Fed governors, the markets might be a little more nervous and apt to overreact to events than they otherwise would be," Matus said.
Before it's here, it's on the Bloomberg Terminal.
LEARN MORE