CVS Roils Independent Pharmacies With Refill Plan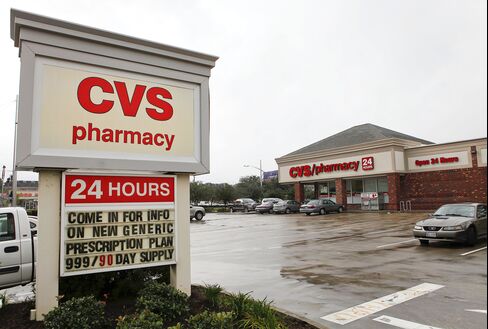 Independent pharmacies say they are getting squeezed by a CVS Caremark Corp. drug refill program that restricts where participants can buy prescriptions.
The pharmacies are losing 5 percent of their 118 million customers, said Doug Hoey, chief operating officer of the National Community Pharmacists Association. CVS Caremark has won that by making users on some drug plans get refills solely through its 7,000 retail stores or mail-order program.
"Our biggest issue is that the patient is mandated to go to CVS or Caremark," Hoey, whose group represents more than 23,000 independent pharmacies, said in a telephone interview. "They lose the ability to choose where they get their medicine."
His trade group joins Walgreen Co., the largest U.S. drugstore chain, in escalating complaints about the way CVS Caremark operates its pharmacy benefits management division. The Caremark unit runs prescription drug programs for companies and government agencies, negotiating prices between drug manufacturers, clients and retail chains.
When Walgreen said this week that it wouldn't take part in any new CVS Caremark drug plans, Woonsocket, Rhode Island-based CVS Caremark cut the chain's 7,500 stores out of its retail network entirely. The move means that CVS Caremark plan members will no longer be able to fill prescriptions through Walgreen's stores by early next month.
"CVS is playing hardball," said Adam Fein, president of health-care distribution consultant Pembroke Consulting. "They want to designate particular pharmacies to fill their prescriptions, versus the normal model, where almost all pharmacies participate."
Maintenance Choice
CVS Caremark clients choose their own plans, so they can decide how restrictive or flexible they want them to be, said Per Lofberg, president of the pharmacy benefit business. The Maintenance Choice program, which requires patients to fill prescriptions for long-term illnesses through a CVS store or Caremark mail-order pharmacy, has about 500 customers, he said in an e-mail this week.
Keith Lumpkin, president of the six-store Horton & Converse Pharmacies, said payments from CVS Caremark declined 14 percent to $300,000 this year through April, compared with the same period in 2009, when Maintenance Choice began.
"This represents approximately 6 to 7 percent of our total sales," Lumpkin, whose company is based in Newport Beach, California, said in an e-mail. "This is significant for us."
Ties between the Caremark unit and CVS's retail stores, brought together in a 2007 merger, are drawing scrutiny from the Federal Trade Commission and at least 24 U.S. states. CVS Caremark rejects the idea that its operation of programs like Maintenance Choice is violating antitrust law.
Praise For Plan
"Contrary to NCPA's claims, plan members have praised the convenience of Maintenance Choice with 96 percent of plan members using the program saying they consider it a benefit enhancement," CVS Caremark said yesterday in a statement.
Walgreen cited Maintenance Choice as one of its reasons for withdrawing from CVS Caremark's network, saying the program disrupts patients by forcing them to buy through CVS Caremark instead of Walgreen. Independent retailers say losses from Maintenance Choice have led some to fire workers or shut down, said Hoey, whose group is based in Alexandria, Virginia.
His group and others lobbied U.S. and state governments to scrutinize CVS Caremark. The efforts come as CVS Caremark works to win 2011 contracts after losing $4.8 billion in 2010 business. CVS is bidding on contract renewals for 2011 valued at $7.5 billion, Chief Executive Officer Tom Ryan said in February.
CVS Caremark's stock had declined 5.1 percent since Deerfield, Illinois-based Walgreen announced plans to pull out of the drug plans. The shares rose 18 cents to $32.08 at 4:01 p.m. in New York Stock Exchange composite trading. Walgreen shares dropped 48 cents to $29.48.
Takeovers Planned
Part of Ryan's strategy to fuel sales is to buy the very companies complaining about him. This month he said CVS Caremark will purchase about 200 independent pharmacies a year to spur market share growth. The outlets would then be folded into the existing store base, he said.
The Maintenance Choice program has "taken off" since its debut, Ryan said June 2. CVS Caremark's sales topped $98 billion last year, a 13 percent increase from the previous period.
While CVS Caremark has benefited, the strategy may hinder the company in the long run if companies and government agencies shy away from programs that limit options for prescription refills, said Philadelphia-based Pembroke's Fein.
"This is going to be a tough sell strategically for CVS with clients," he said. "Most payers have been reluctant to adopt a restrictive pharmacy network."
Before it's here, it's on the Bloomberg Terminal.
LEARN MORE