Cameron Urges 'Financially Strong' BP Before Call With Obama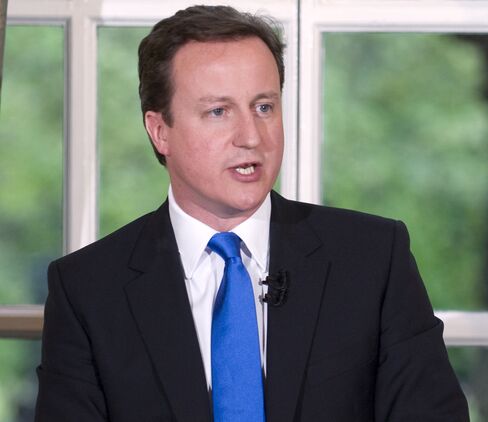 Prime Minister David Cameron told BP Plc Chairman Carl-Henric Svanberg his company must stay "financially strong and stable," a day before the U.K. leader is due to talk to President Barack Obama about BP's handling of the Gulf of Mexico oil spill.
"The prime minister explained that he was frustrated and concerned about the environmental damage caused by the leak but made clear his view that BP is an economically important company in the U.K., U.S. and other countries," Cameron's office said in an e-mailed statement after a phone call with Svanberg today. The "constructive" call took place as Cameron returned to the U.K. from a trip to Afghanistan.
Pressure has mounted in Britain on Cameron to defend London-based BP against criticism in the U.S. The leak, caused by an April 20 explosion on the Deepwater Horizon rig leased by BP, will be among topics scheduled for discussion with Obama in a phone call tomorrow afternoon London time, Vickie Sheriff, a spokeswoman for the premier, told reporters earlier today.
"Mr. Svanberg made clear that BP will continue to do all that it can to stop the oil spill, clean up the damage and meet all legitimate claims for compensation," Cameron's office said in the statement. Cameron will discuss those points with Obama tomorrow, it said.
Summoned to Washington
Svanberg was summoned to Washington for a June 16 meeting with Obama as U.S. lawmakers called on the company to suspend its dividend. Chief Executive Officer Tony Hayward said in an interview with the Wall Street Journal published today it may cut or defer its second-quarter dividend payment.
Oil has been spewing from the undersea well since the rig exploded, killing 11 workers and causing the worst environmental disaster in U.S. history. It's gushing 20,000 to 40,000 barrels a day, according to an estimate released yesterday by a group of scientists the U.S. government assigned to calculate the flow. The cleanup costs and legal liabilities may reach $37 billion, according to Credit Suisse Group AG.
Cameron asked Chancellor of the Exchequer George Osborne to speak to Hayward yesterday. Osborne also met with Svanberg today. Previously, the prime minister left Charles Hendry, a junior energy minister, to deal with the company, which has the second-highest weighting in the benchmark FTSE 100 Index. Energy Secretary Chris Huhne has also spoken to his U.S. counterpart about the spill, Sheriff told reporters.
'Stand Up'
The Daily Mail newspaper, which supports the prime minister's Conservative Party, led today's edition with a headline calling on Cameron to "Stand Up for Your Country."
London Mayor Boris Johnson, a Conservative, said yesterday that the "anti-British rhetoric" by the U.S. administration has become a matter of "national concern."
"I don't think we're going to reach a solution to stopping the release of oil into the ocean any quicker by allowing this to spiral into a tit-for-tat political, diplomatic spat," Deputy Prime Minister Nick Clegg said at a conference during a visit to Madrid. The debate "clearly risks descending into megaphone diplomacy," he said.
"Everybody is united on both sides of the Atlantic, in the Obama administration, and I'm sure in BP itself, to deal with this problem," Clegg said. "I and the British government want only to play our role to find a solution to what is a huge environmental disaster."
BP shares rallied for a second day today, gaining 2.9 percent to $33.73 at 1:05 p.m. in New York trading. Still, they've lost 43 percent since April 20.
Former U.K. Trade Minister Digby Jones said Cameron should "be a bit more forceful."
'Pork-Barrel Politics'
'I don't want BP falling foul of domestic pork-barrel politics with mid-term elections coming up," Jones told the BBC's World At One radio program today.
"It was an American company that operated it," Jones said, referring to the oil drilling rig. "It's an American regulator that told these people not to go shallow but go out deep where the technology is at the borders of what we can do."
"It's the American population that take the black stuff and turns it into their gas-guzzlers," Jones said, referring to U.S. oil and gas consumption.
"There's no friction between the White House and Downing Street on this," Obama's press secretary, Robert Gibbs, said today in an interview.
While there will be "some discussion" about BP and the oil spill when Obama and Cameron speak, most of the phone call will be about Afghanistan, Iran, the global economy and Middle East, he said.
"I would move people away from the focus -- and I think quite frankly the prime minister's people would, too -- that that's either the focus of the call or why the call was set up," Gibbs said. "It wasn't."
Before it's here, it's on the Bloomberg Terminal.
LEARN MORE