Wendy's/Arby's Investor Peltz Approached on Takeover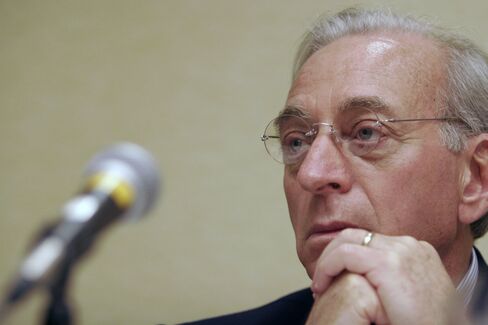 Nelson Peltz's Trian Fund Management LP, the biggest shareholder in Wendy's/Arby's Group Inc., said it was approached by a third party about the possibility of participating in a takeover of the fast-food chain.
Trian is considering the inquiry and other alternatives, the fund manager said in a regulatory filing yesterday. Trian and its affiliates hold about 23.6 percent of Atlanta-based Wendy's/Arby's. The stock rose 31 cents, or 7.1 percent, to $4.65 at 4:15 p.m. in New York Stock Exchange trading.
A purchase of Wendy's/Arby's would follow Apollo Management LP's agreement to buy CKE Restaurants Inc., operator of the Carl's Jr. and Hardee's fast-food chains, in April. Apollo's bid beat out an offer from affiliates of Thomas H. Lee Partners LP, competition that indicated increased interest in restaurant chains by private-equity firms.
"After the CKE restaurant transaction, it's clear that this space is going to be more active," Glenn Tongue, managing partner at T2 Partners in New York, said in a telephone interview. The firm owns shares in Wendy's/Arby's. The company is undervalued, Tongue said.
Wendy's/Arby's, the third-largest U.S. fast-food chain, had dropped 7.5 percent this year before today. Including today's gains, the shares have fallen less than 1 percent since the start of 2010, giving the company a market value of about $2 billion.
Turnaround In Place
"With Wendy's turnaround firmly in place and Arby's on the brink of a turnaround, we do not think the company would want to sell out at current valuations," Barbara Cappaert, an analyst at KDP Investment Advisors, said in a research note.
THL could be among those interested in buying the chain, said the analyst, based in Montpelier, Vermont. THL spokeswoman Robin Weinberg declined to comment.
Trian said it expects to discuss a possible transaction with groups that could provide debt or equity financing, as well as other shareholders and other interested third parties.
"The valuation on this will be low," said John Staszak, an analyst at Argus Research in New York who has a sell rating on the stock. "Arby's is performing poorly and Wendy's is only so-so. It's being beaten by McDonald's."
Wendy's/Arby's, which trails McDonald's Corp. and Yum! Brands Inc. in sales, declined to comment in an e-mailed statement and referred calls to Trian. A spokeswoman for Trian declined to comment beyond the filing.
Last month, Wendy's/Arby's reported a first-quarter net loss of $3.4 million as revenue declined 3.1 percent, to $837.4 million. Chief Executive Officer Roland Smith said at the time that while he wasn't pleased with results at Arby's, the division had made progress on a turnaround.
Traffic Declines
Restaurant industry traffic has declined for seven consecutive quarters, according to NPD Group. During the first quarter of 2010, restaurant traffic declined 2 percent and consumer spending decreased 0.3 percent, according to the Port Washington, New York-based research firm.
Wendy's and Arby's merged after Triarc Cos., owner of the Arby's brand, bought Wendy's International Inc. for $2.56 billion in 2008. Triarc changed its name to Wendy's/Arby's after the merger closed. Peltz, former chairman of Triarc, is the non-executive chairman of the combined company.
Before it's here, it's on the Bloomberg Terminal.
LEARN MORE