Treasury Will Set Fees for Banks on GM's IPO, Retain Veto Power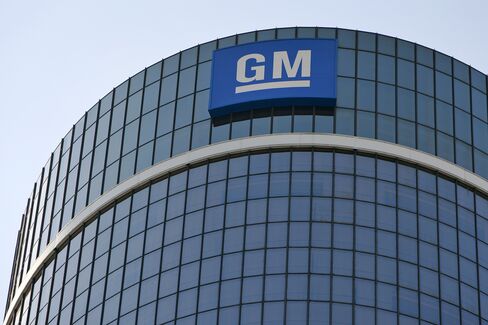 General Motors Co., 61 percent owned by the U.S., will choose the lead bankers for its initial public offering while the Treasury Department will retain veto power over the selection and determine the fees paid to underwriters.
GM's selection will be "subject to Treasury's agreement that the selection is reasonable," the government said yesterday in the statement. The Treasury and GM are expected to sell shares, and other holders may participate, according to the statement. Fees may total as much as $360 million for the offering, according to analysts and finance professors.
The automaker will handle much of the work for a stock sale, including preparing the registration statement, prospectus and other legal documents, working with the Securities and Exchange Commission and meeting with investors, Treasury said.
"It's a fine line for the Treasury," said Reena Aggarwal, a finance professor at Georgetown University in Washington who has studied IPOs for 20 years. "They don't want to sound like they're micromanaging the company because sooner or later they have to exit out of their ownership. But in the end, they want make sure they have seen everything and have the last say."
Bank of America Corp. of Charlotte, North Carolina, and New York-based firms Citigroup Inc., Goldman Sachs Group Inc., JPMorgan Chase & Co. and Morgan Stanley are vying to lead the share sale, which may raise as much as $12 billion, an estimate by Independent International Investment Research Plc showed.
IPO Estimate
The U.S. government may seek underwriting fees as low as 2 percent, according to finance professors at Cornell University and Georgetown. That's less than any U.S. IPO over $5 billion since 1999, Bloomberg data show.
The Treasury will pressure the banks to accept fees that may be less than half the 5.5 percent average for all IPOs in the past decade after spending $150 billion in taxpayer money on financial firms during the credit crisis, the professors said.
"If the government asks you to do something and you don't do it, it's going to look bad on the street," said Paul Miller, a bank analyst at FBR Capital Markets in Arlington, Virginia. The banks are "going to do this as a favor," he said.
The underwriters would make as much as $360 million in an initial offering of GM based on the average 3 percent fee for past deals over $5 billion, data compiled by Bloomberg show.
An initial public offering of Detroit-based GM won't be held before the fourth quarter, Treasury said.
"We understand there is a lot of anticipation and speculation relative to an IPO for GM stock," Greg Martin, a GM spokesman, said in an e-mail. "As we have previously said, there are a number of factors that will influence the timing, including the state of the economy, capital-market conditions, state of the auto business, GM's performance and others."
"The bottom line is we will launch an IPO when the conditions are right and GM is ready," he said.
Before it's here, it's on the Bloomberg Terminal.
LEARN MORE