BP Well Leak Estimate Doubled by U.S. Science Group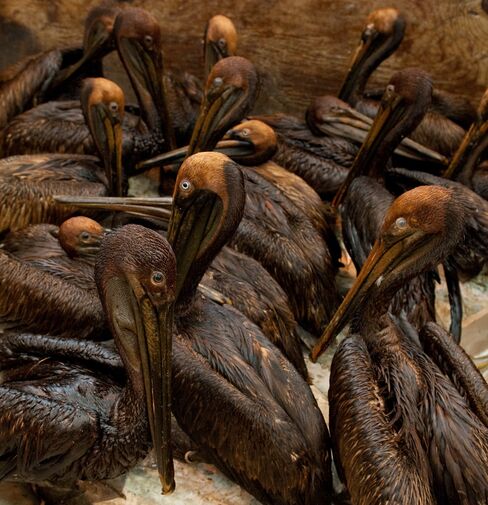 BP Plc's damaged well in the Gulf of Mexico has been leaking twice as much oil as previously thought, a team of government scientists said in its latest estimate on the size of the leak.
The well is gushing 20,000 to 40,000 barrels a day, according to estimates released today by the scientists, who were commissioned by the U.S. government to calculate the flow. The group's last estimate, on May 27, pegged the spill rate at 12,000 to 19,000 barrels a day.
The estimate is for the size of the leak prior to June 3, when BP removed a kinked riser pipe, potentially increasing flow by as much as 20 percent. The scientists don't have an prediction for the current flow, Marcia McNutt, director of the U.S. Geological Survey, said in a news conference today.
"Our scientific analysis is still a work in progress, as you can tell from a range of estimates," McNutt said.
One team of scientists estimated a flow rate of 25,000 barrels to 30,000 barrels a day, and another team's estimate suggests a benchmark of 35,000, McNutt said.
Preliminary data from a team of Woods Hole Oceanographic Institution scientists calculating the spill suggest the well could be leaking as much as 50,000 barrels a day, McNutt said.
Valdez Much Smaller
The "most credible estimate" for the size of the leak before the riser cut is 20,000 to 40,000 barrels a day, McNutt said. Based on the midpoint of that estimate, 30,000 barrels, from April 22 when the Deepwater Horizon rig sank until June 3 the well gushed 1.26 million barrels of oil, or 52.9 billion gallons.
The Exxon Valdez spilled an estimated 257,000 barrels in 1989. At a daily rate of 30,000 barrels, or 1.3 million gallons, the BP Macondo spill would generate that much every 8.5 days.
On June 3, BP sawed off the riser pipe that had been kinked near the seafloor, constricting the flow. The clean cut allowed the company to secure a containment cap to the pipe, capturing some of the flow and funneling it to ships at the surface.
BP suggested that cutting the pipe may have increased the flow rate by 20 percent. McNutt said her teams of scientists are still trying to calculate how much the flow might have changed since that operation.
Collecting Half?
BP collected 15,520 barrels of crude at the surface between noon on June 9 and noon on June 10, the last 24-hour period for which data is available. According to the midpoint of the latest estimates from the group, this would be about half of the oil being released.
BP did not immediately return messages in to its Houston press office. Spokesman Scott Dean did not immediately respond to messages by e-mail or mobile phone.
The first ship positioned to capture the oil has the ability to collect 18,000 barrels a day. By next week, BP will raise its collection capacity by 55 percent to 28,000 barrels in total, U.S. Coast Guard Admiral Thad Allen said today in a press conference.
"We're locked into a recovery mode that is way under capacity for what's really coming out," Ian MacDonald, an oceanographer at Florida State University in Tallahassee, said an interview after today's announcement.
MacDonald has estimated the well to be leaking 26,500 barrels to 30,000 barrels a day, six times more than the figure that BP and the government used from April 28 to May 27.
50,000 Barrels a Day?
"A reasonable estimate is 22,000 barrels a day to 30,000 barrels a day," said Tad Patzek, chair of petroleum and geosystems engineering at the University of Texas at Austin. "I don't think 40,000 barrels a day. If BP starts recovering 28,000 barrels a day, then I will revise my estimate."
A spill rate of 50,000 barrels a day is supported by an April 27 BP memo made public by Congressman Edward Markey, a Massachusetts Democrat, May 27, Florida State University's MacDonald said.
The memo included data on how BP had arrived at its high estimate of 14,286 a day. BP assumed the oil was far thinner on the surface than it was, MacDonald said.
Even within the Flow Rate Technical Group there are a range of estimates -- a team of scientists basing their calculations on the amount of oil on the ocean surface on a certain day suggest the well may be leaking 12,600 to 21,500 barrels a day.
Each of the scientific methods being used has biases, which may shape the results they produce, McNutt said. After BP has captured all of the flow, scientists will be able to determine which methodologies were most accurate and what the biases were.
"We will be able to do a much better job next time," she said.